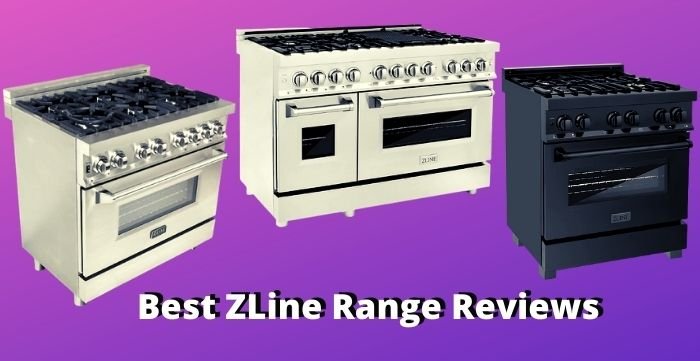 One of the best ways to upgrade your kitchen is with a new range. Zline ranges are attractive appliances that make your kitchen look modern and updated. You'll find that our Zline range reviews point out why they're among the best brands on the market today. They're ideal for all kinds of cooking styles and they're affordably priced. We offer the top 8 models in review along with a buying guide to help you find the right range for your situation.
8 Best ZLine Range Reviews and Features
1. ZLINE 36 in. Professional 4.6 cu. ft. 6 Gas Burner/Electric Oven Range
The ZLine 36-inch Professional is a 6 burner hybrid range that features gas burners with an electric oven range. It delivers the even and clean cooking of gas heat with the convenience of electric heat in the oven. You can watch the progress of baked goods through the clear glass oven door panel. Dual oven lighting allows you a perfect view. Three layers of glass with a mesh and aluminum seal keep the heat contained for even cooking without disruption. The burners are hand-crafted of Italian alloys for strength and durability. The sealed burners are easy to detach and clean. This makes it easier to keep your range looking like it did when it was brand new. The stovetop is made of heavy-duty one-piece porcelain that is scratch-proof.
Pros:
Exceptional value for the cost
The burners and oven work perfectly
Strong and well-made range holds up nicely over time
Even cooking
Easy to use
Cons:
2. ZLINE 30 in. Professional 4.0 cu. ft. Gas Burner/Electric Oven Range (RA30)
The ZLine 30 in Professional is a smaller range that is ideal for tiny kitchen spaces. It is an attractive unit that updates the aesthetics of any kitchen area with a modern vibe. It features a three-layer glass panel to let you watch the progress of baked foods. A dual oven light provides bright illumination of the oven inside. The burners are made of heavy-duty materials and are hand-crafted. This makes them cook foods cleanly and evenly with an even heat distribution. The burners detach for easy cleaning. The porcelain cooktop resists scratching and it's made of 1 piece for easy cleaning with no nooks or crannies. Twist legs adjust the height of the range between 36 to 38.5 inches. The adjustable legs are a premium feature that adds convenience to your life when there are cooks of different heights in the house.
Pros:
Simple to use range with no complicated digital controls
The food cooks evenly every time. Very dependable temperature
The range is easy to install and setup
Attractive range that makes the kitchen look more modern
Well-made range with strong materials that maintain a like-new look
Cons:
Some issues with the simmer function on one burner
Customer service is poor
3. ZLine 48 in. 6.0 cu. ft. 7 Gas Burner/Electric Oven Range (RA48)
This model is ideal for busy cooks or chefs who like to cook large meals. It's a heavy-duty range with high-quality Italian burners. They're made for efficiency with gas power and clean-burning flames for even distribution. The burners detach for easy cleaning. The cook-top is porcelain in one piece. It's scratch-resistant for durability. The grill is solid cast iron that holds up under high heat. Three layers of glass and dual lighting let you see the progress of your baked goods.​​​​​ The 7 burners are perfect for cooking up to seven-course meals at the same time. If you're a gourmet chef, or if you just enjoy preparing large diverse meals for your family, this is an ideal choice for a professional or hobbyist baker's kitchen.
Pros:
Beautiful range that improves the look of the kitchen area
Racks glide in and out easily
Great stove for multi-tasking. It's more powerful and capable than most
Convenient design with multiple burners
Great value for the cost when compared with other brands
Cons:
Customer service is not helpful
No self-cleaning feature
4. 
ZLINE Autograph Edition 36″ 4.6 cu. ft. Dual Fuel Range
The ZLine Professional is a 6 burner gas range with a large capacity for cooking large meals. The burners are handcrafted with Italian craftsmanship for strength and durability. This range is heavy duty and delivers exceptional and powerful cooking performance. It comes equipped with a convenient self-cleaning feature. A built-in timer signals when food is done. The exterior is made of dent-resistant stainless steel in a premium alloy that is strong and durable. The top is made of non-scratch porcelain in a single piece. The grill is cast iron that holds up well under intense heat. These tough grills are highly resistant to cracking and breakage. This is a strong and sturdy range that is made to last for years.
Pros:
6-burner capacity lets you cook large amounts of food at once
High-quality build for long life
Even cooking on the burners
Clean burning natural gas power is energy efficient
The racks slide in and out smoothly
Cons:
The manufacturer sends warranty and service to a third party
5. ZLINE 30″ 4.0 cu. ft. Dual Fuel Range (RA-RG-30)
The ZLine 30-in Professional is a smaller more traditional 4 burner gas range. It features an attractive stainless steel cabinet that is dent and scratch-resistant. The burners are hand-crafted by Italian artisans for strength and durability. This oven is equipped with a self-clean feature for fast and easy cleaning. A built-in timer tells you when food is done cooking. the stainless steel cabinet is made of a premium alloy that is resistant to denting. The porcelain top also resists scratching for a durable range that stays looking like new for years. It is built for smaller homes and apartments with its compact size.
Pros:
Accurate and powerful burner heat
Even heat distribution for precision cooking
Beautiful design that compliments any kitchen decor
Simple and easy to clean with the self-cleaning option
Very easy to use. There is nothing complicated about the operation
Cons:
Customer service is not responsive for simple issues
6. ZLINE 36″ 4.6 cu. ft. Dual Fuel Range (RA36)
The ZLine 36-inch Professional Gas on Gas Range offers clean and affordable energy. This is a basic model that is affordably priced without skimping on quality. The burners are made of strong alloys by Italian craftsmen. The units are designed to provide even and powerful distribution of heat. The Smooth Slide ball bearing oven racks slide in and out effortlessly. This cuts down on the amount of hassle and frustration from sticky racks that are difficult to move. Free moving racks are also a safety feature that lessens the chance of accidental burns. A built-in timer sounds the alarm when food is done cooking. This is a modern range that provides you with all of the possible conveniences in one attractive appliance.
Pros:
Beautiful range in an attractive stainless steel case
The sealed burners make this stovetop easy to clean
Burners cook the food evenly and quickly
Well-build range that still looks good after years of use
High-quality product that is worth the price
Cons:
No issues reported for this model
7. ZLINE 30″ Black Stainless 4.0 cu.ft. 4 Gas Burner/Electric Oven Range (RAB-30)
The line 30″ Black Stainless range is a smaller unit that is ideal for smaller kitchens or apartments. It's made of strong and durable materials with a stainless steel frame and shell. The black color is sophisticated and attractive. The oven is well-insulated with three layers of glass and a mesh seal. You can look through the glass to check the progress of your baked goods. Dual oven lighting illuminates the interior with crystal clear visibility. The front control knobs give you five functions for burner adjustment. The burners are made of strong Italian alloys that hold up under intense temperatures. Sealed burners are easy to clean.
Pros:
The compact size is perfect for smaller kitchen spaces
Burners cook evenly
Gas heat is more energy efficient
This range is simple to use
The exterior is attractive and is the focal point of the kitchen
Cons:
There are no complaints or concerns associated with this model
8. ZLINE 48 in. Professional Dual Fuel Range (RA-BLM-48)
The ZLine 48-inch Professional Dual Fuel Range offers the luxury aesthetic of a Black matte door to make your kitchen the focal point of the home. This range features strong and durable construction that holds up over time. The burners are made of premium alloy material. They are hand-crafted by skilled Italian artisans for even and clean burning. Proprietary hinges give the oven door exceptional strength. You can watch your food cooking through the triple-layer glass window pane. Dual oven lighting gives you plenty of light to monitor the progress of baked foods. Six burners are conveniently placed to allow you ample space on the cooking surface. This is the ideal range for preparing large meals with several different courses.
Pros:
Six burners are ideal for large families
The food always cooks evenly with reliable temperatures
The range is straightforward with simple controls
Cleaning is easy because the burners detach with little effort
Solid built with heavy-duty construction. The grill is made of strong cast iron that takes extreme temperatures well
Cons:
There are no complaints or concerns associated with this unit
Buying Guide for ZLine Ranges
With our reviews of the Zline Ranges, you may still have some questions about which range is the best option. The best range is the one that best suits your situation and meets your cooking needs. We offer some helpful tips that will help you choose the right model for the best solution for your kitchen
The first consideration to make is the amount of room that you have in your kitchen for a range. It's wise to measure the area where the unit will sit. Determine how wide, long, and high the area is that you have available to place the range. This will help you choose the most appropriate size that will fit into your kitchen.
The size of your family will help you to decide how large the range needs to be. If there are just one to three people in the house you might not need to have a full-size range unless you do a lot of cooking. The smaller 4 burner units might be the best choice. If there are few household members who love preparing large multi-course meals, however, you might need more burners at your disposal.
Your cooking style will also help you to choose the right model. If you are a gourmet chef, you may need a more complex range. If you have several saucepans and other pots on the stove at one time, you may need the 7 burner range for preparing several courses at one time. Your unique cooking style and preferences for the number of burners you have available to use is a big consideration.
As shown in our ZLine Range reviews, there are several different models to choose from. Each comes with its own unique set of features. Some ZLine ranges are equipped with self-cleaning options. If this is a convenience that would make your life easier, it's something to think about when making your final choice. One of the ranges in our review has twistable legs that adjust the height of the stove. This may also be a useful and practical feature to make the stove work for people of different heights. Another feature worth considering is a built-in timer. This tells you when your food is done cooking. It alerts you that the appropriate time has passed and makes cooking more precise by taking the guesswork out of the timing.
Another consideration to make when deciding which ZLine range to buy is the budget that you have set aside. The most expensive isn't necessarily the best, nor is the least expensive. Find a model that provides you with the most useful features in the right size and style to meet your cooking needs, for a price that is within your set budget. ZLine ranges are built to last for years and they represent a good investment with reasonable pricing when stacked up against comparable brands and range models.
Consider the decor that you currently have in your kitchen. It's a good idea to choose the style of a range that will fit in with the interior decorating scheme that you have going on in this room. The Z Line range reviews we provide offer a good selection of different models that offer a variety of styles. Some are available in black color but most are stainless steel. This is a tone that goes with almost any kind of decor. Consider how well it will fit in with your other appliances and choose the one that will look the best.
Frequently Asked Question FAQs:
Q1: What does the electrical phase of the stove operate on?
Ans: Many ZLine ranges are dual fuel, which means they operate on natural gas and electricity. This means that you need to have electrical outlets for 220 available for the electric power. This is the same voltage that you use for a washer or dryer. You must also have an available natural gas line piped to the area where the range will set for the hookup.
Q2: How are the ranges delivered?
Ans: ZLine ranges are delivered to the inside of your property. They are not left on the curb. It is up to the purchaser to make arrangements to have it moved inside of the home and properly installed.
Q3: How many BTUs?
Ans: A Z Line kitchen range with 6 burners operates at a range of 108,00 BTU maximum. The ideal cooking range for a natural gas-powered stove is between 4,200 to 18,000 BTUs. There is ample power for cooking at the required temperature.
Q4: Does the range come with a clock or timer?
Ans: Some Z Line kitchen ranges come with built-in exterior timers, but not all of them do. It's important to check the specifications of the range you're considering before making your purchase.
Conclusion
Choosing the perfect range for your kitchen can be much easier when you know what to look for. Our buyers' guide gives you some tips about what to look for to best suit your situation. It's important to choose the right size, style, and model so you will be happy with your purchase for years to come. Browse through our reviews of the best ZLine ranges to find the model that has the most useful features with the best value for the price with your budget. ZLine is a brand that offers the ultimate in luxury features by keeping them practical, attractive, and simple to use. We hope that you find this guide and review useful in choosing a range that will brighten and enhance your kitchen and your life.
Related Review Articles: