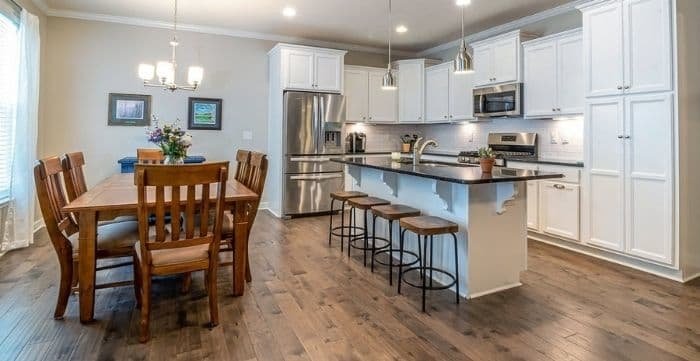 A kitchen renovation is a big job, and if you don't do it right the first time around, there's always room for an error. However, a chic kitchen isn't only a Master Chef's dream, and whether you cook or not, your kitchen is easily the most accessed part of the house. At the same time, your bedroom or office could be off-limits to your siblings or children to prevent them from rummaging around your meticulously arranged belongings. A kitchen, on the other hand, is a communal territory.
The kitchen not only serves as cargo storage for all your culinary ammunition but can also host a small tea party with a few friends depending on the space you have. If you set out to buy a property or rent a cozy place, it is the kitchen area that we are often first drawn to during the inspections. We always associate kitchens with memories and love. People remember playing chef in tiny apron and kitchen mitts as kids with their mum or the impromptu heart-warming conversations with their dads while fetching a glass of water.
Kitchen renovations are overwhelming for many but jazzing it up is an excellent investment that'll also increase the overall value of your property. The kitchen designs, color schemes, floor plan and, functionality of the kitchen greatly influence your decision in buying a property. Hence, a well-planned kitchen will immediately draw you in and get that deal checked. So, it is time for a makeover if you can see cardboard chipping off the cabinets, cracks on the countertops, and rusty fittings. So set your funds and achieve a Pinterest-perfect kitchen with these clever tips that we've gathered for you.
Plan and Research Wisely
Now that you've decided on renovations and have your eyes set on an immaculate, ultramodern kitchen interior that you saw on an Instagram advertisement, you must already be itching to see the final results. However, before you start hoarding shiny new appliances and construction material- take time to study your space, analyze your needs and lifestyle to ensure optimal use of the space. Is your kitchen a closed area or an open space housing family dinners? How often do you cook? Is there enough storage space? What appliances do you want, and what can you live without? Are the cabinets and countertops the right height?
Jot down the things that have bothered you about your kitchen in the past. Perhaps you are looking for more storage space or internal plumbing, or the kitchen needs a new ventilation system that you can plan along with your budget.
Consider Hiring Professional Help
Don't forget that kitchen remodeling isn't an easy venture that your DIY instincts can sufficiently tackle. You may end up uncovering a plethora of roadblocks during renovation. These can be hidden costs, labor charges, or possible obstacles that you didn't consider or realized even existed. Consider hiring professional interior design companies; to save yourself time, hassle, and money. They are known for handling all glitches creatively.
However, if you still wish to plow through a DIY adventure, consulting for a professional opinion to perfect your plan can prevent hidden complications from creeping up unexpectedly.
Innovative Storage Ideas
The kitchen is probably the most cramped space in your house. From an overflowing pantry to teeming cabinets. How many times have you lost a spice bottle or a can opener in the mess of your drawers? Messy kitchens are not only a chore to trudge through regularly but are cozy homes for creepy crawlies. Now, if you don't want the tiny bugs to contaminate what you put in your mouth- it is time to clean and organize your space.
Interior designers have been looking into your problems and have the most innovative storage ideas. Instead of hitting your head while rummaging inside the cabinet to retrieve a ketchup bottle- try installing floating shelves, pullout drawers under the kitchen isle—cabinet dividers to keep your utensils, cutlery, and other food items organized in their own spaces. Increase storage efficiency by installing lazy Susans, built-in cabinets, and drawers for easy access and more stowing space.
Freshen Up Your Kitchen With Elegant Backsplashes
Are you thinking of giving your kitchen a face-lift? Invest in artsy backsplashes. They can bring life to your kitchen and can fetch either a sleek and trendy ambiance or cozy, warm vibes. They range from light laminations to tiles and stone veneers. Backsplashes are not only an excellent way to protect your walls, but they can help bring a sleek, shiny, and ultramodern look to your drab kitchen. And a bonus tip- save the remaining pieces or cutouts for future repairs.
Whether you are going for monotones to match your cabinets or bold colors for extra oomph- make sure to add them to your to-do list!
Step it Up With Polished Flooring
Are you tired of the crusty pale tiles? Kitchen flooring can make a world of difference. Invest in hardwood, vinyl, or stone veneers to give a squeaky-clean shine to the floor. It is an efficient and budget-friendly way to provide a trendy outlook to your kitchen.
Throw in a Mix of Metallic Blend
Stainless steel appliances and fittings are all the rage in furniture fashion today. They are not only known for their durability and good hygienic option. Since they are easier to clean, but also give your kitchen a modern, luxurious and expensive look.
Take your pick from the highly functional statement stovetop, steel faucets, and sinks to appliances like refrigerators and food processors.
Be Mindful of the Work Triangle
Expert renovators always keep the work triangle in consideration. It is nothing more than a strategic placement of the sink, stove, and refrigerator since they are easily the most accessed areas in the kitchen. Hence why they need to be installed in a resourceful location for optimal use.
Strategic placement can only be achieved when you buy appliances before the kitchen renovation process. People often make the mistake of buying appliances after getting their cabinets or countertops done. It can also affect the original kitchen layout and, you may run out of storage space! It is only wise to give exact dimensions to your mason for stovetops and refrigerators than to spend extra money on making adjustments for the appliances later on.
Your Ideal Kitchen is Only a Few Steps Away!
The kitchen is not just your personal space; it is a place for everyone. Your family and friends hang around while you cook, set dinner, do the dishes. You create memories while doing handling the culinary chores together. Make the place lively and inviting by adding statement furniture and personal touches like hand-painted pots and cutlery. Keep the area well-lit and ventilated. A kitchen is more than just your cooking station.