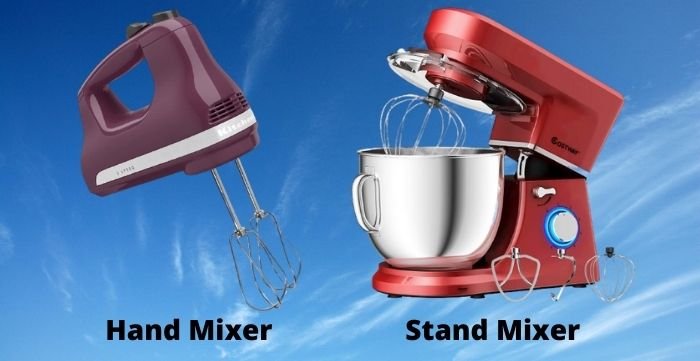 Baking is a process of mixing dry and wet ingredients and then cooking it in dry heat, commonly in an oven, considered one of the most critical types of cooking because of the accuracy required in the process. Since mixing is the most common baking process, you will hear the word "mixer" most of the time. This equipment is the most widely used one that helps bakers and pastry chefs in their mixing process, making it faster and easier.
There are two varieties of mixers, the hand mixer, and the stand mixer. Both mixers can whip cream, butter, and egg whites, but still, they do not share the same function and performance when it comes to mixing. If you are about to purchase the best hand mixer or stand mixer, make sure that you know what you need since it is quite an amount of investment for your part.
Hand Mixer Vs. Stand Mixer
When you are about to purchase a mixer, you must have thorough research on its function, its downfall, and how it will help you in your baking works. If you have a question in mind and wonder if it matters which one to use in your production, here are the details of both types of mixers.
Hand Mixer
Compared to a stand mixer, a hand mixer is small and light. It is easy to store since it will not accumulate too much space in your kitchen cabinet or storage. It is also very portable to mix in a small table and countertop using any bowl or pots. This type of mixer is handy, easy to use, easy to clean, and less expensive.
Stand Mixer
In contrast with a hand mixer, a stand mixer has more speed and power and is often used in many dough and baking varieties of desserts at once. In using a stand mixer, you do not need a hand in the whole time of the mixing process. You can leave it for a while, allowing you to multitask, such as preparing for other stuff, cleaning your area, and washing other used equipment while your mixer does its job. This type of mixer has more attachments than a hand mixer. These attachments are paddles for making creams and whisk for egg whites. This type of mixer is a heavy one and not portable compared with a hand mixer.
Hand Mixer Vs. Stand Mixer: The Downside
The downside of both mixers are quite undeniable, and they are both different from each other. You will have a clearer picture of which mixer you will purchase from its function, size, and special features. Here are the points to consider before spending your money and invest in a mixer.
Hand Mixer
When it comes to feature, you cannot leave a hand mixer alone and let it do its job since it is a manual type of mixer.
The mixing process takes a long time when using a hand mixer since you will be the one to control the power and the amount of time during the mixing process.
Stand Mixer
The stand mixer has lots of benefits, meaning it is more expensive.
It is heavier and can accumulate lots of space.
You cannot use any mixing bowls since its power and speed requires the correct mixing bowls.
Conclusion
The question is, which of the two are you going to purchase? If you wonder if you can use a hand mixer in most baking processes, the answer is yes! Hand mixer still provides mixed ingredients used in cake, cookies, frosting, and cream.
On the other hand, if you need a large amount of dough and have productions that require heavy mixing, a stand mixer will be a great choice. But most bakers suggest to own both, and there is no harm or waste in having both mixers. You can still use them in baking scenarios if you are about to start a small business in baking, better to buy the best hand mixer sale in the market. Once you earn and accept bigger numbers of orders, then it is time to purchase the stand mixer for your productions.
Know the latest trends in the baking world and learn from the experts at Bella Cupcake Couture. Visit www.bellacupcakecouture.com.