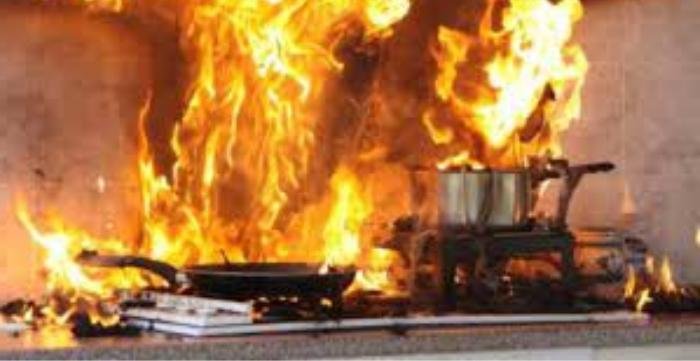 The kitchen is the heart of your home, and if you love to cook, you probably spend a great deal of time in yours. Unfortunately, no matter how good of a cook you are, cooking at home can turn into a disaster in just a few minutes.
It only takes an unwatched pan on the stove, an oven malfunction, or a small grease splatter that ignites. Suddenly you're facing a kitchen fire!
Having a fire extinguisher and preparing for this type of situation is a good practice however, even if you manage to extinguish a kitchen fire fast, you're still likely to have significant damage. Once the fire is out and you're safe, take a good look at your kitchen.
After even a small kitchen fire everything is covered with soot, the walls are smoke-stained, and the smell in the air is overpowering. So where do you start when cleaning up after even a small kitchen fire?
If the damage is severe, you may want to hire a restoration firm to come and do the job. If you choose to tackle cleaning up yourself, you will need to know how to properly clean up after a kitchen fire. If you use the wrong techniques or chemicals, you can make any stains permanent, spread soot throughout your house, and even threaten your health.
Here are some tips to help you clean up after a kitchen fire.
What to Do After a Kitchen Fire
When cleaning up after a kitchen fire, always be careful to protect and maintain your personal safety and health! Make sure you take the proper steps to prepare before you begin. Here are several steps to take to restore your kitchen after a fire.
Cleaning up fire damage isn't like any other cleanup job. After a kitchen fire, soot residue forms a film covering everything, cabinets, countertops, inside cabinets, etc. Composed of carbon-based particles, this soot can penetrate your eyes, skin, and lungs.
This poses significant health risks, so make sure you're prepared! Have a face mask, goggles, and rubber gloves to fully protect yourself from contamination and keep you safe.
It's crucial to get rid of the lingering toxic materials from the air. Open all the windows and doors to the outside. Set up fans in the opposite corners of your kitchen. Keep the fans running for a good while. You want to generate a strong crossflow to help remove floating soot and tame odors.
TURN OFF YOUR HVAC! Do not run the AC while cleaning because it will circulate contaminated air throughout your home. If your HVAC system was on when the fire started, make sure to change out the filters with replacements rated between MERV7 and 12.
Purchase the Right Cleaning Products
Cleaning up after a fire is a very specific process. It's crucial to have the right cleaning products to do the job, before getting started. Here are some effective alternative to standard household cleaners:
Trisodium Phosphate – When properly mixed with water, industrial-strength TSP is designed to works very well on sticky soot. TSP is a strong chemical so be careful, avoid splashing and wear gloves. Do not use it to clean ceramic tile or any chrome fixtures.
Degreaser – This type of cleaner isn't as harsh as TSP, but it can cut greasy soot film on all types of surfaces. Check the manufacturer's specs to make sure it's the right tool for your cleanup.
Dry Soot Sponges – Dry soot sponges are an excellent tool for fire cleanup. As long as you thoroughly clean them between each use, they can clean all surfaces including fabric. The dry sponge material is designed to remove residue without needing water or any other cleaning products.
Clean Up Inside Cabinets, Drawers, and Appliances
A closed-door can't prevent smoke and soot out of cabinets and appliances. Empty out pantries, cabinets, and drawers. Tools all of your packaged food, including all the items in your refrigerator. Thoroughly clean the shelves, hardware, and walls. Check the rubber gaskets around the dishwasher, oven door, refrigerator, and microwave for signs of damage. Also, make sure to clean the condenser coils on the back of the refrigerator.
Cleaning after a fire takes time. You'll need to clean everything including inside cabinets and appliances. You'll most likely need to touch every surface in the entire kitchen before you're done. Soot is not easy to remove and it may not entirely come up after the first cleaning. You'll need to wait for the surface to dry before continuing to clean.
Freshen The Rest of Your House
Even if the majority of the damage is confined to the kitchen, your entire house can be affected by odors, smoke, and soot. Here are a few tips for freshening up the rest of the house.
After you've cleaned up the soot, clean all non-porous surfaces with a citrus-based cleaner
Leave open coffee cans in closed cabinets to help remove odors
Set out bowls of vinegar throughout your house to absorb lingering smells
Sprinkle baking soda on the carpets, and let it sit for a few hours before vacuuming
When in Doubt, Call a Professional
It's perfectly appropriate to try to clean up after a small kitchen fire, and with time and the right tools, you can get the job done. However if there has been extensive damage, it's often the best choice to call a professional clean-up company.
Taking the steps outlined above can help you get started, but to ensure that your kitchen is clean and safe, and your air is breathable sooner, call a professional! They will have the experience, expertise, and tools to get you back in the kitchen cooking for your family!