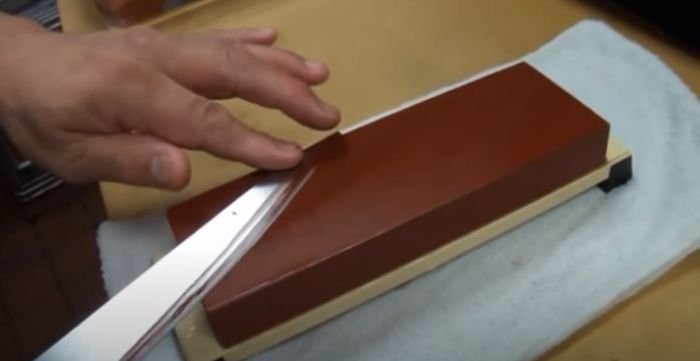 Introduction
Are you having problems sharpening your knives and have you been wondering what grit whetstones for kitchen knives you should buy? If yes, here are some of the best whetstones you can use to sharpen even the dullest knives as well as those best for honing already sharpened knives. Not every whetstone will be suited for your sharpening needs and as such, you may need more than one to achieve the best results. You may have struggled to find the best knife for cutting meat but if you don't choose a whetstone wisely, you may wear it out so quickly you might think it was never the best.
What is a grit whetstone?
Before we think of what grit whetstone for kitchen knives are good, let us first find out what kind of a tool it is for those who may not have an idea. Furthermore, you may be familiar with one but have always used the wrong one for the wrong purpose. A grit whetstone is basically a stone that is made of grits of different sizes to offer roughly to smooth surfaces. Depending on how rough or smooth a whetstone is, there are three types suited for various sharpening purposes.
If you know nothing about grit whetstones, you may damage even the best chef knife using the wrong whetstone. The digits on the side of whetstones indicate the size of the grits used to make the stone. Whetstones with a low grit size mean they have a low density of grits and are therefore rougher and suited for dull and extremely blunt knives. The roughness decreases as the grit size increases with the highest sizes meant for finishing touches.
What grit whetstone for kitchen knives can you buy for the best sharpening results?
Generally, there are three categories of grit whetstones that you can use for sharpening kitchen knives. The three are categorized based on the purpose of sharpening ranging from the dullest knives to those requiring finer edges as described below.
1. Coarse Whetstones with grit size #1000 or less
You may be having the best Japanese kitchen knives, or Damascus Knives but if you don't have a good sharpener, the knife may fail to give its best. Unfortunately, most people don't know what grit whetstone for kitchen knives they would need whenever they deem it necessary. For instance, if your knives are too dull, you need a whetstone of #1000 or less grit size. This tool removes all nicks and chips on the cutting edge resulting in a smoother outline. You should avoid using this whetstone for regular sharpening as they wear out knives quickly. After using this whetstone, you may need another one to achieve a finer finish on the edge of your blade. Nevertheless, this is not the whetstone to use on regular sharpening as it is highly abrasive and hence would wear out the knife very quickly
2. Medium Stones with grit size #1000 – #3000
If you are not sure what grit whetstone for kitchen knives you should use for regular sharpening, the medium grit size whetstones are an excellent choice. The 1000 grit whetstone is ideal when your knives have not lost the cutting edge. These are knives that require minimal reshaping of the edge from time to time. But if you are a regular sharpener, a higher grit size such as the 2000 and 3000 grit size, is recommended. These whetstones have a smoother surface than the 1000 grit hence less abrasion on the cutting edge. Even the best knife for cutting meat daily would require this level of grit to ensure efficiency and durability. However, these whetstones are only meant for sharpening your knives and may not help much in maintaining the edge of the blade. The 3000 grit sharpening stone is considered the best for boning knives. Further refinement of the blade may result in bending of the cutting edge as you cut through muscle and sinews of the meat which would require more sharpening.
3. Finishing stones with grit size #4000 – #8000
This is the furthest you can go as far as sharpening your knives is considered. Generally, from grit size #4000 to #5000, the whetstones are for finer sharpening but beyond that, you should use the stone for the finest finish. If you have been wondering what grit whetstone for kitchen knives you need for the best chef knife, this range will give excellent results. You can achieve a razor-sharp cutting edge on knives for cutting meat using whetstones in the range of #4000 to #5000 grit sizes. Whetstones of grit size between #5000 and #8000 are best suited for knives used for cutting fruits and vegetables. This is because they produce the finest finish prone to bending which is unlikely for these foods as they are soft.
Bottom line
When you think of what grit whetstone for kitchen knives you need, you should first think of the purpose you want to achieve. Do you want to sharpen very dull knives including those that have completely lost their cutting edge? Or do you sharpen your chef's knives regularly? Depending on the nature of the cutting edge of your blades, you need to choose the most suitable grit whetstone. Using the wrong whetstones results in poorly sharpened knives or extreme wearing which significantly reduces the lifespan of the blade. Having the three categories of whetstones at your disposal will ensure better results and proper maintenance of your knives.