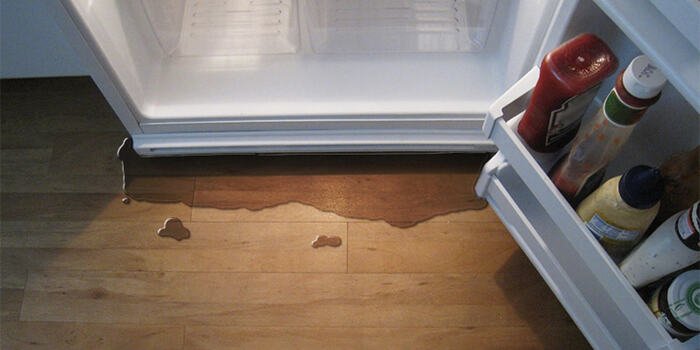 Imagine waking up one morning and seeing a refrigerator leaking water. You would try your best to find the source of this leakage, but it could be hard for you. You may want to find out what causes a refrigerator to leak water so you can do something about it! There could be many things on your mind. You will worry about the issue's cost and will try your best to fix the leak yourself. Amidst all this, you may find yourself searching for ways to fix your refrigerator by looking at random videos available online to guide you.
What Causes A Refrigerator to Leak Water?
You may have the best garage refrigerator or maybe any other, but it's not a worthy sight if your refrigerator is leaking water. Knowing the possible causes behind the leakage is good, so you can devise a backup plan and do something about it!
Consider the following:
#1. Blockage In Water Supply Line
If you have a refrigerator with an ice maker or a water supply line with the refrigerator, there could be an issue, and thus, a block would cause the leakage. It could be hard for you to understand the whole thing, especially if you have no idea how to fix a refrigerator when there is an issue. But it's okay! You're not alone, and that's where a professional can chime in to make things smooth for you.
#2. Issue With Refrigerator's Level
Another possibility as to why there is a leak is an issue with the refrigerator's level. Since your refrigerator is uneven at this point, you can observe the leakage. You may have simply moved your refrigerator, and thus, you are experiencing this issue.
#3. An Issue with Door Seal
There could be an issue with your refrigerator's door seal, causing the water to leak. Check the cracks and tears. If you spot one, that could be the underlying issue behind the leak.
There could be more issues with your refrigerator, and it's best to find the main issue, so you don't waste your time and energy. It's always best to keep an eye on your appliances just to be on the safe side!
Ways to Fix A Refrigerator with Leaking Water
Now that you have some ideas as to why there could be a leak, it's time to find some solutions. Remember, if you have no idea, it's best to let professionals take charge and solve your queries!
Consider the following;
#1. For Blockage In Water Supply Line
You have to check the water supply line for possible damage. If there is damage, you may need to change the water supply line, so a professional can help. You can also check the instructions manual for your refrigerator and see if it helps. You would need to shut off the refrigerator and follow the relevant safety precautions to be on the safe side. You may also need to shut off the water supply! No matter what you do, make sure you are being careful and understand the process well.
#2. Level Your Refrigerator
If the problem is with the level of your refrigerator, then you would need to level it. It's best if the level is on the floor. There could also be a need to adjust the legs of your refrigerator. See if it helps!
You can try different things and see what helps in fixing the issue. What works for one person may not work for the other! Also, your main issue with the refrigerator could be different from your friends and neighbor, so you need to see what's working for you!
#3. For Door Seal
You may need to replace the door gaskets for this issue! You can also try cleaning the gaskets and see if it solves the issue. There could be a build of dirt, and you may find the area sticky and dirty. So, you can try cleaning the area with soapy water and see if it helps you eliminate the issue. However, it's always best to double-check and let a professional deal with an issue, especially if you are unsure about the whole thing.
Call The Professionals
You may try your best to fix the leaking water refrigerator, but it could be hard for you! When you have no idea what to do with your current situation, it would be best to rely on the experts. It's best to let professionals deal with such issues as they have the experience and expertise required for such jobs!
Check out the best professionals in your area! Don't forget to check the ratings, reviews, and official websites for more information on their performance and services.
Final Words
Now that you know what causes a refrigerator to leak water, it's time to act. You can try your best and see what works in your favor! Also, if you have no idea what's happening and can't seem to fix the refrigerator, then it's best to call the experts! The professionals know the best way to deal with such issues and much more!