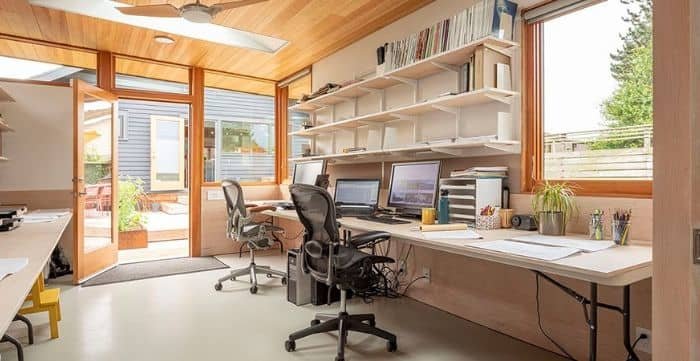 If you're currently looking for ways to make more productive use of your shed, you are certainly not alone. This is because the modern workplace experience is becoming more flexible and remote. Work from home is becoming increasingly popular in today's society, and the possibilities are endless with this new trend.  
So if you're looking to make your work more flexible, you may have to look into online shed ideas suited to the type of work you engage in. But if you have an existing shed at home or anywhere else, you can start making plans to convert it into a more suitable office space. And if you're short on ideas on how to go about it, you're in just the right place. We've discussed most of the important things to consider and the steps to achieve your target.  
Preliminary Assessment
One of the first things you should do is thoroughly assess the physical condition of your shed. This will help you get a good look at the areas that need the most attention. You can check the roof for leakages and assess the floor and walls for cracks or any other damaged portions. And if you have previously installed plumbing or electrical supply lines, check to ensure that they are in good working condition.  
Planning
This is one of the most crucial stages of your venture, especially if you're starting from scratch. Here, you have to decide what you want from your potential home office and the actions that you must take to make it achievable. To make your job easier, you can list the things you want in your new office space. It could be a list of office supplies and equipment, fixtures and fittings, or furniture. It can also factor in utilities like lighting, internet connectivity, and everything you can think of.  
Layout
The layout plan for your office space should consider things like circulation, workflow, the need for storage areas, or other rooms that'll complement the workspace. If your work requires integrating a set of activities, as with a studio or a workshop, you may have to plan to add multiple rooms to the house made from a shed. You'll need to add drywall or any other partitioning material to separate the rooms but only after mapping out the space areas for each room.  
Flooring
Your preliminary checks will help you identify the fault lines and cracked portion of your floor, and you can repair them yourself or call a flooring expert. You may also need to lay carpet or tiles over the floor. If your existing floor is not fit for the job you have in mind, you'll have to look at new flooring options in your shed. You can side with a new hardwood or laminate floor or a concrete floor. Whichever one you go for, make sure that the floor is well done. And if you need to pass conduits for plumbing or electrical works, or an insulation job, you can also make adequate provisions for them.  
Electricity
It would help if you had electricity to be productive in your office. And if your existing setup is lacking in this area, you'll have to get in on the grid as soon as possible. You'll need sockets, switches, and other electrical fixtures for your computer, printer, or other work equipment.  
Heating And Insulation 
You don't want to be out and cold in your home office shed in the thick of winter, so you will need to investigate heating. Your options can go from underfloor or wall-mounted heating to free-standing heating provisions. Whichever one you settle for, ensure that it can be easily adjusted and serviced when the need arises. You can also fill in the wall cavities with special insulation materials or fit your drywall with fibreboard cladding, polyethylene, wood fiber, or any suitable insulation fabric.  
Lighting
Lightning is an essential requirement for your office and should be treated as such.  
If you cannot guarantee sufficient natural lighting or its effectiveness,  you may have to wire your shed for electricity supply or resort to lamps. 
You'll need to consider the type of lighting suited to your job. If your work revolves around a small task area, you may need to look at task lighting for your office space. Your choice of bulb, LEDs, fluorescent, halogen, etc., may also affect your work ambiance.  
Ventilation
Consider creating new windows if the existing setup is insufficient for your new ventilation needs. Look into possibly installing a window-unit air conditioning system. Alternatively, you can purchase a standing fan or wall-mounted fan units and place them at vantage points around the room where they can properly circulate air. 
Security
Now that your DIY shed kit is wearing a new look, you may need to add extra security provisions to the place. You may have to place new locks or install an anti-theft alarm around the place. You may even opt to burglar-proof your windows and doors. Take measures to keep unwanted visitors away from breaking into your place and carting away important office equipment.  
Stock And Sorting Of Equipment
This is where things begin to take shape in your shed. The things that you load into your home office shed can go from desks, chairs, and stationery to computers, printers, routers, and other relevant office equipment. You should create adequate space to fit them in while considering the workflow, without cramping the area. 
Furnishing
You can tweak things around your shed to add a personal look and feel to it. You may add frames for family photos or old drawings, fit in a bookshelf of all your favorite books, or place a flower vase in a corner of the room. Because your office shed may often be sited close to your home, add a couple of things that should make you feel at home even while bearing down on a computer screen.  
Conclusion
The work that goes into converting your shed to a home office calls for the best hands. You may need to contract professionals like electricians and plumbers to help you out. However, the real work lies in your hands, and this is why this article should come in handy for you. We've summarily discussed some hacks that can help you turn your shed into a home office, and you should find them very helpful.