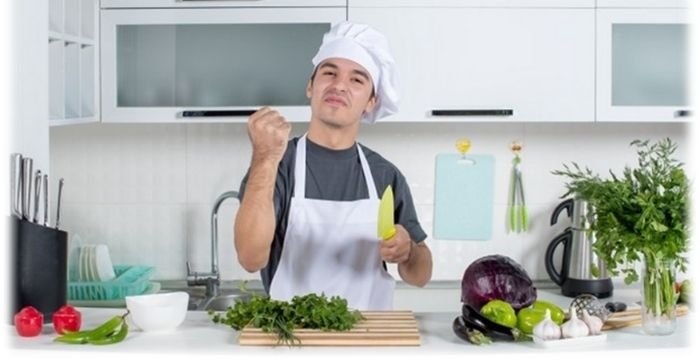 Preparing your favorite meal and eating it with an extreme appetite seems appealing, but you cannot enjoy this without eliminating the kitchen hazards. Working in the kitchen requires vigilance when it comes to safety precautions, or serious mishaps might occur, resulting in injuries. Pay special attention to this list of must-follow kitchen safety measures if you want to ensure that you and your loved ones are entirely safe when working in the kitchen.
No Kid And Pets Zone
Remember to keep children and pets out of the kitchen if you want to work without worry. They are a source of distraction that can divert your focus away from the activity at hand, resulting in culinary mishaps.
Kids should only be allowed in the kitchen if they are assisting or learning to cook; otherwise, they may not only distract you but may also injure themselves. If you can't keep your children out of your sight, then as for safety rules in the kitchen for a child, you should tuck them in their baby chair while you go about doing your household tasks.
Housemaker moms are often seen comforting their toddlers by holding them in one hand while cooking. A straight-up No!
Children can throw down pots from the stove or glass utensils from the counters with their flappy hands. To feel calmer while cooking, it is best to keep them out of the kitchen.
Kitchen Knife Safety Tips
Knives are the most commonly used kitchen item, therefore it's only natural that you know how to use them safely.
You can get major cuts from a little negligence. You should learn how to effectively use a variety of knives. Slicing, peeling, and cutting all necessitate the use of fundamental procedures to assure your safety and efficient completion of the task.
Knives should be sharp enough to effortlessly cut through meat, fruits, and vegetables. Knives that are blunt are difficult to handle, yet they are still sharp enough to cut your fingers. Use safety gloves, finger protectors, salad bowl cutters, and other innovative kitchen essentials to ensure that blades are used safely and quickly.
Keep Fire Extinguishing Products Near By
The kitchen has a higher risk of fire spreading than any other room in the house.
Cooking fires are one of the top five major causes of house fires, accounting for over half of all recorded residential fires; as a result, kitchens should have the most anti-fire equipment available.
Water or sand baskets, fire extinguishers, and fire blankets should all be easily accessible from the kitchen. These items, particularly fire extinguishers, are difficult to handle, so it's best to learn how to use them and be prepared in case of an emergency.
You should also be familiar with various types of fires and how to deal with them. Electric fires, for example, should not be put out with water; instead, use an extinguisher.
Be Careful With Hot Utensils
When working with hot pans and pots, you must use extreme caution. Lifting them with your bare hands is a mindless and dangerous practice.
A basic kitchen safety tip is to keep yourself from getting burned by hot bowls and pans.  For example, taking a freshly baked pie out of the oven or stained noodles from boiling water, should all be done with hot pads or mittens on the hands.
You should never leave a hot or boiling pot on the stove unattended. Make sure the utensil isn't completely filled with water when boiling something so that hot bubbles or splashes don't burn you or anybody else standing near the burner.
Clean Spills Immediately
Cleaning up spills while cooking may appear to be a pointless activity that may be completed later. However, this carelessness might lead to cooking mishaps.
Spills of water, milk, or oil on the kitchen floor usually invite someone to fall. That is something you do not want to happen to you, your children, or any of your guests. As a result, wipe up spills as soon as they happen and clean up the mess as you go.
It's not just a simple kitchen safety tip, but it also saves you a lot of time cleaning up once you've finished cooking. For a fast wipe down of the counters or tables, use kitchen hand towels, and mops for the floor.
Bottom Line
Safety in the kitchen requires your utmost attention. Slight carelessness and distraction by your pets or children can cause major accidents, so it is important to set boundaries for them.
In addition, you must have the right set of tools to avoid any unfortunate incidents while working in the kitchen. Proper sharp knives, hot gloves, towels, fire extingusihers all such equipment are necessary for a safe kitchen environment.