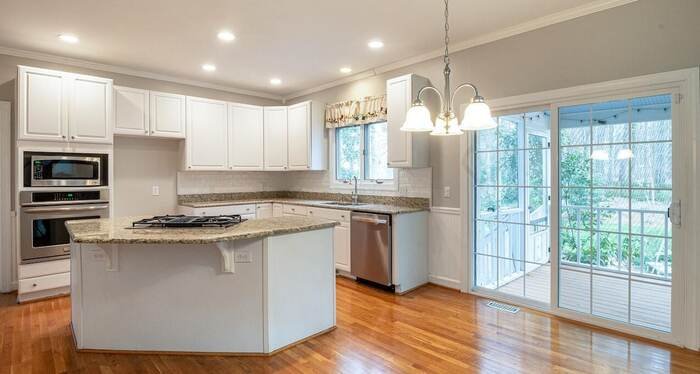 There are certainly many benefits to remodeling your kitchen. For one, a nicely remodeled kitchen looks beautiful and can be more functional. For the other, a freshly remodeled kitchen is exciting to use and prepare meals in. And if you're considering selling your home, a modern kitchen may help enhance your property value too.
Key Factors to Consider When Planning a Kitchen Renovation
Here are some factors to consider when planning your kitchen renovation:
Layout and Flow: Assess the current layout of your kitchen and determine if any changes are needed to improve the flow and functionality. Consider factors such as the work triangle, countertop space, and accessibility.
Quality Materials: Select high-quality materials that are durable and long-lasting. Good materials will improve the aesthetics of your kitchen and also ensure that your investment stands the test of time.
Energy Efficiency: Pick energy efficient appliances and lighting fixtures to save utility bills. Such items will also appeal to eco-conscious buyers when it's time to resell.
Top Kitchen Improvement Ideas
1. Maximizing Natural Light and Ventilation with New Windows
Natural light from new and modern windows will help make your kitchen look more welcoming and spacious. Meanwhile, improved ventilation will enhance airflow, especially while you're cooking. Energy efficient windows can also help reduce heating and cooling costs.
For the best results, buy awning windows from Golden Windows for your home. Such windows are available in multiple colors, offer higher energy performance, and feature better acoustic insulation. In addition, they're offered in dual and triple glaze.
2. The Impact of Lighting and Fixtures on Kitchen Aesthetics and Value
Good lighting can highlight all the strengths of your beloved kitchen. Consider installing a combination of ambient and accent lighting to create a warm and inviting atmosphere. You could also invest in pendant lights above the kitchen island and under cabinet lighting for better visibility. Such lights help your kitchen look more modern too.
3. Transforming the Look and Feel of Your Kitchen with New Countertops and Backsplash
The countertops and backsplash in your kitchen are often the first things most people notice. Upgrading them can transform your kitchen's aesthetics. Consider upgrading to granite or quartz countertops for a luxurious and modern look. You can also install a stylish backsplash that complements the color scheme of your kitchen.
4. Enhancing Kitchen Functionality with Storage Solutions
No one likes a cluttered kitchen. And every family could use more space. Consider adding storage solutions like pull out drawers, vertical dividers, and a pantry island for more place for your odds and ends.
5. Upgrading Kitchen Appliances for Some Excitement
Investing in modern energy efficient appliances can make your kitchen more stimulating, functional, and energy efficient. Consider upgrading your refrigerator, stove, dishwasher, and microwave to give your kitchen a sleek and updated look.
When in doubt, pick stainless steel appliances. They look good, match most design aesthetics, and carry a timeless elegance.
These are some of the best kitchen remodel investments. Consider purchasing modern windows, lighting, appliances, countertops, and smart storage solutions to transform your kitchen.