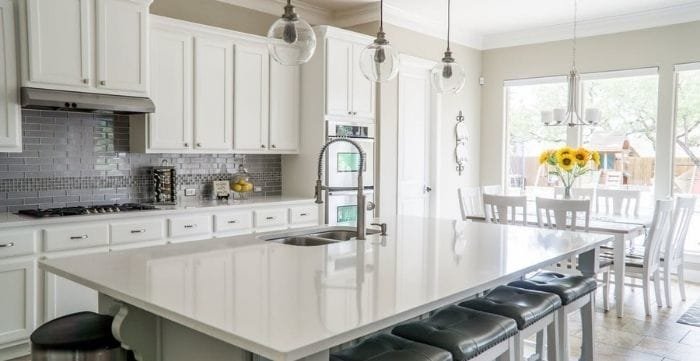 If your countertops are over a decade or two old, it may be time to update them or switch them out to really boost the value of your home. Just this one change in your kitchen can help change the tone of the entire space which will help when selling your home. Here are a few of the top countertops for 2022 that you should consider.
Modern and Sleek with Quartz Countertops
There is a reason why quartz countertops remain at the top of the list every single year: because they are breathtaking, minimalist, and extremely resistant against bacteria, heat, scratches, and stains. If you cook in your kitchen then it's going to get messy, quartz is able to handle the mess-making it highly desirable as well as highly attractive to potential buyers. Even more impressive is the fact that quartz is a man-made material, which means it is highly customizable and can be made in any color, finish, or pattern so you can really use it to accent the strengths of your existing decor.
Natural Stone Countertops
On the exact opposite side of the table are natural stone countertops. Stone countertops are slowly drifting into kitchens across the states, and for good reason: they are stunning. They can be more pricey, but it is hard to debate the highly durable and polished elegance that natural countertops made of marble and granite can bring to a home. Just listing marble countertops alone can help boost the appeal of a home listing and help enhance interest.
Butcher Block Countertops
If your kitchen has more of an industrial look to it, then butcher block countertops might be a natural option that helps emphasize both light and dark color palettes and lend to the overall feel of your kitchen. Butcher blocks can be created out of a large selection of finishes so choosing a wood color that matches compliments your kitchen without more renovation should be fairly simple. Plus, butcher blocks are usually fairly easy to maintain and are incredibly resistant to most things if you keep up with mineral oil coating at least once every one to two years.
Concrete Countertops
While concrete is probably not the first thing that comes to mind when you think of your kitchen, it should be because as industrial kitchens grow in popularity concrete is going to get a rebirth. The use of concrete in kitchens helps to instantly bring a modern look to the room, and as a highly durable material has serious staying power. Think urban and edgy if you choose this countertop material and decorate sparsely for the best final result.
If you're not happy with your current living situation, it may be time to think about selling. But, selling your home doesn't have to be stressful, and making some minor renovations can help you get a larger asking price and help streamline the process. Kitchen renovations are some of the easiest and most effective ways to boost the selling power of your home. Not sure where to start? Countertops are one of the largest surface areas in your kitchen next to cabinets, and they are often ignored.
Related post: Tips to renovate your kitchen on a budget