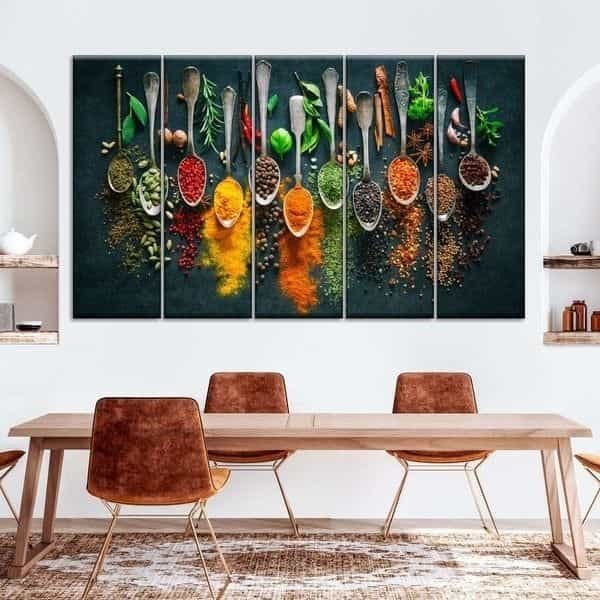 Kitchens are the heart of your house. It's the place where you can make your meals, serve them, and eat with your family. Thus, it's worth adorning them in the best way possible. From choosing the right furniture and cutleries to adorning the walls, there are numerous ways by which you can do so.
However, today we will be mentioning specific items that are enough to enhance the aura of the room. They can cut your time and effort for a complete kitchen revamp while still rendering aesthetic vibes. Check out our list to know more:
#1 Dining Room Wall Arts
One of the best tactics to decorate your kitchen (with attached dining) is by adding wall art for your dining room. They look absolutely stunning on the kitchen walls. When you and your family are gorging on delicious meals, these art pieces will be perfect to look at. They also make an excellent adornment for parties and dinners.
The beautiful designs and color blends can be an absolute head turner for your guests. Make sure to choose artworks that amalgamate well with the wall colors.
For example, if your dining wall is painted red, choose something in white. You can also theme the artwork as per your kitchen. This means you can try art with pictures of spices, veggies, or fruits. If you want something special, simply choose artwork with kitchen quotes.
#2 Add Plants
Greens can render a natural look to your kitchen. Thus, do not hesitate to add your favorite herbs or succulents inside the kitchen. Make sure to place them near the eating area to give that invigorating feel. Plants can ensure a subtle color to the space while also acting as a breather. It's best to place the plants in an area with adequate sunlight.
Alternatively, you can try other plant varieties that do not require much maintenance. This includes lucky bamboo, Pothos, snake plants, and Aloe vera. We recommend getting a basil plant for your kitchen as they are usable in your dishes.
You can top the leaves on your pizzas, blend them into sauces, or puree them in soups. They also make an excellent topping for ice creams. The best part? You can pluck the fresh leaves whenever you want.
#3 Ceiling Lights
Ceiling lights, just above your eating area, are what you need in your kitchen. They are the perfect way to light up the area while ensuring adequate brightness. You can try different varieties of light like enchanting chandeliers, cove lights, or pendant lights.
Likewise, white and yellow are the most suitable colors for kitchen lights. So, it's best to choose either of them. Make sure to measure the height between the seating area and the ceilings. The light should not hang close to anyone's head. It should have enough space to prevent any collisions.
#4 Modern Cabinet
Ensure that your kitchen has modern and seamlessly designed cabinets. It's essential to get them constructed with good-quality woods for durability. Also, a little experimenting with colors would not harm anyone.
So, check the color of your wall and get the cabinets with similar contrast. You can try blends of both light and dark shades. For example, if your kitchen wall is dark blue, keep your cabinets white. You can also include aesthetic motifs to ensure a luxurious appearance of the kitchen.
#5 Comfortable Seatings
Lastly, your kitchen should have comfortable seatings and a dining table. Both of these elements are the soul of your kitchen. If you have wooden dining chairs, secure them with seat scoops.
It should also have a curved back and arms to rest your hand. Dinings are the place for chit-chat! Thus, for that long discussion, it's best to keep the chairs cozy.
Conclusion
So these are the five must-haves for your kitchen. We recommend avoiding cluttering in your kitchen as it spoils the ambiance. Only include the things that you need but place them systematically.