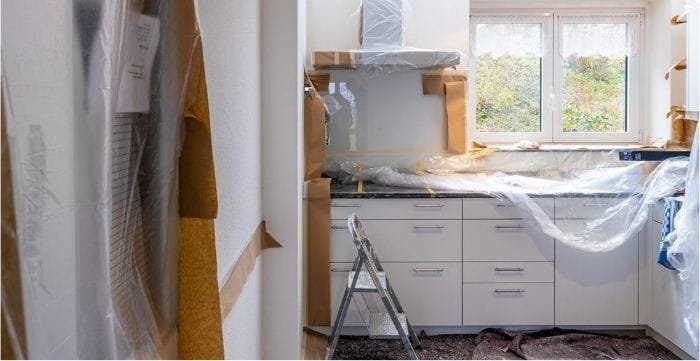 Among the most rewarding and beneficial home renovation projects is a kitchen remodel, but it's also the one that can cause you a lot of headaches if not done properly. A new, updated kitchen will up your home's resale value, and make your home life more enjoyable as the hub of family gatherings. A fully renovated kitchen is certainly a project worth the time, effort and money, but only if you take the right steps in the right order.
Create a Plan
As excited as you might be to get started, don't start tearing down cabinets and walls until you've come up with a detailed kitchen remodel plan. This comprehensive plan will allow you to fuse your vision with your budget, and determine whether you can take on this project as DIY, how to efficiently allocate your funds or if you need to consult with professionals.
The planning stage is also the right moment to determine the scope of the project. This means deciding if you're doing a "total gut," which involves tearing down walls and reconfiguring your layout or just some updates and cosmetic work.
Compare Needs and Desires
It often happens that kitchen remodeling projects end up disappointing for the homeowner and even shocking in terms of the cost simply because they didn't take the time to evaluate their needs and desires within their budget.
The best way to start your analysis is to ask yourself what are the constant problems you experience with your current kitchen – is it the lack of counter space, storage, old appliances, or simply an outdated design? Make your priority list ranking needs according to their importance and you'll have a clearer picture about what the must-haves are and what represents wishful thinking.
Kitchen Remodel Resale Value
Consider the financial repayment of your new kitchen. If you are planning to stay in your house permanently, then a dream kitchen is worth the higher cost since it will be a more updated, functional and attractive family hub for years to come. However, if there are changes on the way – you'll soon be an empty nester and want to downsize, then plan for something smaller that will satisfy wider tastes, once you decide to sell.
Demo and Preparation
With a plan ready and the scope known, it's time for the demo. At this point, you'd want to start by ripping out your old flooring, outdated range hood and dingy oak cabinets from a decade or two ago. If your budget is limited, you might simply repaint the walls and cabinet doors, and replace the backsplash. With the demo completed, you can prep for the rest of the project by setting up framing or starting foundation work if necessary.
Walls
Before you start with the drywall, be sure all your measurements are correct and ensure you have the right tools and supplies. Calculate some time for clean-up at this stage, as drywall dust is an absolute killer. The best option is a shop vacuum to get rid of it before moving on to the next stage of work.
Once you're done with structural work and you move on to painting, you should start seeing your vision taking shape. Also, you can finally relax a bit, as painting is a fairly easy stage of the work. Your only concern is to pick the color that matches the style of your kitchen and the overall ambiance.
Plumbing and Electrical
The next step is plumbing and electrical. It's best to do it this early on since your space is empty and the walls are exposed so it's much easier to work with pipes and wires. If you leave it for later, you'll probably have to drill the back of your cabinets and cut new holes in your drywall to install the piping and wires for your under-cabinet lights. Moreover, this is delicate work and even the smallest mistakes can have serious ramifications, so if you're not experienced in this field, the best advice is to call the professionals.
Cabinets and Flooring
Whether you do the flooring first or the cabinets, it's ultimately up to you, but speaking of functionality, doing flooring first is perfectly acceptable. Just make sure you allow plenty of lead time, as the delivery of your cabinets can take weeks, if not months. Once your cabinets are installed, you can start measuring for your new countertops. At this point, your sink should be factored in so make sure you have it on-site at this point. The same goes for your tapware. Choosing the right tapware for your kitchen renovation will largely depend on the style you're going for but with the wide range on offer, this shouldn't be a big problem.
You might also have to wait a while for your countertops to arrive, so use the time to work on the backsplash, decorative lighting, hardware, and barstools for your new kitchen island. Your kitchen backsplash is an important design detail as it can greatly improve its overall look.
New Appliances
The final step is setting up the dishwasher, refrigerator, stove, hood and any other appliances you want to have in your kitchen. At this point, the majority of the big work is done, so you can devote your attention to smaller details such as decoration and styling your open shelving. It is a wise move to call in an inspection, particularly if they're required by your municipality, to ensure all work was done up to code. After that, your remodel is complete and you can move on to the best step—relaxing and relishing in your brand new kitchen.
These are the basic steps to take when remodeling your kitchen, but if you're working with a general contractor, make a final walk-through to ensure no detail has been left unchecked. Once all that is done, your kitchen is finished and you can finally kick back, enjoy the new space with your family and feel great about the work you've accomplished!