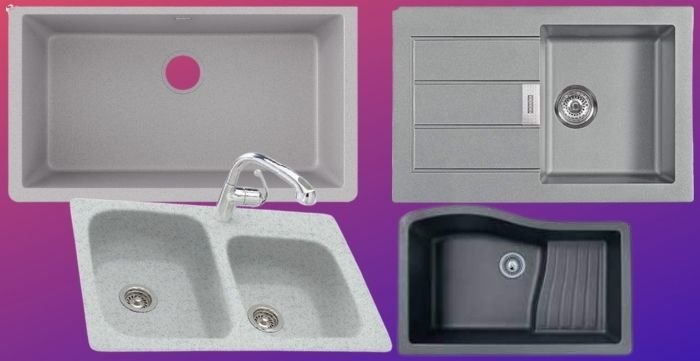 Stone kitchen sinks are slowly making waves in the world of décor not just for their functionality but their beauty. Just as the name suggests, they are tough as a rock and come in many designs.
They come in many forms; granite, marble, sandstone, soapstone and many more natural stones. Stone kitchen sinks bring a natural vibe to your home, making it unique.
If you plan on having a stone sink in your kitchen, make sure you gather all the correct information to make the best choice. To choose the proper sink for your kitchen, consider factors like cost, maintenance, availability, space, mounting method, design and material.
We will review the top ten stone kitchen sinks in this article in the market today as we guide you through the perfect purchase.
Top 10 Stone Kitchen Sink Reviews and Features
1. Elkay Quartz Classic ELGRU13322GS0 Greystone Sink
This sink is easy to clean and does not get stained from foods and liquid. All you need to use is soapy water and it will be as good as new.
It is heat, impact and scratch-resistant and made from fine quartz sand. This sink can withstand constant heat of up to 535 fare hit.
The sink has a huge bowl that gives you enough space to pile up dishes and clean them comfortably. With an offset drain of 3.5 it gives you optimum working space.
Its undermount installation beneath the countertop creates a seamless look between countertop and the sink. The greystone look adds character to your lighting with its metallic flecking.
Brand: Elkay
Material: Quarts
Color: Greystone
Size: Sink only
Sink Dimensions: 33″ X 18-7/16″ X 9-7/16″ Min
Cabinet Size: 36″
Mode of installation: Undermount
Style: Contemporary
Recommended Bottom Grid: LKOBG2915SS
Recommended Drains: LKQS35GS, LKQD35GS, LK99
Pros:
Easy to clean
Heat, impact and scratch-resistant
Cons:
Heavy; May be challenging to install.
Stone Kitchen Sink Buyer's Guide
2. Swanstone QZ03322LS.077 Granite  Kitchen Sink
With 80% quartz stone, this sink is tough and indestructible from any kitchen use. It is ideal for remodeling or a new home and is easy to install because of its standard size. It has a pre-drilled faucet hole, but you can drill four more.
It comes with a great low divider that can fit in large utensils. The bowl is small and shallow, making kitchen activities easier. The manufacturer offers a limited lifetime warranty, and you buy the drains separately.
Brand: Swanstone
Material: Granite
Color: Nero
Size: 33-in L X 22-in H X 10-in H
Left bowl: 17-1/4-Inch by 18-Inch by 10-Inch
Right bowl: 11-Inch by 15-1/4-Inch by 7-Inch
Mode of installation: Drop-in or undermount
Style: No-rimming
Pros:
Smooth edges that are easy to clean
Extremely tough surface
Produces negligible notice
Resistant to scratching, extreme heat and impact
Cons:
Requires regular cleaning
Heavy making installation quite hard
3. Swanstone KS02518DB.072 Solid Surface Kitchen Sink
This sink has a renewable solid surface that doesn't wear and tear. It can withstand prolonged heat of up to 450°, and it is stain and scratch-resistant. If the space you need to install in a sink is limited, such as a boat, this sink is ideal.
These sinks are non-porous, making them easy to clean and maintain. It comes with a pre-drilled faucet hole.
Brand: Swanstone
Material: Stone
Color: Pebble
Size: 25-in L X 18-in H X 7.5-in H
Mode of installation: Drop-in or undermount.
Style: No-rimming
Pros:
The double bowl helps in organized cleaning
It can be installed in two ways
Heat and impact resistant
Sloped bottom for maximum drainage
Cons:
May break upon heavy impact
4. VIGO VGRA3318CS H Single Bowl Matte Stone Kitchen Sink
This sink is solid to the core, fire and chemical resistant, non-porous, scratch-resistant, and cannot crack on impact. It does not discolor and can last in perfect condition for years.
You can install it with the front flat or slanted. The kitchen sink includes a stainless steel strainer, a Matte StoneTM farmhouse apron front, and a VIGO cutting board. Its 10mm radius solid core corners are much uncomplicated to clean. The manufacture offers a limited lifetime warranty.
Brand: Vigo
Material: Stainless Steel, Brass, Stone
Color: White Single Bowl
Size: 33″ Reversible Slotted Front
Mode of installation: Flush mount or undermount
Style: Modern
Exterior Dimension: 33-in. L x 18-in. W x 9.625-in. H
Interior Dimensions: 31.625-in. L x 16.625-in. W x 8.375-in. H
Pros:
Nonporous
Scratch and impact resistant
Easy to clean
Cons:
It might get stained over the years
5. Swanstone Undermount Granite Kitchen Sink
This sink is has a raised platform ideal for cleaning and preparing food. It is damage resistant from any kitchen use. The sink surface is very hard because it is made of 80% quartz stone.
You can mount it on any form of countertop material including a solid surface, tile or quartz and granite. It is not only best for new constructions but remodeling as well.
Brand: Swanstone
Material: Granite
Color: Nero
Size: 32-in L X 21-in H X 10-in H
Style: Modern
Pros:
Chemical resistant
Heat resistant
Nonporous
Cons:
May break upon high impact
Limited finishes to choose from
6. Swanstone QU03322LS.077 Granite Undermount Double-Bowl Kitchen Sink
It is pretty indestructible from any kitchen use, as is it made with 80% quartz stone. Its rim is hidden, so it doesn't catch dirt. It can be easily mounted under any material your countertop is made of because it comes without a faucet hole and small rim dimensions.
The sinks are 7 and 10 inches deep for maximum workspace. You have to buy the drains separately as they are omitted.
Brand: Swanstone
Material: Granite
Color: Nero
Size: 32-in L X 21-in H X 10-in H
Left bowl: 17-1/4-Inch by 18-Inch by 10-Inch
Right bowl: 11-Inch by 15-1/4-Inch by 7-Inch
Mode of installation: Undermount
 Style: No-riming
Pros:
Crack, chip, scratch and stain resistant
Very quiet
Hygienic
It fits seamlessly with the countertop lines
Cons:
Not many colors to choose from
The raised ledge interferes with the continuity of the bowl
7. Swanstone QU02522SB.077 Granite Undermount Single-Bowl Kitchen Sink
Almost as hard as diamond, this sink is 80% quartz stone. It is damage-resistant and easy to clean with non-exposed rims where dirt can hide. This sink can fit under any countertop.
It is 9 inches deep, with its drain near the rear of the bowl, giving you maximum workspace. It is perfect for a new home or an upgrade, and it comes with a limited lifetime warranty. With this sink, you have to buy the drain separately.
They are sophisticated, bringing that new top standard to your kitchen.
Brand: Swanstone
Material: Granite
Color: Nero
 Size: 24-in L X 21-in H X 9-in H
Mode of installation: Undermount or countertop
Bowl: 21-3/8-Inch by 17-7/8-Inch by 9-Inch
Pros:
Hard surface
Spacious
Heat resistant
Its installation offers seamless continuity with the countertop
Cons:
Strainers are separate
 Not so many finish options to choose from
8. Swanstone KS03322DB.053 Double-Bowl Kitchen Sink
This double-down stone sink has an authentic solid surface that is renewable and doesn't wear. It is a classic standard-sized sink with one pre-drilled faucet hole.
Swanstone is hard and withstands up to 450° of extended heat, perfect for holding hot water and hot pots. This sink cannot scratch, maintaining its elegance. They are non-porous, making them durable and easy to maintain.
Brand: Swanstone
Material: Stone
Color: Tahiti Gray
Size: 33-in L X 22-in H X 9-in H
Style: Classic
Mode of installation: Undermount or drop-in
Pros:
Cleaning is more organized with the double bowl
Two ways of installation
Sloped bottom for better drainage
Resistant to heat
Cons:
9. Franke 114.0476.404 Sid 611-78 Granite Kitchen Sink
Franke granite sinks are elegant bringing that natural feel to your kitchen. it has a fine texture and also nonporous. It is also guaranties you a lifetime of beauty.
This stone kitchen sink is 7kgs heavy. It is made of granite and comes with an automatic stopper made of stainless steel. If you are looking for a bacteria free sink, this is the sink to go for. It is highly resistant to germ growth.
You only need a soapy nylon brush to keep it clean and shiny. Using abrasive agents, bleaches, drain cleaners and powders is not advised.
Brand: Franke
Material: Tectonite (stone grey), Stainless Steel
Dimensions: 350 x 400 x 200mm
External dimensions of the bowl: 780x500mm
Color: Stone Grey
Mode of installation: Countertop.
Pros:
Durable
Heat and scratch-resistant
Easy to clean
Hygienic
Cheaper than other forms of granite sinks
Cons:
Risk of tearing
Heavy
 Needs special maintenance every year or so
10. Swanstone QZ03322SQ.077 Granite Kitchen Sink
It is made up of 80% quartz stone, making it almost as hard as diamond. This skink comes with a contemporary design that doesn't compromise its functionality. It's perfect for a new home or when you are planning to remodel your home.
Fitted with one pre-drilled hole, you can still have two additional holes. The 9 inches deep double bowls are symmetrical with their drains close to the back of your workspace.
Fitting it on your countertop should not worry you because it has a large, flat deck surface with thin edges that fit perfectly with its surroundings.
Brand: Swanstone
Material: Granite
Size: 33-in L X 22-in H X 9-in H
Color: Nero
Style: Contemporary
Mode of installation: Undermount or drop-in
Pros:
Extremely hard sink surface
Has two installing options
Impact, heat and scratch-resistant
Produces low noises
Easy to clean along the edges
Cons:
Require regular cleaning
Bulky
Kitchens are a fundamental part of every home. This is where activities such as food preparation and dishwashing take place. Stone kitchen sinks are flooding the market, and finding the right sink can be tedious.
Let's see what you should look for before installing a sink in your kitchen.
The Sink Style
This is the most common type of stone sink available in the market. Make sure to choose the right size to avoid making cleaning large pots and pans difficult. They are cheaper to install and have more space than double sinks with a divider.
Single basin sinks are easy to maintain and perfect for small spaces.
Most of this sink may be the same size as a single ingle sink but with a divider. The benefit of this sink is functionality. You can keep one bowl for dirty dishes and the other for fruits and food, or you can use one for washing and the other for rinsing out the dishes.
This is the perfect sink to go to for a modern kitchen. They are beautiful, spacious, and come in many styles and colors. You can get one in any stone you want. It is a perfect option for when you want a customized sink.
Material of the Sink
It comes in many colors, and its finishing is either shiny or mate. It is the most common stone sink, but there are more options.
This type of sink is strong and hardly needs maintenance. You can get one that integrates with the counter or a contrasting one.
This is a pretty affordable kind in the market. It is impact, heat and scratch-resistant. These sinks have no sealer, and soapstone is entirely natural, making it environmentally friendly. It gets old beautifully over a couple of years.
They are classy, durable, and can be integrated with a marble countertop. Marble stone sinks are historical, but they can be used in a modern kitchen to bring out beauty and style.
Stone sinks have been in use for thousands of years. Due to their durability, you can find a unique vintage stone kitchen sink to go with your decor. These sinks bring in the sense of heritage in a modern kitchen.
Style of Installation
Do you want a drop-in sink or an undermount sink? This is another thing you should consider before purchasing a stone kitchen sink.
An undermount sink will create a seamless look because it attaches beneath the counter. On the other hand, a drop-in sink will have its lip resting on the counter making it visible.
The drop-in sink is more affordable but needs much more care when it comes to cleaning because of the exposed lip. It is also very easy to install.
Alternatively, an undermount sink is easier to clean but more high-end. Its installation process is quite complicated and you will need some help.
Ease of Cleaning
We all want a sink that is hygienic and easy to clean. Some sinks can give way t growth of germs that may affect your health and that of your family.
A continuous smooth surface that is nonporous with unexposed seams will be easy to keep clean. Exposed seams need more cleaning to avoid bacteria.
Remodeling or new construction
If you are remodeling, you will have to determine if you need to resize your kitchen cabinets. You will need to carefully choose your style so that it fit. The old cabinets need to fit and hold the weight of the new sink.
If you are doing a complete renovation or a new construction, then choosing a sink should not be that hard.
Size and Configuration
Before purchase, consider your kitchen's space and style to buy a sink that fits. Keep in mind as well that bigger sink will cost you more and will need more work installing.
How you use the sink should also be soothing to consider.  If you don't cook often or at all, a standard size sink can fit you comfortably. Alternatively is you cook a lot or have a big family, go for a bigger sink.
Small kitchen spaces on the other hand, need small sinks so to avoid overwhelming the whole room but if your counter space can is big enough to accommodate a big sink, go for it. You never know when you will need the space.
Depth should also be fundamental in choosing a sink. Though deep sinks are good at accommodating more dishes, they might be uncomfortable to use for shorter people. Deep sinks may also lead to less garbage disposal space.
Cost
There are snicks of all prices available in the market. All you have to do is choose the best you can from your budget. Their prices are determined by the brand, size, design and material.
Frequently Asked Questions
Q1: What is the best material for kitchen sinks?
Ans: Stylish and stain-resistant sinks are the best. You can go for several perfect materials for kitchen sinks, including stone, stainless steel, copper, fireclay, enamel, and composite.
Q2: What are swanstone sinks made of?
Ans: It is made of a strong modified and reinforced acrylic filled with natural minerals.
Q3: How much does it cost to install a stone kitchen sink?
Ans: The prices depend on the type of sink you want to install and labor. It could range from $400 to $1100 per sink.
Q4: How do I clean a stone kitchen sink?
Ans: Use a damp cloth with mild soap and warm water. Avoid using hard detergents or anything acidic.
Q5: How to choose a kitchen sink?
Ans: Consider the size and configuration of your kitchen before purchasing a sink. The number of bowls you want also affects your decision.
Q6: What kind of kitchen sink should I get?
Ans: Is it durable? Is it affordable? What brand is it? Are some of the few questions you should ask when choosing a sink?
Q7: Where to buy kitchen sinks?
Ans: You shop for a sink on an online store like Amazon, a local hardware store or a kitchen appliances store.
Conclusion
Stone kitchen sinks come in a wide range of materials, colors, designs and sizes. Take some time to know what you need before making a purchase. It is not always that the most expensive sink has the best quality. Compare a number before you choose.
With proper care, your sink can last to over 100 year. We are hopeful that this buyer's guide article will help you select the best stone kitchen sink for your home.
Related Review Articles: