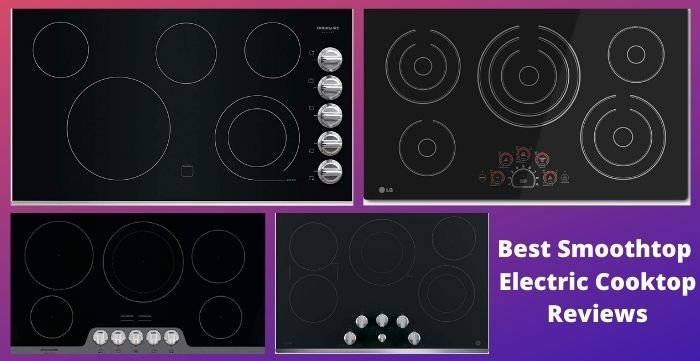 Do you think your gas stove is taking hours to get your food cooked? If yes, you are at the right place because this is the right time to change your cooking stoves into a smooth top electric cooktop to fulfil all your needs. Moreover, selecting the best cooktop can be very challenging. Thus, to help you choose the best, we have listed the top 10 smoothtop electric cooktop. Furthermore, a buying guide would help you look into the factors you must consider before buying a cooktop.
10 Best Smoothtop Electric Cooktop Review and Features
1. GE JP3030DJBB 30 Inch Smoothtop Electric Cooktop
GE dark black smoothtop electric cooktop has four radiant elements with two 8″ power boil elements providing you with an ample amount of space to cook all your basic daily meals. Moreover, you will face no heating power disturbances when the four cooking zones are occupied. All the pans will receive an equal amount of heat.
Subsequently, you can easily pressure boil anything on the two large zones, whereas, on the rest of the two small cooking zones, you can melt the frozen food or keep it warm.
However, if you fear that these cooktops can get hot and you can burn yourself, then there is no need to worry because an indicator lightens up, giving you a signal to be careful.
There are two types of indicator lights on this cooktop. Hot surface indicator lights give you an alert when the elements get very hot, whereas Cooktop "On" indicator light lets you know when the heating element is active.
Consequently, the best feature of this cooktop is the adjustable heat settings to warmer ones. You can easily boil water within minutes with this fully functional 6″ element with a warm cooking zone.
Pros:
Easily installed
It has a powerful 2500-watt element
Easy to clean
Adjust heat settings with knobs
Cons:
It can take time to cool back
2.
Frigidaire FGIC3666TB Gallery 36″ Electric Induction Cooktop
Frigidaire electric induction cooktop provides you with multiple benefits. Firstly, induction cooktops are best to use as they can cook your food within no time.
One of the best thing about Frigidaire cooktops is that they use new cooking technology. The auto sizing pan detection is of great benefit. Imagine you have a small pan, and you are wondering whether this cooktop has the right fit for you or not. The auto sizing pan detection detects the pan size, and without wasting energy, it provides the necessary heat to the pan.
Furthermore, if you are worried that your child might ruin all the heat settings, still no worries. There is a child safety lock to keep your default settings safe and sound. Also, there is a hob timer that allows you to do easy cooking. You can feel relaxed and do other chores while your food is being cooked.
You can set time for various cooking zones on your cooktop with the hob timer, allowing the zones to switch off automatically when your food is prepared. The '+' sign will enable you to increase the time, whereas the '-' sign decreases your cooking time.
Pros:
Even heat distribution
Easy temperature control
Easy to clean
Five heating elements
Cons:
3. Frigidaire FFEC3025US Electric Smoothtop Style Cooktop
Frigidaire cooktop comes in silver colour classified in radiant type cooktops. The best part about radiant cooktops is that it does not heat the surrounding air and perfectly radiates the heat to your cooking pans. Let's see some amazing features of this electric cooktop;
The best thing about this Frigidaire cooktop is that it is designed with the stainless-steel material, which is long-lasting than many other cooktops. It provides you with multiple benefits. Because stainless-steel is non-porous, your cooktop is germ resistant and much easier to clean. So, don't worry about the hassle of cleaning sticky materials out of your cooktop.
Many people feel uncomfortable with touch controls on cooktops because it gets harder to control the heat repeatedly. Therefore, following your need, Frigidaire smoothtop electric cooktophas four knob controls that can easily control heat. With these steady controls, you can adjust heat to a more comprehensive range of settings as per your requirement. This ensures an easy cooking experience with numerous chances for you to experiment with your food.
Moreover, cooktops made with ceramic base plates are aesthetically compelling. As these glass-ceramic base plates are combined with stainless-steel, it becomes easier for you to handle this cooktop. Any spills that occur during cooking are not a problem as they won't burn.
Pros:
Long-lasting
Insta over an oven
Easy controls
Indicator lights let you know when the cooktop is hot.
Cons:
Fragile
Needs extra care during transportation
4. Frigidaire FGEC3648US Electric Smoothtop Cooktop
If you want to cook more than four dishes simultaneously, then this cooktop is best for you. It has five cooking zones, from which the middle one is the largest zone, perfect for your large pans. Not to mention, Frigidaire cooktops allow you to cook delicious food on small pans.
Also, the upgraded power capacity boils water in seconds. And the immense energy of this cooktop allows your food to cook quickly. Moreover, if you use five zones in one go, each zone receives a specific power amount. This is beneficial as heat is distributed evenly in all the zones.
Some of this cooktop's specifications include; the left-back burner receives 3200 watts, whereas the middle burner receives 3000 watts. The right-back burner receives 1500 watts. On the other hand, the front left and right burner receives 1200 watts. The immense power capacity is enough to cook all the heavy meals.
Furthermore, there are 5- knob controls that allow you to adjust each zone's heat settings as many times as you want. This cooktop has hot indicator lights that light up as soon as the cooktop heats up, ensuring a safe cooking experience.
Pros:
It has an expandable element in one cooking zone.
Knob control allows better control.
Combined with modern technology.
Cons:
The size adjustment is to be carefully seen.
5.
GE PP7030SJSS 30 Inch Electric Cooktop
Do you have rectangular cooking pots that are yet to be used? If yes, then here is the good news for you. This GE electric cooktop is similar to traditional coiling cooktops, but it has a unique bridging element. It effectively transfers heat from the coils to the bottom of your pots and pans.
Additionally, it can maximize your cooking experience as it has various features. You can easily use a square-shaped cooking pan larger than the circular impressions shown. The bridge sync feature allows two cooking zones to combine into one large cooking surface.
There are five cooking zones on this cooktop combined with Red LED backlit 5-knob controls that allow maximum control on the desired amount of heat. One knob in the middle is a child lock that ensures child safety.
Moreover, the five heating elements are supplied by different ranges of power. The top and bottom left receive 1500 watts, and these are the bridging sync elements that allow you to cook in rectangular or oval-shaped pans.
The top right heating element receives 1200 watt, whereas the bottom right receives 2200 watt. The middle one is the largest heating element that receives 3100 watts. The best feature of the bottom right cooking zone is its capacity to accommodate two sizes of pans.
Pros:
It can accommodate large pans.
Receives higher power
High-quality
Cons:
It weighs 60 pounds
Expensive
6. LG 36″ Black Radiant Electric Smoothtop Cooktop LCE3610SB
Another option among the cooktops is the LG black radiant, smoothtop electric cooktop with five heating zones. This is a radiant-type electric cooktop with smooth, electronic touch controls that can easily activate the heating elements. Not to mention, due to the smooth surface, you can clean the touch controls anytime.
Even heat distribution is an essential component when it comes to selecting efficient cooktops. Therefore, following your need, this cooktop effectively distributes the heat to all your cooking pans. Also, there is no fluctuation between the touch controls and the heating elements. Plus, they will respond to the power settings as soon as you keep them switched on.
Additionally, if you want to warm your food, just power on the warm setting shown on the control pad; however when the electric top gets too hot, the indicator lights give you a signal to enhance safe cooking.
Pros:
It weighs 43 pounds
Precise heat control
Five ceramic glass elements
Auto shut off
Simple installation
Cons:
Repairs can be a bit costly.
The size needs to be carefully adjusted.
7. GE JP5036SJSS 36 Inch Smoothtop Electric Cooktop
The GE 36 inches smoothtop electric cooktop comes with melt setting controls. So if you need to cook frozen food urgently, you can quickly melt it first by placing it in the top right corner because it does not have various coils and thus, heat fluctuations do not occur.
Moreover, to maximize the efficiency of the cooktop, the five heating elements receive different power ranges. The top left and top right cooking zone receive 1200 watts, whereas the middle one is a tri-ring burner that receives 3000 watts. On the other hand, the left bottom receives 1500 watts, whereas the right bottom receives 2400 watts.
All in all, this cooktop has unique digital controls among all the cooktops on this list. The precise controls allow you to adjust heat settings within no time. With the timer, you can do various kitchen chores as the heating element automatically switches off, and you don't have to worry about getting your food burnt.
Pros:
Heats faster
A child lock allows unexpected switching
Modern cooking technology used
ADA compliant
Cons:
It is heavy as it weighs 52.9 pounds
8. Frigidaire FGEC3068US  Electric Cooktop
This Frigidaire smoothtop electric cooktop has five heating elements made out of stainless steel combined with ceramic glass on the top of the electric cooktop. The best thing about this cooktop is it's easy knob front controls ensuring an excellent cooking experience.
You might be worried about the loosening of the knobs. Frigidaire's every knob is made up of two pieces. The heavy cast metal base is made out of zinc alloy, whereas the top part is made out of strong plastic held to the bottom by screws.
The space-wise expandable elements expand your cooking needs as you can adjust your pots and pans on various heating elements. Enjoy delicious meals by cooking on this cooktop as it boosts your cooking experiences.
Moreover, a 7-inch burner and two 6-inch burners provide you with ample space to accommodate various pan's sizes, providing you with flexibility. And if you want to boil water quickly, then central heating elements is there to assist you.
Pros:
Easy controls
Shows a signal when the cooktop gets hot.
Easy to install
Cools down in no time
Cons:
No child lock on the cooktop
9. Frigidaire Electric Smoothtop Cooktop FGEC3645PS
The dark black Frigidaire cooktops are aesthetically appealing as they have a unique design with all the heating elements randomly adjusted, whereas the five silver knobs are designed vertically. The silver colour knobs combined with a black smoothtop electric cooktop give a visually compelling look.
The five heating elements are uniquely adjusted. The best part is that there is enough space between each component so that the pans can adjust easily without colliding. The bottom right cooking zone can accommodate various pans' sizes, whereas the top three heating zones can accommodate small pans. Space-wise expandable elements allow flexibility in cooking.
Frigidaire Gallery is made up of high cooking technology and weighs 60 pounds. Moreover, this cooktop's unique feature is the Express-Select control that allows you to go from warm to boil within no time. Also, there is no hassle of cleaning the baseplates because these are germ-resistant.
Pros:
Aesthetically appealing
Long-lasting
It can be installed on the oven.
Cons:
10. GE PP9036DJBB 36 Inch Electric Cooktop
The GE radiant type electric cooktop is different as it has a 6''/9''/12 Inch tri- ring that allows flexibility during cooking. It can easily accommodate all types of pans in a variety of sizes. Moreover, this cooktop is a bit smaller in size.
If you have rectangular cook pans or pots, this cooktop is for you. It can easily accommodate all shapes of pots and pans as it has bridging elements. As we have mentioned above, the bridging elements allow the top and bottom left heating zones to be connected. Moreover, you can also melt the frozen food on this electric cooktop.
The precise touch controls ensure a quick response during heat adjustment. There are five cooking zones in this cooktop, and the Red LED backlit 5-knob controls that allow maximum control on the desired amount of heat.
A minor difference between the previous bridge sync cooktop, and this one is the size. Overall, this is smaller in size. The left heating zones can accommodate cooking pans that are small in size.
Pros:
Easy touch controls
ADA compliant
Efficient heating signals
Cons:
Fragile
Frigidaire branded cooktop
Smoothtop Electric Cooktops Buying Guide
Now that we have seen some of the best cooktops and their features, it is important to know about the main features to look for before buying any smoothtop electric top. And if you are still confused about which cooktop to buy, then here is a quick buying guide to simplify your searching process.
The first factor that you should consider before buying an electric cooktop is the size. Imagine you purchased an expensive cooktop, but it doesn't fit in the available space. It would be best if you would measure the width and length carefully. Most cook tops come in sizes ranging from 12″, 24″ and 36″ to larger ones that range from 30″ to 40″.
Also, consider whether you want a small cooktop or a larger one. If you need to cook more dishes, then a large cooktop would be best for you.
When buying any cooking appliances, the price is a major factor that many people consider. It is essential to decide how much you can spend on the electric cooktop because budget limits your research or broadens. Let us tell you that Induction cooktops are costly than others. However, induction cooktops are the most energy-efficient than the others.
The average cost of electric cooktops ranges from $400 to $800, whereas Induction cooktops can go beyond $1000. Besides the purchasing costs, you should also consider the side expenses. Do not forget to consider energy expenses as these appliances use electricity.
Safety and Energy Efficiency
If you wish to have energy-efficient cooktops, then Frigidaire electric induction cooktop is best for you. Induction cooktops save up to 10% extra energy, and they are the safest ones to use.
Before buying a cooktop, you need to decide the number of cooking zones that would be best for you. If you have a small family and only need to cook small meals, then four electric cooking zones cooktop is enough for you.
However, if you have a large family and need to cook more meals, buying five cooking zones would be best. Also, remember that larger cooktops can easily accommodate all your large pans and pots without getting congested.
Different types of base plates are available in the electric top; glass-ceramic cooktop, stainless steel base plate and basic white enamel. The best base plate used in most electric cooktops is a ceramic-glass plate, as it has multiple benefits.
Firstly, ceramic-glass cooktops are effortless to clean as you can easily wipe off any spillage. Moreover, they are safer to use as the hot surfaces cool faster than the electric coil. They are less expensive and easier to install.
However, one downside is that you should carefully handle glass-ceramic baseplates as they are fragile. Any carelessness in handling or during transportation can easily lead to breakage.
Another essential feature that you must look for is an automatic timer. With the timer on, you will not need to worry about the food getting burned.
You can adjust the time according to your needs. For instance, when the food is prepared, the timer automatically switches off the heating elements and gives a beep.
Thus, you can concentrate on making other delicious dishes and enjoy cooking.
Frequently Asked Question:
Q1: What is the Best Type of Smooth Electric Cooktop?
Ans: There are two types of smoothtop electric cooktops: radiant and induction. Induction cooktops are the most effective and the costliest. They are safer to use as the surface does not gets heated. So, in the case of induction cooktops, you should not worry about accidental burns.
On the other hand, radiant cooktops have coils beneath the baseplate that allow conduction of heat from the base plate to the top quickly. They ensure even distribution of heat and easy heat control.
All in all, when it comes to efficiency, induction cooktops win the game.
Q2: How should you differentiate between the induction and radiant cooktop?
Ans: Radiant cooktops have coils beneath the baseplate, whereas induction cooktops have electromagnets. Due to the presence of electromagnets, Induction cooktops only heat the pans, not the surface. Radiant cooktops easily heat up to the desired temperature in no time.
Q3: What is the Life Span of Electric Cooktop?
Ans: The average lifespan of a smooth top electric cooktop is 13 years. So, you can consider having one for long term use.
Q4: Does an Electric Cooktop Use a High Amount of Energy?
Ans: The amount of electricity a cooktop use depends on the type and size of the electric cooktop you have. Induction cooktops are more energy-efficient than others because the heating element's alternating current creates an electromagnetic field. This electromagnetic field enables the pan to heat up without wasting extra energy. Hence, they save 84% energy.
Final words
After reviewing all the top 10 smooth top electric cooktops, we hope you have a clear picture of the electric cooktops that fulfil your needs and requirements. However, to help you pick the best one, we have rated Frigidaire Induction cooktop as the top cooktop on our list due to its multiple features and the user's vast safety benefits.
Related Review Articles: