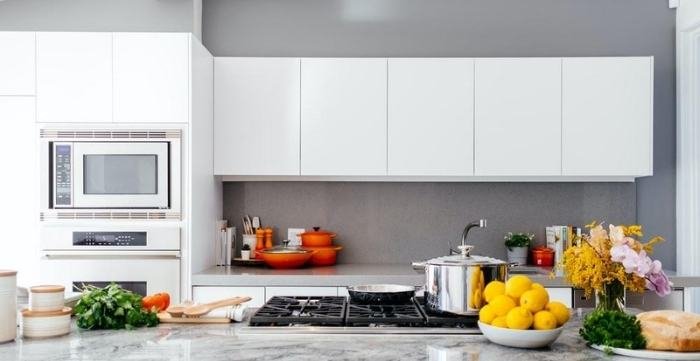 Designing the kitchen in a timeless style is the most important aim you should have if you engage in a remodelling project or want to sell the house in the next ten years. Of course, you want to customise your house and kitchen to match your personal style to make it look beautiful and practical. But keep in mind that the kitchen is the one room in the house that adds value to your property, and it can make or break a sale, so it's crucial to design it in a manner everyone would find pleasant.
The secret to designing a timeless kitchen is to opt for classic features that encourage longevity. It doesn't mean you cannot stamp your own personality, but use easy-to-replace accessories like paint colour, window treatment, wallpaper, or upholstery.
Consider the Rest of the House When Designing the Kitchen
It's paramount to hone in on the area you're designing and ensure it complements the environment. This factor is essential to consider when picking the hood, flooring, and backsplash elements. Opt for pieces that naturally blend with the rest of the house from a colour scheme to a style standpoint to enhance the sense of cohesiveness.
So, if you designed the house in a modern style, opt for modern and simple elements for the kitchen as it should look like it's part of a whole. When you put it on the market in a couple of years, you want to present sellers with a timeless house that matches their needs and preferences.
Go With Natural-Coloured Cabinetry
Even if Pinterest presents classic white as the ideal colour for classic kitchens, you should instead select a more neutral shade that cannot go wrong in terms of longevity. Hues like beige, pale blue, light green, pale grey, and cream are ideal for kitchen cabinets as they provide the room with an individual look without damaging its long-term credentials.
You want to transform the kitchen into the liveliest room in the house because that's where you spend most of the time with the people you love. And while some homeworkers use bright shades like vibrant greens and blues to reflect their energy, natural colours would work better because they create a timeless and comforting style.
Use Classic Style Cabinets
The specialists from kitchenwarehouseltd.com state that kitchen trends come and go, but classic style cabinets never date. Flat-fronted and shaker-style cabinets are dependable styles, while wooden and painted furniture has always been a classic choice. Even if classic elements have remained popular among buyers over the last couple of years, the kitchen industry has witnessed a move away from all-painted kitchens to ones that promote plywood and wood finishes.
You can install dark wood cabinets against light units to add an accent and create a modern feel. Walnut wood has a beautiful and rich effect, and wood furniture has always been timeless.
Welcome Natural Stone Inside
If you're looking for an inspirational place to visit before starting the renovating project, go to the slab yard. If you pick a stunning slab, you could sly the kitchen design. Interior designers second the importance of natural stone in kitchen design and encourage homeowners to visit a yard to see how particular veining and patterns look on big stone pieces.
You can install a slab up the backsplash if you want to boost the overall design aesthetic of the room and bring in an element you'll never tire of. A timeless kitchen design begs for a natural material such as stone, and where do you count that it makes a perfect solution for a countertop?
Suppose you don't want to opt for the traditional subway tile backsplash model (an all-time favourite among homeowners). In that case, you can choose a more creative solution and install patterned cement tiles popular in the 20th and 21st centuries. They work great for open plan spaces and mix seamlessly with hardwood flooring.
Choose the Perfect Kitchen Layout
Creating a perfect layout brings your kitchen longevity. If some units' positions didn't bother you before, you'd probably never consider moving them. But only because you find them easily accessible doesn't mean they're ideally positioned in the overall kitchen design. An experienced interior designer could help you figure out the perfect layout for your kitchen.
The size of the room is the key ingredient in developing a successful layout because it dictates how effective the design is according to the elements' position. When creating a kitchen layout, keep in mind the kitchen triangle consisting of the oven, sink, and fridge. No matter what layout you choose, they make the anchor for the other elements, whether you go for a kitchen built around an island, U-shaped, galley, or l-shaped.
Install Open Shelving
Open shelving has become a timeless kitchen element, but it's not for every homeowner. Considering how popular the trend is, it won't go anywhere in the near future. Interior designers think that displaying kitchen utensils and items can breathe personality and life into the kitchen. It doesn't matter what items you choose to display (plants, pots, pans, earthenware, glasses). You can never get it wrong when you opt for open shelving.
You may shy away from this design because you fear you'll make the room look too cluttered or untidy if you don't keep the elements in neat order. But if you do it right, it can open up the room and make it look more spacious. It's the ideal design for a small kitchen.
You don't have to install solely open shelves, but mix closed with open units so you can display the items you use daily. The method is also a great time saver because you can easily pick the things you need. Open shelving can also encourage you to remove clutter that easily builds up when you keep the utensils hidden behind closed doors. You don't mix items and stack them one on top of the other when you know they're on display and everyone can see them.
And these are our suggestions for designing a timeless kitchen you'll enjoy using for a long time.