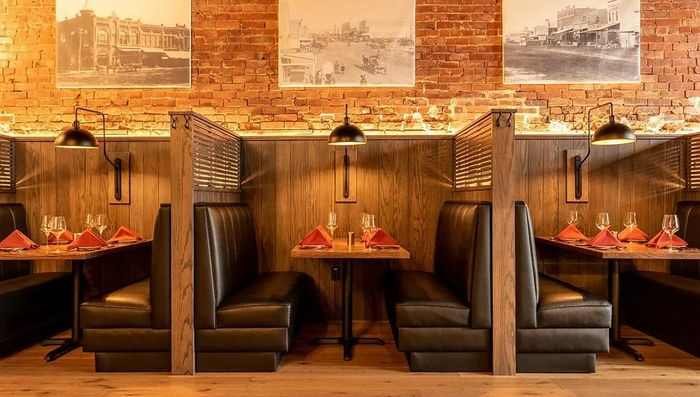 As an owner of a restaurant, you need to spend a lot of your time and energy on getting the right interior and furniture for your eatery. You want nothing except the best seating, tables, décor, themes, layout, and more. This explains why you keep out an eye for new restaurant trends and want to make sure that you incorporate them into your eatery in the best manner possible. However, sometimes these new trends bring along a lot of confusion and you can never be sure if you'd want to incorporate them into your space or not.
One such new trend is the incorporation of restaurant booths in the layout of your eatery. Many bars, restaurants, cafes, and small eateries are nowadays utilizing this seating style and to be honest, it looks quite good. But many inexperienced restaurant owners are a bit hesitant to add this seating to their layout. The common fears of these booths are that they are too high and big and might blind out the entire restaurant's décor.
Don't worry, there is still so much that can convince you to invest in a booth seating at least for some parts of your restaurant if not for all of its tables. After thorough research, we came up with an understanding of some benefits of having seating booths in your restaurant that can surely convince you on getting a few of these too. So, without any further ado, let us get into these benefits:
1.      They Are Very Comfortable
There is nothing like enjoying delicious meals while you are comfortably seated on the plushiest seat. This is what your customers surely look forward to when they come over and order food at your restaurant.
Of course, you can get the softest and comfiest seats installed at your eatery with the perfect table height. But, nothing can match the comfort level that booths can provide, provided they are nicely built and have been considered deeply on aspects such as their height and width. The big and soft back with a wide and soft seat is what makes a booth perfect to sit on for hours.
This type of seating is surely appreciated by the elderly, expecting and feeding mothers, and people with backbone issues. You don't have to move around much in your place with comfy support at back and can easily enjoy your meal while being seated on such booths.
So, if you are someone who would like to ensure ease of their visitors, a few booth seating sets are a must-have for your restaurant.
2.      Booths Can Save The Layout's Space
Unlike separate tables and chairs, booths can be easily installed in a little and limited space. They are mostly built in a way to ensure compaction and minimal space is needed to install them. Despite this, a single set of booths can easily host a big group of 6 or 7 people. This makes booths a great option for restaurants that have less space and more people to host.
The compact booths can also add a touch of elegance to your space, making it further aesthetic and giving it a neat look overall. If you have a very small setup and want to host more people at a time, there is no better option than going for booth-like seating.
3.      They Provide A Sense Of Privacy
Restaurants that have booth seating are often preferred by people for their birthdays and farewells as well as other group celebrations. Introverts also like to hang out with a friend or two of theirs at such restaurants.
This is because the booths are built in a way to ensure a maximum sense of privacy to the ones seated on them. These booths have high backs and those seated on them do not have to worry about people having all eyes on them from the adjacent tables. You also feel comfortable in such private seats because you are not unintentionally being captured in other people's cameras.
Similarly, these high backs ensure lesser distractions because no one can see you and you can easily enjoy your time without having to worry about other eyes on you.
4.      Booths Keep Big Groups Separate From Other Diners
Now, this is very important, and you will only realize this if you ever had to dine right next to a group that was making a lot of noise and ruined your peace during your dining session. What restaurant booths do is that they keep the bigger groups and birthday parties restricted to one specific side of the restaurant while the rest of the space is all for couples, families, and smaller groups to enjoy their food in peace and have low-tone conversations over it.
The separation that these booths provide not only keeps the peace and calm of the eatery intact but also helps the bigger groups enjoy their time to the fullest without feeling guilty about annoying the other diners around them. Isn't that all we'd want from our celebratory experiences?
5.      They Are Very Cost-Effective
Booths might seem to you like a huge and expensive investment at first. But, the value for money that they provide later on to your business is worth everything. Booths can host multiple people at the same time which surely means more profit generation. They also add to your restaurant's aesthetic and make it look modern.
Moreover, if you get them made by the right person, your restaurant booths can easily last you way longer than any other conventional chairs in your eatery would. This means that investing in this low-maintenance seating option for once has a lot of potential for saving in the future and it is worth a try.
Conclusion
So, these are some of the top benefits of having booth seating in your restaurant that we think must be convincing enough for you to invest in this new and modern seating trend. Just make sure to find the right style and pick the perfect fabric for your booths and you'll surely enjoy having them.
Read more blog: Digital menu boards at your drive-thru