I have a cafe of my own and have used quite a few espresso machines over the years. However, finding the ideal one was not simple. The perfect machine has everything from a good base, less price, more no of shots and even with more ease of cleaning. Here are some things to think about before buying an espresso machine.
What is the Definition of a Commercial Espresso Machine?
Commercial machines are often made of metal, preferably stainless steel, and are significantly more durable. They also include big capacity boilers and multi-headed brewing units, both of which are essential in any regular café. As a result, most devices require more energy to function. Commercial machines are also fixed.
How to Choose a Machine:
I generally have a list of factors and sub factors to consider before buying a machine. I will be sharing these factors and what they actually mean.
Business Considerations: Because the espresso machine is at the core of your business, it's critical to speak with an experienced expert about the following aspects before settling on a certain espresso machine. These factors might aid you in picking the best equipment for your business.
Electrical power has an impact on the size and kind of machine you can buy. Confirm the electrical supply standards in your area before selecting your equipment. Regular maintenance is a necessary component of owning an espresso machine, although some aspects of the equipment require more care than others. If you're far from a competent service provider, a simpler model can be the best option.
If coffee is going to be the center of attention in your room, you'll need a machine that can keep up. Improved temperature stability, programming flexibility, and sophisticated features ensure that your clients receive consistently gorgeous coffee.
More group heads and higher automation enhance busy businesses with short ticket times. If you plan on having a long queue out the door all day, you'll want a dependable workhorse with crucial operations automated.
Before installing any espresso machine, you must do a water study, and your exact demands may differ depending on your location. Determine your filtration needs for your location and equipment with the help of voltage.
Some machine related aspects must also be considered.. I always make sure to choose from a lot of options and select one which will be consistent, reliable and designed better. I would say that if these factors are covered you can buy the machine.
As a long-term financial commitment. It's critical to choose an espresso machine with a track record of dependability and workmanship. The espresso machine will be the heart of your operation, and it will need to keep making beverages every day with little downtime. Time-tested components, good engineering, and a conveniently available, well-trained service network help achieve this.
Customers come back. Customers anticipate a wonderful cup of coffee every time they come to your establishment. This can only be accomplished with a machine that brews consistently each time. Choose a machine with procedures in place to ensure that each cup meets the highest possible quality.
Attracts and fulfills. The design of your facility sets the tone for your customers' expectations. It is critical to invest in well-designed equipment that allows for a variety of customisation choices. Beyond its aesthetics, the machine should be built with workflow and ergonomics in mind to make the barista's job easier and increase service speed.
Some of These Will Also be Important to Remember….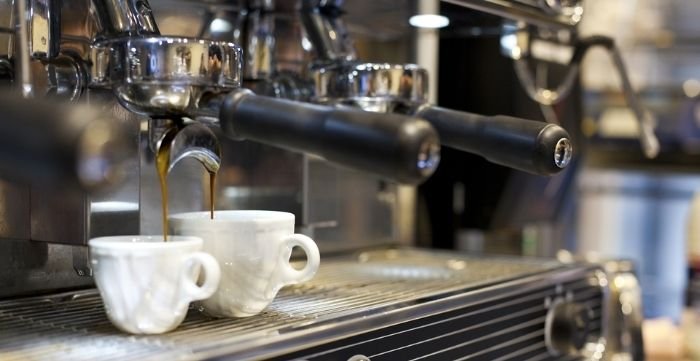 Power supply provides a variety of machine configurations to meet your specific business requirements. More manual settings give baristas more control over brew factors including pre-infusion and pressure. More automated settings allow the barista to programme a repeatable output while focusing more on client interaction. The kind and size of your company will influence whatever setup you select.
The pre-infusion and pressure during the shot are manually controlled by the barista. To reach the desired coffee volume, the barista starts and pauses the shot.
To achieve the right amount of coffee, the barista uses a start button or paddle control to initiate and stop the shot.
The shot is started by the barista, and it is stopped by the machine depending on the pre-programmed volume of water passing through into the coffee to get the desired coffee volume.
I personally prefer Automatic Espresso machines, since it makes the work a lot easier. However I  will explain here what the advantages and disadvantages of semi automatic and automatic machines are.
An automated machine is the preferable solution for most businesses since it is more efficient and straightforward to use.. There's no need to grind the beans, tamp them, or worry about getting uniform extraction levels. Additionally, it reduces the need for extensive personnel training. Even for individuals without prior barista knowledge, the super automatic espresso machine has a moderate learning curve. A semi-automatic machine, on the other hand, will be the ideal addition to your equipment list if you don't plan on serving hundreds of cups of coffee every day and like to tune the extraction process manually.
Conclusion
Your budget will determine which machine you choose, but each machine in this article is capable of creating wonderful espresso with minimal effort. Your company's specific demands and personal preferences will decide the best solution. What machine worked best for me might not work the same for you.