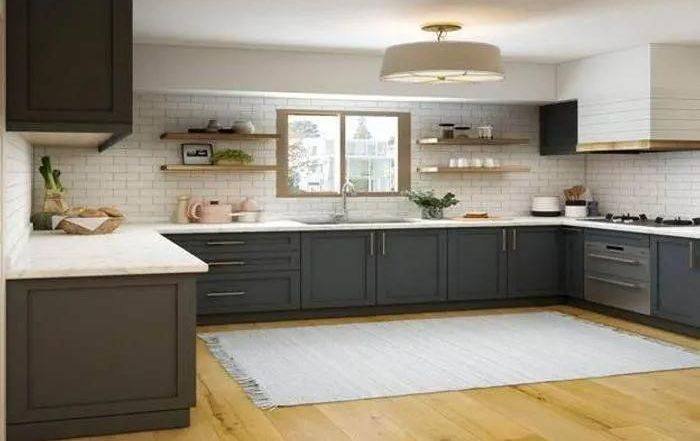 You may recoup a considerable percentage of kitchen renovation expenditures via the value the improvement offers to your house. If you spend $80,000 to renovate your kitchen, you may expect to recoup 75% of the money you spent on the project when you sell your house.
The majority of the homeowners in the area have expressed their approval of their recent kitchen remodels. Follow these guidelines to assist increase the likelihood that your investment in a kitchen makeover will result in a positive return:
Plan, Plan, Plan
It is recommended that you spend more time planning your kitchen makeover than you do actually constructing it. The length of time you're inconvenienced by building chaos may be minimized with careful planning. Additionally, you have a better chance of sticking to your financial plan.
How much time do you recommend devoting to the planning process? NKBA recommends six months. By doing this, you will be less likely to be persuaded to make change orders in the middle of construction, which would raise the cost of the project and reduce its return on investment.
Some advice on planning
Examine your current cooking space to determine the width of the entryway into your kitchen. A common error that many homeowners make is purchasing an extra-large refrigerator, only to discover that they cannot fit it through their entryway. To prevent errors like these, develop a sketch of your kitchen including dimensions for entrances, pathways, countertops, etc. Also, remember to take into account —height.
Aisles should be at least 42 inches wide for families with numerous people who will be in and out of the kitchen.
Create with comfort and ease of use in mind: Base cabinet drawers or pull-out shelves, movable counters, and a wall oven rather than a range are all characteristics that make a kitchen more user-friendly and enjoyable to prepare meals in.
Plan for the unpredictable. Expect the unexpected in your redesign, even if you've planned everything down to the number of nails you'll need to complete it. Allow yourself some wiggle room to finish the renovation project.
Make sure you have all of your fittings and supplies picked out before you begin. The quotes that contractors provide will be more accurate, and there will be a reduced possibility of delays caused by back orders if you do this.
Don't be hesitant to seek assistance. A skilled designer may simplify your kitchen redesign. Pros assist in making style judgments, identifying future issues, and scheduling contractors. The majority of kitchen designers charge anywhere from $65 to $250 per hour, which is equivalent to 10% to 20% of the entire cost of the project.
Be Honest About Your Home Appliances
When designing your new kitchen, it's tempting to let yourself become sidetracked by all the possibilities. Luxury-brand refrigerators and six-burner industrial stoves may seem impressive as the centerpieces of your kitchen, but they may not be suitable for your culinary requirements or way of life.
Cooking and storing food requires a variety of instruments, the most common of which are appliances. It shouldn't be the appliances that you focus on when you redesign your kitchen; rather, it should be the layout and the way everything works together. The best long-term investments are cabinetry and floors, especially if you're not a frequent home chef.
That's why it's important to look for appliances from reputable manufacturers that have received good honors in internet reviews and consumer reports.
Continue with the Same Pattern
Changing the position of plumbing lines and electrical outlets as well as pulling down walls are two of the most significant factors that may drive up the cost of a makeover. This is often the point at which unanticipated difficulties arise.
Lighting is a powerful tool that should not be underestimated
The right lighting can completely transform the atmosphere of a kitchen. It has the potential to make it seem both bigger and brighter. In addition to that, it will assist you in working more effectively and securely. In the kitchen, you should make use of not one but two distinct kinds of lighting:
Due to the fact that cabinets generate such gloomy work environments, you should put under-cabinet lighting at the top of your priority list. In addition, given that you are renovating, there is not going to be a more convenient moment to hard-wire your lighting.
To avoid the appearance of shadows, you should provide at least two lighting sources for each working area. Island and other counter surfaces that do not have low cabinets are ideal places for pendant lighting. When there are no cabinets above, sinks and general preparation areas are ideal places to install track lighting or recessed lighting.
Ambient lighting. Your kitchen's general illumination comes from the ceiling fixtures that are flush-mounted, the wall sconces, and the track lights. Install dimmer switches so that you may adjust the level of brightness and ambiance.
Maintain a Focus on Quality
When planning for a  kitchen remodel Connecticut lists very qualified contractors who place a high priority on both functionality and longevity. Working with professionals can help you avoid deals that are of poor quality but instead help you find good quality terms.
For example, the price of solid-surface countertops could be a little bit more, but if you take care of them properly, they'll continue to look fantastic for a very long time. Products that come with lengthy warranties also have a higher resale value, which is something to keep in mind if you are intending on relocating in the near future.
Cabinets that go all the way to the ceiling may be more expensive, but the extra storage space they provide is well worth the investment. These cabinets are ideal for storing holiday platters and other seasonal or seldom-used things. In addition to this, you won't need to dust the tops of the cabinets.
Take advantage of available wall space and behind cabinet doors to put small shelf units; use a ceiling-mounted rack to hang stockpots and big skillets; and utilize the back of closet doors to hang aprons, brushes, and mop heads.