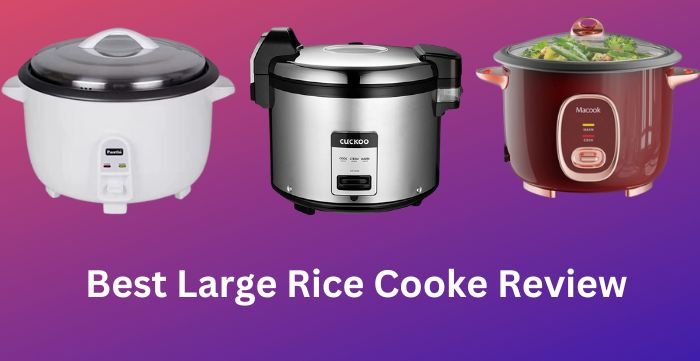 Do you need a rice cooker for food carts, restaurants, or dining? A large rice cooker will indeed meet your food preparation needs. Nonetheless, finding a large rice cooker with all the essential features is nothing but a daunting task. And it can be tricky too.
But why worry when we're here with the top ten large rice cookers for all purposes? After testing 20+ rice cookers, we have chosen our top ten appliances. You can cook up to 30 cups of uncooked rice with them and enjoy incredible convenience.
We have described their capacity, main features, safety functions, and convenience. It will make your rice cooker purchasing decision easy and quick.
Top Ten Large Rice Cooker Reviews:
Large rice cookers serve differently than their smaller counterparts. It is ideal for big families, restaurants, hotels, and religious spaces. And for all these needs, we have picked our top ten selections for large rice cookers.
So, without keeping you waiting, let's jump into it.
1. ARC-1033E Aroma Housewares Rice Cooker:
When you need a large rice cooker at an affordable price, this rice cooker will fit your budget perfectly. It comes under $130 and is ideal for starting your restaurant or catering business. The rice cooker has 60 cups of cooked rice and 30 cups of uncooked rice capacity. So you can use it to entertain guests quickly.
Moreover, the rice will be fluffy and tasty without burns. As a result, people will lever complain about your rice quality which is a great boost for hotels and restaurants. Also, out of the many benefits of the rice cooker, we loved the one-touch operation the most. The one-touch operation allows you to fill the cooker with rice and water and forget it. Thanks to its computerized sensor, the cooker will detect when your rice is cooked and automatically shut off. So, you never have to worry about your rice being over or undercooked.
For safety, there is insulation and a heavy-duty stainless-steel lid. It keeps the rice flappy and warm all day. After cooking the rice, it automatically switches to the "keep warm" function. Hence, your rice will be ready for serving all day.
Lastly, cleaning the rice cooker is easy without moving the lead or any internal parts. Clean it within a few minutes to cook the next batch of rice. It saves time in your serving for faster deliveries.
Whether running a restaurant or looking for a large rice cooker for big family parties, this is the go-to option. Also, with such an affordable price, you will hardly get a better rice cooker than this one within your budget.
Pros:
Easy one-touch operation
Highly affordable
Sensors keep rice well-cooked
Cons:
Sometimes, the rice gets stuck at the bottom; use olive oil if you find a similar problem.
Summary:
ARC-1033E rice cooker is easy-to-use, convenient, and affordable. Henceforth, families and food businesses will find it a perfect fit for their needs. Also, its premium design requires minimal maintenance.
2. Aroma Housewares Commercial ARC-1130S Rice Cooker:
You may enjoy the floppiest rice with this large rice cooker, and that too, within a competitive budget with the ARC-1130S rice cooker. You can cook up to 30 cups of rice, resulting in 60 cups of fully prepared rice. So, it is a great option for restaurants, catering services, large family gatherings, and big-fatty parties.
Moreover, this rice cooker will prepare the rice faster than you imagine. It only takes 20 to 25 minutes to cook 30 cups of rice. Thus, it frees you from any time wastage. Besides its cooking speed, you will also appreciate its one-touch operation. It works with the automatic "keep warm" function to cook the rice perfectly and keep it warm for serving.
You must only fill the rice cooker with water and rice and press the button. Then you can do all your household chores, and the rice cooker will keep your fully cooked rice ready for serving. Hence, it reduces your cooking time. Isn't it amazing?
If it is not satisfying, you will surely appreciate its included accessories. You will get the non-stick inner pot, two cups for measuring rice, and a spatula. There is also a stainless-steel lid. So, you don't need to invest anything else in the rice cooker. Long story short, it's high time you buy this rice cooker to enjoy restaurants like rice everywhere and anywhere.
Pros:
Commercial-grade rice cooker for all
Easy cleaning with removable pots
Cooks rice faster than you anticipate
Cons:
The rubber on the lid gets damaged soon
Summary:
Aroma Housewares ARC-1130S rice cooker serves food businesses better. With its faster cooking time, you can entertain guests faster with the tastiest and flappiest rice.
3. Macook Rice Cooker
The macook rice cooker is the most affordable large rice cooker you can get for the money. It is priced a little over $50 with an excellent capacity of 20 cups of cooked rice. For starters, its 4.2 quarts pot can hold 10 cups of cooked rice which is enough to serve a large family. So, you don't need to cook in batches to feed family members regularly and during parties.
Moreover, it has a one-touch operation for easy cooking. Even a beginner can cook the flappiest rice without undercooking or overcooking it. You only need to choose between the 'cook' and 'keep warm' functions. Once the rice cooker cooks the rice, you can press the keep warm button to keep the rice ready for serving anytime. This way, the rice cooker saves both your time and effort.
Also, with just 20 minutes of cooking time, it offers the fastest rice cooking facility. So, you never have to wait to serve the guests, even if they come without notice. The rice cooker always serves neat and warm rice which is genuinely fantastic. However, its benefits continue.
It is a multi-cooker. Thus, you can use it for cooking other dishes too. You can use it for steaming vegetables, cooking porridges, and stews. Are you a fan of baking? If so, you will love its cake-baking capacity. The rice cooker will never burn your cake. As a result, it gives you the ultimate freedom to cook your favorite meal.
And for your safety, it includes an anti-scalding handle and tempered glass top. It keeps your hand free from burning, even if you accidentally touch the cooker. Lastly, with a detachable power cord and non-stick pot, you can quickly be transported to any place and store it quickly and conveniently.
Pros:
Best for medium to large families
Anti-scalding feature for safety
Multi-cooker function for various dishes
Most affordable rice cooker on our list
Cons:
Slightly weighty compared to its capacity
Summary:
When you want a reliable rice cooker with consistency in cooking at a low price, Macook offers the best deal. Its anti-scalding design, longevity, and user convenience are appreciable too.
4. CUCKOO CR-3032 Commercial Rice Cooker & Warmer
This rice cooker is perfect for hotels, restaurants, parties, and buffets. With a capacity of 30 cups of uncooked and 60 cups of cooked rice, it keeps your restaurant and hotel business up and running. Moreover, it cooks rice within 20 minutes so that you can entertain your guests faster. Thus, the rice cooker is perfect for food businesses.
Additionally, the commercial-grade rice cooker has a removable water drainage tray and heating plate. You can swiftly clean and maintain the rice cooker with the removable drainage plate. It takes less than a few minutes to clean the cooker. No doubt, it is further beneficial for restaurants. You will find its one-touch function even more helpful.
The one-touch operation is simple to use with just one button press. Novices will find it helpful for cooking perfect rice. Moreover, you can choose from its three modes to cater to your cooking needs. You can choose between cook, steam, and keep warm functions for various dishes. Its warm mode lets you maintain the serving temperature for many dishes, including soups. Hence, you can keep your menus ready for serving all day. It saves time, effort, and electricity bills to make your restaurant and hotel business more profitable.
Finally, with a premium stainless-steel lid, attractive design, and quality construction, the rice cooker will serve you for years. Plus, it has NSF and ETL certification that assures healthy and food-grade cooking to ensure your peace of mind.
Pros:
NSF and ETL certification for safety
Three different cooking and warming modes
Attractive and durable design for longevity
Cons:
Summary:
If you have the proper budget and want a long-lasting rice cooker, CUCKOO CR-3032 Cooker & Warmer will be perfect. Its three different modes and food-grade design help you serve the guests tasty rice in the shortest possible time.
5. Hamilton Beach Proctor Silex Commercial 37560R Rice Cooker
Hamilton rice cookers are some of the best ones you can get in the market. And this rice cooker is no exception, thanks to its durable design, stainless-steel lid, and one-touch operation. Of course, it has a large capacity for catering to big families and restaurants. You can cook 30 cups of rice to 60 cups of rice, indeed, for running your hotels and parties. You can also use it for cooking grits, jasmine, white rice, Oatmeal, Mac and Cheese, etc.
It's aluminum inner pot art is non-stick and food-grade. So, you will get the healthiest and flappiest rice with it. Plus, once the rice is cooked, its one-touch operation will shift to a "keep warm" function. It does so with its computerized sensor to keep your rice in perfect serving condition.
Moreover, its stainless-steel lid is heated to give you greater consistency in cooking. As a result, the rice is cooked perfectly from top to bottom of the cooker. No doubt, it is beneficial for maintaining the rice quality always. Also, the lid has a hinged design for easy opening and closing. It saves you from burning your hands.
Hence the rice cooker is safe and convenient for use. Talking about convenience, you will find cleaning and maintaining the rice cooker swift and easy. You can quickly remove the inner lid and non-stick aluminum pot for cleaning and maintaining hygiene. You will get a measuring cup and condensation collector cup too.
The rice cooker comes with one year warranty for any defects. Therefore, you don't need to worry about its quality, longevity, and cooking performance in the long run.
Pros:
Anti-scalding and hinged lid for quick opening
Multi-cooking option for versatility
1-year warranty for all parts against any defects
Cons:
A few users reported that the lid failed soon
Summary:
The rice cooker is an excellent product with all safety features, including an anti-scalding lid. Also, it offers multi-functionality to improve your cooking performance.
6. Pantin Store Commercial Restaurant Electric Rice Cooker
This rice cooker is a top-of-the-line product from Pantin Store with 25 cups rice cooking capacity. As we have said, you can cook 25 cups of raw rice which converts to 50 cups of properly cooked rice. This capacity is ideal for restaurants, food carts, hotels, and family gatherings.
Besides its large capacity, the rice cooker has a one-touch operation too. All you need to do is to put the rice in it, fill it with water and press the button. After that, it will cook your rice perfectly and prepare it for serving. You will get the 'keep warm' function that activates whenever the rice is cooked.
So, you don't need to heat the rice before serving, which saves time and electricity. Regarding electricity consumption, it runs on the standard 120 Volt with 1500Watt capacity. It means you don't need to bear extra expenses for your electricity bill.
Additionally, the cooker has two lights for cooking and warm functions to let you know the condition inside. It saves you from overcooking or undercooking the rice. Thus, even newbies can use it for their personal use. Moreover, this is a completely non-stick rice cooker, so the rice doesn't stick inside the pot. It keeps the rice in perfect condition and helps clean the pot afterward.
What's more, the cast aluminum pan is made to last forever. Long story short, the rice cooker is a good option for those who need a large amount of rice to supply for every meal.
Pros:
It maintains the temperature perfectly after cooking rice
The rice cooker includes all necessary equipment for use
Its stainless-steel exterior is attractive and durable
Cons:
The handle on the lid is not ergonomic
Summary
This rice cooker will have 25 caps of uncooked rice capacity, electric efficiency, and a quick cleaning facility. If you are looking for a budget-friendly rice cooker for your restaurant, go for it.
7. Hamilton Beach 37550 30-Cup Rice Cooker
There are myths that rice cookers are highly electricity-consuming devices. You will realize this is not true once you use the Hamilton Beach rice cooker. It only uses 1000Watt electricity, less than your air conditioner or refrigerator. Besides its electric saving feature, you will love its cooking capacity too. The rice cooker lets you put 15 cups of a rice grain, which converts to 30 cups once fully cooked.
Therefore, the rice cooker is ideal for small to medium food carts. Thanks to its automatic-sensor cooking function, you will find it convenient to use. It will detect once the rice is cooked and automatically shift to the warm function. So, the rice remains ready for serving always and doesn't need any warm-up. Small food carts and restaurant owners will love such electricity and time-saving features.
Moreover, the non-stick pot is dishwasher-safe and easy to clean. It makes maintaining the rice cooker easy and convenient. Lastly, you can use it to steam seafood and vegetables and boil poultry items for further cooking. Therefore, you will enjoy excellent versatility with this rice cooker in your kitchen.
Pros:
It includes a steaming basket part cooking or esteem two items simultaneously
It doesn't use too much electricity
Perfect rice cooker for cooking different items
Long-lasting and easy to use
Cons:
The lid gets loose too soon
Summary:
The rice cooker from Hamilton Beach is multi-purpose and convenient. Its steaming basket allows you to steam or boil multiple items simultaneously. Also, with fewer uses of electricity, it is a good investment for small food carts and restaurants.
8. Proctor Silex Commercial 37540 Rice Cooker
Proctor Silex rice cookers are our top-of-the-line products from Hamilton. Once you use this rice cooker, you will understand why Hamilton markets it as their flagship. Its main features include multi-function cooking, one-touch operation, consistent cooking, and a hinged lid for easy handling.
For starters, you can use it for cooking up to 20 cups of rice. It equals 40 cups of cooked rice, which is more than enough for running a restaurant or commercial catering service. The rise always comes fluffy and perfectly cooked. Besides rice, you can use the multi-functional appliance for cooking Mac and cheese, oatmeal, greets, and various grains. Thus, you can try it to create new recipes and, boom, your food business.
You get a hinged lid to open and close quickly for convenience. Also, its stainless-steel design and inner aluminum pot are durable. It uses food-grade material for construction, earning it an ETL sanitization certificate. Thus, you can handle the quality of the rice and other food items with this rice cooker.
Pros:
One-touch operation for cooking and keeping the rice warm
One-year warranty for parts and defects
Includes condensation collector car and a spatula for convenience as
Its stylish design fits any kitchen decor
Cons:
It is a high price
The non-sticky pan doesn't work sometimes
Summary
You will love using these versatile rice cookers for preparing rice and other food items. So, get it and unfold your secret recipe and see profits in your food business.
9. SYBO Commercial Rice Cooker and Warmer
This rice cooker is our favorite for its 3D functionality. It has a unique 3D heating and keep-warming function. So, it releases heat at 360-degree angles to cook the rice and keep it warm. Thus, you will get perfect rice and cooked dishes every time and anytime.
For convenience, it has a one-button design. You only need to press the button after putting the rice or other ingredients and water in it. The rice cooker will take care of the rest of the process poses. Once it cooks the ingredient, it immediately shifts to keep warm mode. So, it keeps the cooked item ready for always serving without further electricity use.
Moreover, with 30 cups of uncooked rice capacity, it is one of the largest rice cookers on our list. Hence, you can use it in the dining hall, cafeteria, canteen, or anywhere else. Its cooking versatility will amaze you for sure. You can use it for cooking or boiling rice, steaming seafood, keeping your soups warm, cooking oatmeal, macaroni, cheese, etc.
Therefore, a few rice cooker is enough to run your street and small food business. Also, for a large family, it is a great investment. And with such fantastic features, you cannot escape purchasing this rice cooker.
Pros:
360-degree heating for perfect cooking
Versatile rice cooker for cooking different dishes
Food-grade material is healthy and long-lasting
Cons:
Its electricity use is more than our previous selections
Summary
Do you want a faster and multi-functional rice cooker? If so, we highly recommend this rice cooker. It's versatile, affordable, and stylish. So, it meets your cooking necessities and enhances your kitchen look.
10. Onlicuf Commercial Electric Stainless-Steel Rice Cooker
Our list's last large rice cooker will blow your mind away with its fantastic features and pricing. To begin with, you get 3D heating with 360-degree capacity. So, the heat comes more uniformly from all sides to offer you fluffy and delicious rice. Plus, it offers many perfectly cooked dishes. Not to mention, its 360-degree heating reduces the cooking time significantly.
During our testing, we could cook 30 cups of rice in less than 20 minutes. It is a fantastic feature because the rice cooker only uses 1350-Watt electricity. So, you save time and electricity with this fantastic rice cooker.
Moreover, the rice cooker is easy to operate and clean. You just need to press the button, and the rice cooker takes over the process. Its sensor detects the rice for cooking and shifts to keep warm function automatically. Hence, your rice and dish remain ready for serving always. For convenience, it has a removable pot and lid for easy cleaning. Also, the cord is 2.1 M long for easy reach. It uses the safest electricity cod you can find for rice cookers.
Hence you never have to worry about its performance, safety features, and cooking consistency. So, no doubt why this is our favorite large-scale rice cooker and warmer.
Pros:
360-degree heating reduces cooking time
non-stick pot has a double coating for longevity
81 meters long cord for safety and convenience
Cons:
The button is a bit stiff
 Summary:
The rice cooker has brilliant heat distribution. Moreover, it has special vent valves for reducing water vapor emissions. Thus, it maximizes electricity use for the most reliable and consistent cooking performance.
Frequently Asked Questions (FAQs)
Q1. How many liters is a 10-cup rice cooker?
Ans: A rice cooker with 10 cups of capacity is equivalent to 1.8 liters. It is ideal for a family of four to five to serve their daily needs of rice. You may even use it for cooking small cakes and other dishes successfully.
Q2. What size is a rice cooker for 20 people?
Ans: A rice cooker with 20 to 30 cups of capacity is more than enough for 1 person. Usually, one person needs 1 cup of rice as the main dish. So, rice cookers with 20 to 30 cups, or 2.5 liters to 3.5 liters, will be perfect for serving 20 people or even more.
Q3. How much biryani can be cooked in 5 liters cooker?
Ans: A rice cooker with 5 liters capacity is equivalent to 30 cups of rice. However, for biriyani, you need to count the meat portion too. So, you can expect to cook 15 cups of biriyani rice along with the meat. You can serve it to 10 people or more easily. So, it is more than enough for family gatherings.
Conclusion
Large rice cookers are mainly for commercial purposes. Thus, these rice cookers need quick cleaning, less electricity consumption, and the ability to work in harsh conditions. We have selected our top ten large rice cookers to withstand all these necessities. Hence, you can quickly purchase one and start your food business without worries. These rice cookers even serve the needs of big families.
Out of these rice cookers, Macook Rice Cooker is the lowest-priced and suitable for small to medium families. You may get the ARC-1033E Aroma Housewares Rice Cooker for maximum capacity and convenience. It can cook up to 60 cups of rice for a quick serving.
Lastly, Onlicuf Commercial rice cooker will save electricity through uniform heating. So, it is ideal for lowering your electricity bills.
Best Deals Large Rice Cooker For This Week

Related Review Articles: