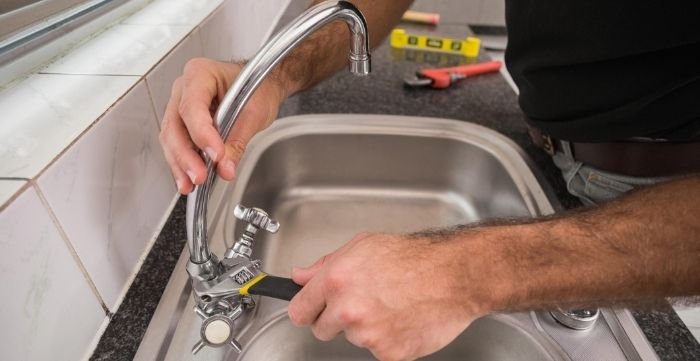 Introduction
Replacing kitchen sink faucets is not a new thing as it has been happening for quite some time now. You may wonder what leads to someone replacing their kitchen sink faucets. The main reason is leakages and corrosion of pipes. This can only be controlled by repairs which are temporary and replacing the whole faucet system so as to prevent the problem from recurring soon.
Also, if you need to refurbish your kitchen's look, then there is the need to also replace your old sink faucet with a brand new kitchen faucet. Read through this article to find out how to replace kitchen sink faucets.
What is a Kitchen Sink Faucet?
How do you think your kitchen sink gets water? There has to be a system that supplies water to your tap. Therefore, a kitchen sink faucet is a tool or device that permits you to turn on or off the flow of water from a pipe or a plumbing system. You should note that it is not only a piece of metal like it appears physically but a whole system that takes control of the flow of water.
How Does a Kitchen Sink Faucet Work?
To begin with, there are two main types of kitchen sink faucets;
1. Single-Handle Sink Faucet
Just as the name goes, this faucet has one handle only that controls everything including turning the water on and off and also opening and closing the valve. In addition to this, it is easy to mount on any side of the spout.
2. Double-Handle Sink Faucet
It has two handles and each of them performs a different function where one gives out cold water and the other hot water. Also, each handle has a valve and a cartridge of its own.
In the case of a single handle faucet, you turn the handle which turns the valve and lets out cold water through the faucet. As you keep turning it, hot water will pass through the valve so as to mix with the cold water. When you further turn the handle until it can turn no more, cold water will not flow any more but the hot water line will remain open.
When operating the double handle kitchen faucet, each handle controls different valves. This is the most common faucet in modern kitchens nowadays. There will be cold water running through one valve and hot water through the other.
So in case you need to use either cold or hot water at different times, you can easily turn on the handle that lets out hot or cold water. Because of this, you can easily control the temperature and pressure of water.
Moreover, valves play a great role in the faucet system that we cannot forget to mention something about them. Compression valves have a screw stem which move up and down when the screw turns. Further, ball valves comprise of a steel ball that controls how water flows through the faucet once you turn the handle.
Cartridge valves have a small plastic or brass cylinder that allows water to flow when you press it. With the help of an O-ring, there are no leakages. These are more common than the other two. Finally, ceramic disc valves have two rotating discs which align when you move the handle and thus let water flow.
Steps to Follow When Replacing Kitchen Sink Faucets
Replacing an old kitchen sink faucet with a new one is not as easy as installing a new one but following the steps below will make it easy for you.
Materials needed;
Hammer
Adjustable wrench
Handsaw
New faucet
Pliers
Towel
Step 1
Gather all the materials you need for the process including purchasing a new kitchen sink faucet set. Then ensure that you turn off the water supply, both hot and cold by turning the valves in a clockwise direction using pliers. Get a piece of plywood to lie on while operating under the sink so as to be comfortable. Use a towel to wipe off the excess water in the valves.
Step 2
At this point you can then remove the old faucet by loosening the nuts that hold it tight using an adjustable wrench. Because it is under the sink, you need to have a flash light so as to clearly see what you are doing.
You may experience some problems when getting the old faucet out b=due to corroded nuts that may be stuck. All you need to do is wiping off the corrosion with a brush then apply some oil for lubrication which will help to get rid of the rust. If this does not work, you will have to use a hacksaw to cut off the nuts.
Step 3
Remove the spray hose connection together with the sprayer. Next thing to do is to wash the area that housed the old sink faucet to make room for the new one.
Step 4
You can now install the new faucet but first check if it fits your sink setting. Check for the number of holes to ensure it has the same hole configuration with the former faucet. Double kitchen sink faucet usually sits over three holes while a single one requires only one hole. For the latter, you will need to purchase a separate base plate for it to fit right.
Using a mounting bracket that comes with the faucet, mount it under the sink and tighten the screws to ensure that the faucet does not come off easily.
Step 5
Attach the cold and hot water supply lines to the valves and then mount the sprayer. Connect the sprayer to the faucet followed by getting rid of the aerator on the spray nozzle and let the water to flow for a minute or two. This helps to clear any debris or dirt in the system. After flushing, check for leakages. If there are none, you are good to go. Your new faucet is ready.
Conclusion
Understanding how your kitchen sink faucet operates is important because you can easily notice when there is a problem. Also, learning how to replace kitchen sink faucets on your own saves you money as you will not need a plumber to help out with this.