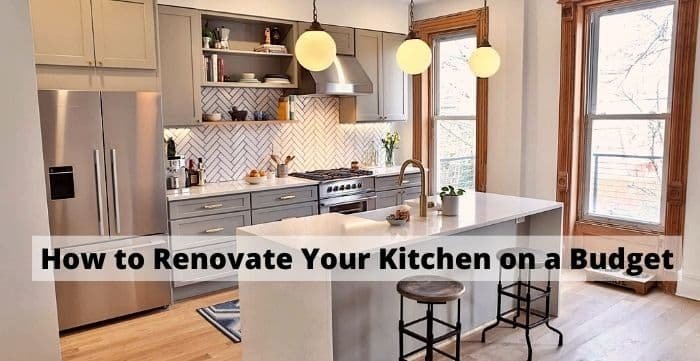 Taking on a kitchen renovation project can be intimidating when you are on a tight budget. Apart from the cost, there is no doubt that you have a rough idea of the designs that you want for your new kitchen. Probably you want one with a large kitchen island where you can entertain. Or you could want a kitchen with exquisite granite countertops that adds class to this space and makes a statement. Well, depending on what you desire, you can still achieve it even when you are on a budget. In case you are wondering where to begin, below are four tips for renovating your kitchen on a budget:
1. Refresh Your Cabinets
Tearing down and replacing cabinets is an expensive affair incurred from the labor involved and the purchase of new cabinets. While new cabinets are fancy and can be customized to suit your needs, you should not do it if you are on a budget. The good thing is that you can renovate your existing cabinets and make them look fresh. This process is also environmentally friendly because you will not pollute the environment by throwing out anything. So, how do you do this? You can paint the cabinets with vibrant colors of your choosing. You could also reface them so that they look different on the outside. Additionally, you could install new hardware on them such as stylish handles and knobs to make the cabinets look new. With these ideas, your home remodeling project will not cost you a fortune, yet it will completely transform your house.
2. Maintain The Same Kitchen Layout

When you make changes to your kitchen layout, you will automatically incur costs in changing your plumbing system, your electrical connection, and of course labor. While remodeling your kitchen on a budget, you should leave the layout as it is and focus on updating the surrounding elements instead. This way, you will not disrupt the walls or poke holes on the floor which costs money to repair. You are bound to achieve so much more if you did was repair items that are not functional. You should know that if you have a corridor kitchen, it is difficult to make layout changes on it because there is not enough space unless you perform major alterations. One-walled kitchens on the other hand offer you flexibility where you can add an island without breaking the bank.
3. Let it be a DIY Project
You should know by now that whenever you bring a technician to work on a project that means that you are inflating your budget. However, when you do it yourself, the only thing you pay for is the supplies that you need to renovate. Some of the renovations that you can do include adding tiles, installing floors, putting up drywall, adding baseboards, and changing lights and outlets. Suppose you're a beginner in DIY projects, you can take classes in your local hardware or watch videos on how to make the changes that you want. The beauty with DIY's is that you develop more skills and over time, you become perfect.
4. Refurbish Your Kitchen Appliances
Gone are the days when people would appliances to the landfills during a kitchen renovation project. Currently, there is a lot of information from manufacturers on how to upgrade old appliances. The good thing is that you also do not need to hire a professional to refurbish your oven as there are elaborate instructions on how you can do it yourself. Some of the appliances that you can refurbish include a refrigerator, microwave, garbage disposal, dishwasher, water softener, and water heater. It is advisable that, if you have never refurbished a piece of equipment before, you get an electrician to do it for you at a small fee. Compared to purchasing new appliances, refurbishing is the way to go when you are on a budget!
Conclusion
A tight budget should not be an excuse for you not to renovate your kitchen, there is just so much that you can do with a few dollars! It all ranges from DIY projects, refurbishing equipment to refinishing cabinets, and leaving the kitchen layout as it is. It takes having a good plan to remodel your kitchen on a budget. Well, do not hold yourself back, just do it!