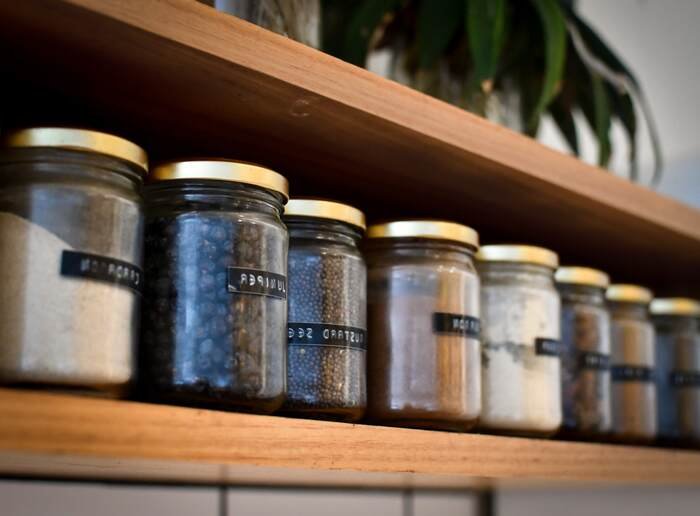 A well-organized walk-in pantry is a very important part of any kitchen. No matter how big or small your kitchen is, you should have a space where you can store appliances that are not being used regularly, non-perishable food and drinks that don't need to be refrigerated, as well as any additional dishes and utensils you're not using on a daily basis.
To avoid any clutter in your kitchen and make it spotless, and at the same time have everything within the reach of a hand, you simply need a pantry. This additional space will free up the rest of the kitchen and help you keep it tidy, yet everything will still be easy to fetch.
Every nice kitchen needs a proper pantry
As mentioned, no matter how much room you have at your disposal, creating a pantry in your kitchen is simply a must. And if you already have one, renovating it to enable it to reach its full potential should be a given.
So, first and foremost, clear out your pantry and give it a thorough clean. To avoid any moisture buildup caused by heat, make sure you also install proper interior wall insulation.  Once that's done, it will be time to determine how you wish to organize your pantry and come up with proper furniture and fixtures to equip it with.
So, with that in mind, let's look at some ideas you may find useful.
Personalize your walk-in pantry
Although all kitchens serve the same purpose, all of them are unique in their own way. That's why every family should adjust their living space – kitchen and pantry included – to their own unique needs.
What we mean to say is that a family with babies and toddlers won't share the same needs as a family with teenagers or elderly members.
That's why every family needs to assess their own needs and create a pantry that will be suited to accommodate all of the items, foods and drinks the family uses regularly. So one of the most important things when organizing a pantry is to make sure you tailor it to yourself and your family, and avoid any extras that you don't need.
Organizing a small pantry
If your pantry is on a smaller side, you won't be able to store too many things in it. That's why you need to find the best way to use every available inch, so that no free space gets wasted.
Equip it with floor-to-ceiling shelving with enough but not too much space between the shelves and baskets where you will stock boxed and bagged non-perishable foods. Consider relocating any appliances and extra utensils somewhere else and make sure you install opulent overhead and even task lighting, so that you can easily find what you're looking for.
Create different zones in a big walk-in pantry
If, on the other hand, you have the luxury of owning a big pantry, your remodel and organization efforts will become significantly easier. To start off, you can draw the layout plan of your pantry and divide it in different zones. That way you can have a separate zone of various foods, drinks and other items you intend to store in this space.
For instance, you can – again – opt for floor-to-ceiling shelves and install them on the opposite walls. Use one side to store foods and drinks and store appliances, utensils and bulky dishes and cookware on the other. You can also designate a space for your table and kitchen cloths, so they don't take up room elsewhere in your home.
It is very important to have enough shelves so you can fit in different sizes of items, from biggest to smallest. Use plenty of organizers, such as baskets, bins, transparent plastic containers and jars so you can easily see everything you have in your pantry and keep things nice, tidy and well organized.
Moreover, make sure that, when storing foods and drinks, you put the ones with the shortest expiration date up front, so that you can use them up first, before the date expires.
And finally, feel free to add a small stepping stool or ladder to your walk-in pantry, so that you can easily and – most importantly – safely reach whatever you need.
What is common for all walk-in pantries
Although the size of the pantry may vary significantly, there are still some elements that every walk-in pantry has in common. If you are remodeling, these are things you have to keep in mind:
You need to make sure you install proper insulation to avoid having your pantry overheating, which can easily lead to moisture buildup that can cause mold growth.
Have as many shelves as you can possibly fit into your pantry, but space them out to avoid being unable to make the best use out of them.
No matter if you decide to use slide-out baskets, pull-out bins or any other type of organizers, make sure you have enough of them to accommodate all the things you intend to store in your pantry.
Make sure you keep a stepping stool or a small step ladder in or near your pantry, so that you can reach things more easily.
Install proper lighting so that you don't have to strain your eyes and guess where things are. You can even layer the lighting and have it on separate switch so you can control the level of illumination more easily.
Cleaning supplies
Make a cubby for your brooms, mops, buckets and vacuum cleaner to keep them out of the way and out of sight, but still within the hand's reach. Do not forget to let your mops dry out properly before storing them away, to prevent any moisture or odor buildup. Keep any harsh chemicals and other cleaning supplies away from food and out of easy reach of small curious hands.
A walk-in pantry under your stairs
If you do not have enough room in your kitchen, you can always install your walk-in pantry under the stairs. Although it won't be as close and convenient as having one in the kitchen, it will still serve its purpose just fine as long as you organize it well and ensure you keep it clean and tidy.