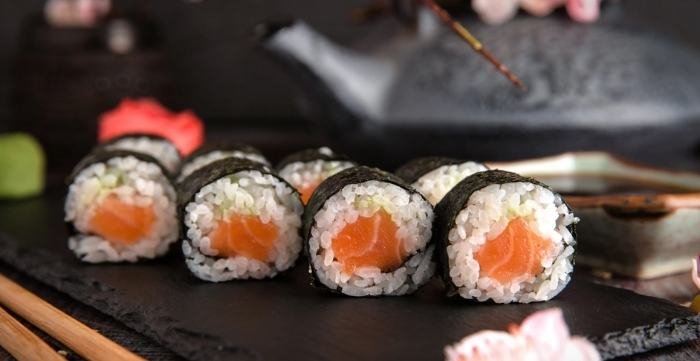 Author Bio:  CookingBeFun helps busy moms and enthusiast chefs get better at doing what they love – cooking. Our mission is to make meal preparation easier. We're a resource for all things cooking: recipes, tips, and tricks, equipment reviews, kitchen hacks & more.
Sushi is a delicious and healthy meal that everyone can enjoy. However, it can be tricky to prepare properly. So, whether you're a beginner or an experienced sushi chef, read on for some helpful advice! This blog post will discuss tips and tricks for preparing sushi like a pro! We'll cover everything from choosing the right ingredients to assembling your sushi masterpiece.
Step One: Assemble the Ingredients
You'll need a few ingredients when preparing Sushi at home—sushi rice, nori sheets, a bamboo mat, wasabi paste, pickled ginger, soy sauce, and a sharp knife. You can find all of these ingredients at your local grocery store.
Step Two: Cook the Rice
Rinse the sushi rice in a fine-mesh strainer. Add the rice and water to a medium saucepan and stir to combine. Place the saucepan over high heat and bring to a boil, then reduce the heat to low and simmer, covered, for 18 minutes. Remove the pan from heat and let it sit, still covered, for five minutes.
Fluff the rice with a fork, then transfer it to a large bowl. Allow the rice to cool slightly, add the sushi vinegar and stir gently to combine. Cover the bowl with a damp towel or plastic wrap and set it aside until you're ready to use it. (You can also refrigerate the rice at this point for up to 12 hours.)
Step Three: Season the Rice
Now that the rice is cooked, it's time to season it. This is where sushi vinegar comes in. Sushi vinegar is a mixture of rice vinegar, sugar, and salt. To season the rice, add sushi vinegar to taste. Remember, you can always add more later if you need to. Once the rice is seasoned, let it cool to room temperature. Once it's cooled, it's time to start assembling your sushi!
Step Four: Julienne Your Favorite Veggies and other Ingredients
Now that you have your sushi rice and nori, it's time to start thinking about your fillings. Traditional sushi is made with fish, but there are no hard-and-fast rules for sushi fillings. You may use any combination of vegetables, proteins, and seasonings. Just remember to cut your ingredients into small, bite-sized pieces to be easy to eat.
One of the most popular sushi fillings is cucumber. Cucumber sushi is refreshing and light, making it a great choice if you're new to sushi or looking for a healthy option. To make cucumber sushi, julienne a cucumber into thin strips and add it to your sushi roll.
If you're looking for something a little heartier, avocado makes an excellent filling for sushi. Avocado is rich and creamy, offering a contrast in texture to the crisp cucumber slices. To make avocado sushi, start by cutting an avocado in half and removing the pit. Then, use a spoon to scoop out the flesh of the avocado and slice it into thin strips.
Step Five: Prepare the Fish
If you're using raw fish, it's essential to take extra care in preparing it. First, make sure that the fish is fresh – look for bright eyes and shiny skin. If you're not sure whether the fish is fresh enough to eat raw, err on the side of caution and cook it instead.
Next, cut the fish into small, even slices. The thickness of the slices will depend on the type of sushi you're making – for nigiri sushi, the fish should be about ¾ of an inch thick. Once the fish is cut, place it on a plate or tray and store it in the fridge until ready to use it.
Slice it into small pieces if you're using cooked fish and set it aside.
Finally, if you're using seafood other than fish (such as shrimp or squid), cook it according to the instructions in Step One and then slice it into small pieces. Set the seafood aside until you're ready to use it.
Step Six: Wrap and Roll
Now that your sushi ingredients are all laid out before you, it's time to start rolling. You'll need a sheet of nori (dried seaweed), some sushi rice, and whatever fillings you've chosen to make a classic sushi roll.
Start by laying the nori sheet on a bamboo mat, shiny side down. Then, wet your hands and scoop out about ½ cup of sushi rice. Spread the rice evenly over the nori, leaving a ½-inch border at the top.
Now it's time to start adding your fillings. Arrange them in a line near the bottom of the nori sheet, making sure not to overstuff your roll.
Once you've added your fillings, it's time to start rolling. Using the bamboo mat, begin rolling the nori away from you, keeping everything snug and tight.
When you get to the end of the nori sheet, wet the ½-inch border with a little water and finish rolling.
Step Seven: Slice and Serve
Now that you've completed all the steps, it's time to slice and serve your sushi! Start by slicing the fish into thin pieces using a knife. If you're using a bamboo mat, roll it up and use the mat to guide your knife as you cut. Once the fish is sliced, carefully remove each piece of sushi and arrange it on a plate. Serve with soy sauce, pickled ginger, and wasabi if desired.
Step Eight: Store Your Sushi
If you're not eating your sushi right away, you'll need to store it properly to stay fresh. So how long will Sushi sit out? Sushi will only stay fresh for a few hours after it's made, so it's important to store it in a cool, dry place as soon as possible. 
The best way to store sushi is in an airtight container in the fridge. If you're planning on eating it within a few hours, you can store it in a covered dish on the counter. However, if you won't be eating it right away, make sure to put it in the fridge so that it doesn't spoil.
Sushi is best eaten fresh, but if you can't eat it right away, these tips will help you keep your sushi fresh until you're ready to eat it. Just make sure to store your sushi in a cool, dry place, and it will be good for a few hours. 
If you want to keep your sushi fresh for longer, put it in an airtight container in the fridge. And, of course, always eat your sushi within a few days for the best flavor and texture.
Conclusion
Sushi is a delicious and healthy meal that people of all ages enjoy. With these tips and tricks, you'll be able to make perfect sushi every time. So what are you waiting for? Get cooking!