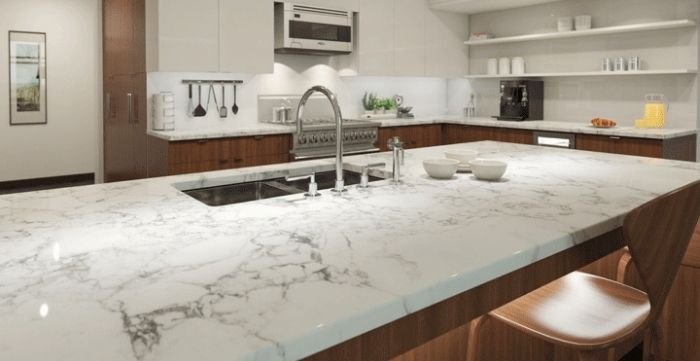 Cave-inspired kitchens are hot right now, and this trendy look works well for a variety of styles, from rustic to modern and everything in between. These marbleized counters have an organic; natural feel that's tailor-made for the trend.
Homeowners are inevitably drawn to the luxurious appearance of marble countertops. If you're hoping to incorporate this trend into your home, but the cost of real marble is out of your budget, don't worry; there's still a way to get the look you want.
Among the easiest ways to spruce up your dated counters: Paint them.
You don't have to have a big budget to transform your kitchen. You can easily give your laminate countertops the marble look and save a ton of money in the process with this DIY faux marble technique. Great for beginning DIYers, this project is easy to do, unconventional, and inexpensive!
To know the process, read this guide on how to paint countertops to look like marble.
Before You Begin Your Paint
Before installation, you need to prepare your counters by cleaning them, sanding them, then washing and drying them again.
Use these smart tips to avoid those big oops moments from the story.
Let me be real with you here. Painting is a daunting & overwhelming task. Before you open any cans of primer or paint, shield your kitchens, such as the floor, walls, and appliances, with sheets, so you don't need to regret it later.
Next, examine your countertops for scratches, cracks, and anything that can ruin the final outcome. To give your countertops a smooth, clean surface, filling in any cracks and scratches. This can help ensure the paint adheres to the countertops without separating or wearing away. After fixing all cracks, dust-free your countertop using a damp cloth. See this to learn how to clear your countertops.
If you have a laminate countertop, then use medium-grit sandpaper to clean up the roughened surface of your laminate counters to increase the gripping power of paint for long-lasting impact.
To ensure that the paint lasts, regularly wipe up spills and don't expose the counters to excessive heat. Sometimes the use of masking tape will help keep a straight edge and protect somewhere you do not want to get ruined.
Is There Any Paint for Marble Coating?
It will sound so nice that you can coat your present kitchen countertop with any type of white paint to transform your dull dining arrangement into a luxurious marble one. All types of paint will work without giving you any headache. Just make sure you choose some fine shade of gray paint to create a luminous stone-like look. Here, craft paints can also fit if you cannot find some amazing gray shades.
However, if you have a big size kitchen, prefer to ask for a sample pot for color to avoid any unnecessary big purchase. To get some more inspiring ideas for your dream countertops designs, check out Caesarstone. Here you can get countertops ideas not for marble coating but for other materials like quartz.
What Amount of Paint Do I Need?
In how to paint countertops to look like marble, you only need a quart each of primer and paint, which is enough for two coats on a typical kitchen and one coat of sealer. The actual countertop paint kits are pricey because they contain everything you need to finish your counters, including a brush (but I used one of my favorite brushes). But you can save money by purchasing each component separately at the hardware store. They may not have the same brand names, but these products are pretty standard at major paint stores.
How to Paint Laminate Countertops to Look Like Marble Without Going Mess
Once you are done with the prep part, now is the time to know the final steps on how to paint kitchen countertops to look like marble and act as a professional painter.
Here is the list of required material:
Sandpaper
Latex primer
Latex paint in white and other colors of your choice (choose any paint brand as per your need)
Paintbrushes
Roller with small roller cover
Sea sponge
Make sure you get enough paint. Prepare the mixture according to the instructions printed on the product. If you need to pour the paint from the cane, use a clean and dry bucket with no debris to avoid those dust particles on the end results.
Step 1: Start the process by covering your entire surface with white base color with the help of a paintbrush and roller.
Step 2: Please leave it to dry.
Step 3: After this, apply those other colors to get those marble-like waves in your final outcome.
Step 4: In order to create those awe-inspiring different shades of colors, get a paintbrush, dab it finely wherever required to create a real stone effect.
Note: Select the shades that you think will work best with your kitchen's walls, cabinets, and decor. Don't focus on one particular design, marble has different variations, and all has its own uniqueness. So let your paint flaw in naturally, don't over blend the paint to miss that natural beauty.
Step 5: Use a spray bottle of water and dishwashing liquid to smooth out any remaining air pockets.
Step 6: At least seal it to make it resilient from scratches.
Moreover, you just need to make sure you don't use any products containing bleach or ammonia (which can dull and damage the paint finish) and clean up any spills right away.
Adding faux marble countertops to an existing laminate counter changes the entire look. A $120 investment can result in a brand new look that you'll love. You might think to use latex paint for materials because it's unlikely you will be using your countertops as much anymore. Using chalk paint instead can give it a more authentic blend-in texture. The choice is yours!
Final Word
With a few supplies and a steady hand, you can complete your own DIY-friendly marble countertop makeover in just one weekend. This easy-to-follow tutorial will help you learn how to paint countertops to look like marble, even if you're a complete beginner. There's no need to remove your laminate countertops or pay for expensive new ones. Instead, you can get the same effect with a simple paint job and save money too!