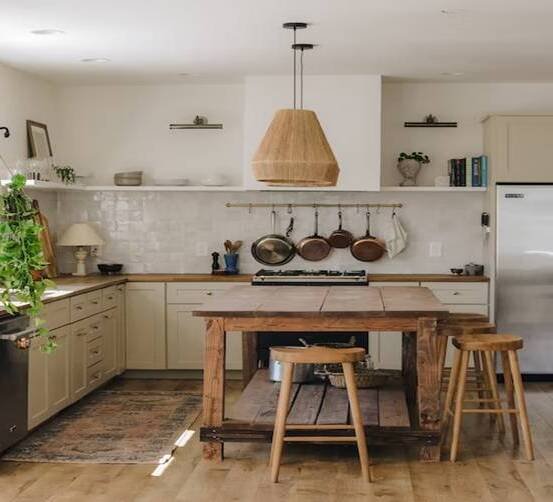 The kitchen is the heart of the house where the family comes together. It is over meals that stories are shared memories are made. A cozy kitchen makes your guests feel welcome.
Make a few minor changes to make your kitchen look more appealing. As a result, the room becomes more than just a place to prepare meals and do the dishes. Instead, it becomes a vibrant and engaging location to spend some time.
Because modern kitchens and appliances are sleek and polished, they can seem a little chilly. You want your kitchen to look clean and tidy with wipe-clean counters, but not clinical and cold.
Seating Plan
Without comfy seats, your kitchen will not be cozy. If you want your kitchen to be a pleasant location to spend time, it must have a relaxing area. Include rugs as they not only provide some padding if you're on your toes for several hours but also add color and character to the room. Just don't get anything too expensive that is expensive to get cleaned. Given that you're in the kitchen, the likelihood of spills and drips increases.
We propose arranging the seating in a circle around a focal piece of furniture. It is a quick method to create a cozy kitchen if you have room for an eat-in kitchen. The tartan dining chair set is a good option for this plan.
Even if your space is limited in area, you can add depth to your kitchen. Expand counter space with an island or modest table, and add a couple of barstools or chairs.
Adding Colour
Choose a bright color for a focal wall and lighter colors for the remaining space to give some flair. Colors on the "warm" side of the color spectrum, such as yellow and red, are frequently thought to be cozier, but the deep green demonstrate that the proper hue of any color can have the same effect.
The cabinet offers an attractive space when paired with sleek brass hardware. Replace rusted hinges and creaking drawers, and contact soft close hinges manufacturers to upgrade your kitchen.
Reducing Junk As Much As Possible
Reduce the number of decorations that take up counter space. It will help to create a more relaxing ambiance in your homey kitchen. You should also ensure that your family is well-organized. Think about how you may expand the amount of usable room in your kitchen.
Mounting pots and pans aloft can be both functional and fashionable. But it can also look cramped. Instead, consider mounting a magnetic knife line on the wall. It will provide an aesthetic dimension to your kitchen while improving accessibility.
One can buy it for knives and the other for lightweight pans. Don't underestimate the importance of putting away utensils and appliances after using them. Organizing your cabinets and cupboards will encourage you to use them.
Set Up Lightening
It could be time to upgrade existing light bulbs with brighter ones or freshen things up with more trendy types. Modifying the decor in your kitchen is an easy way to liven it up.
You can also take advantage of natural lighting. If your windows are obscured by drapery or curtains, simply opening them may brighten your kitchen.
Consider utilizing flimsy panels as drapes to provide some seclusion. These will enable light to pass through your panel while adding a layer of security. A gorgeous chandelier, led bulbs, LED light supply fixtures, or similar fixtures help to make the space feel more lived-in.
Include Items To Warm Up The Room
A comfortable kitchen is more than just a tiny space or a sensation. It also involves having a soul, which can be obtained from living things like flowers. A few strategically placed plants are an excellent way to bring life into your kitchen.
Numerous low-maintenance plants will make your home look greener. You can even use herbs or other edible plants to beautify your window sill. In this manner, you can adorn your kitchen while filling it with homegrown produce.
A bit of carved wood makes a pristine white tiled room feel cozier. Consider balancing chilly colored items found in the kitchen, such as ceramic and stone, with warmer ones, such as wood, leather, and velvet, while redesigning.
Show Off By Mixing And Matching
You don't need to own a complete set of dishes just because your kitchen has open shelving. A variety of patterns and one-of-a-kind handmade pieces provide flair to the area.
A suspended swing-arm pot filler or open shelves are excellent for displaying your nicer kitchen items. Copper pots, tinted glassware, and painted cake plates are lovely enough not to be hidden in a cupboard. A few items of artwork and a few plants can help provide height and dimension to your shelves.
Conclusion
A cozy atmosphere is essential in the kitchen, particularly when you're attempting to gather the energy to cook when you're sleepy or have time to tidy up. Regardless of how much effort you invest into decorating your kitchen more welcoming, it could all be for naught if you allow a mess to accumulate. You would not like to spend much time inside a dirty or cluttered kitchen, so make sure everything is spotless.