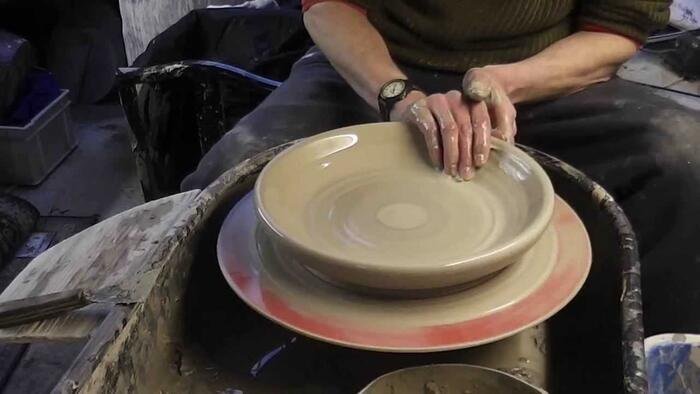 People who love DIY projects and have a passion for art can make creative ceramic plates to add a personal touch to their home collection of plates. Doesn't it feel good to have dinner using a customized plate you made by yourself? Ultimately, this is a good feeling for anyone.
However, making a ceramic plate for home use is not easy, especially if you don't have the right information, tools, and skills. 
If you are a maker, then you will find it easy, especially if you have been practicing a lot. For beginners, it will take a few classes and trials before you can master the art of making ceramic plates for home use. 
If you are interested, here is all the information you need to make an excellent and creative ceramic plate for home use.
Where Do You Want to Make Your Plate?
You can make handmade ceramic plates at home even without a potter's wheel. But it is easier and more enjoyable to make one at a maker's shop where other pottery lovers come to craft. You may also try other shops with the amenities you need to make pottery and meet enthusiasts with the same interest as you. 
Even if you decide to create your own pottery, you may want to collect, enjoy, and use pottery from skilled craftspeople. Many pottery connoisseurs both craft their own pottery and collect pottery created by those who inspire them. For example, the Supper Club pottery studio offers unique artisan pottery that will make a beautiful addition to anyone's collection. 
If you prefer making ceramic plates at home compared to a studio, it is good to collect the right tools and equipment as well as useful tutorials and information. This happens to be one of the best guides to making any type of ceramic plate for your home. 
What Materials and Tools Do You Need?
Have you ever tried to make a ceramic plate before? You need certain materials, particularly when doing the project at home. Those who make pottery at home know the importance of space to place the potter's wheel, but if you want to skip it, you can try making ceramic plates on a flat table surface. 
All in all, here are the important materials you need for the project.
Potter's wheel – This tool is useful in many pottery projects. You will need it to make a perfect ceramic plate, but you can still do without it. Most ceramic plates are made by rolling on a flat surface. A wheel comes in when you want to make work easy and mold perfect shapes. 
Rolling surface – Whether you will use a potter's wheel or not, you will need a flat surface to roll your clay. This can be a countertop with a smooth surface for best results. A waist-high counter will give you a perfect position when molding the plate and decorating it.
Clay – This is the most important raw material you need to make your plate. You will need clay that is designed for firing in a home oven if you are not using a kiln. Choose the recommended clay for a successful ceramic-plate-making project. If you are not sure of which clay to pick from your shop, ask for recommendations from experts. 
Cutting tools – When it comes to pottery and making ceramic plates, you need crucial cutting tools such as special knives, cutting wires, and spatulas among others.
Food-grade glazing and paint – After molding a perfect plate, drying, and baking it, you will want to glaze and possibly paint it into a final dinner plate. As such, you will need food-grade ceramic glazing and paint that you can pick up from a local art supply store. 
How Do You Make a Ceramic Plate?
Simple! Making a plate of your choice from scratch at home is an amazing project. It is easy if you follow the steps below.
Preparation of the clay – Buying clay is easy, but you need to prepare it for the best results. Just knead and wedge it to remove trapped air and any visible impurity. You can do this by pressing it hard on the surface until you feel that it is firm. You can also check its texture to ensure there are no particles and impurities if you need the best plate-making process. 
Rolling the clay – Here, you can either roll it on a flat surface or on the wheel. The point is to come up with a flat clay piece of the perfect thickness for a strong plate. 
Cutting and shaping the plate – Now this is where you need to apply your art skills. Cut the plate and shape it. Use all the necessary tools such as knives, smoothing sponges, and brayers to give it shape. Some people, especially beginners, may find it easy to use molds to shape the plate. 
Drying and heating – The drying process is done naturally at optimum temperatures. Give the plate enough time to dry before baking it in an oven. Be careful to research the correct temperature and time for your particular clay.
Glazing and heating a second time – This is the final process that gives the plate a smooth texture. All you need is to add the glazing and let it dry. Then heat the plate for a second time. Last, you can also make final touches such as painting it with food-grade paints for a more artistic piece.
Conclusion
This is an easy process to make perfect ceramic plates for home use like other ceramic cookware. If you are up to the task, try it today, and you will be amazed by the incredible results. You should not be afraid of making mistakes as you make the first ceramic plate. As you make more, you will perfect the art.