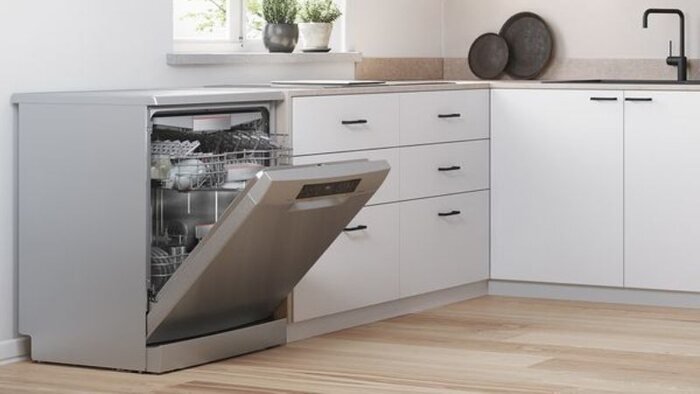 Dishwashers are among the most common equipment to feature in our kitchens. They not only ease the dishwashing process but also save your kitchen time. Kitchens are required to be neat and clean at all times, and clean dishes can support that. Dishwashers are the safer choice when cleaning dishes as it reduces and eliminates the possibility of kitchen mishaps during dishwashing.
Dishwashers have evolved into a must-have appliance in the kitchen. Installing and maintenance checks of dishwashers prove to be a necessary skill. Today we discuss on how to install a freestanding dishwasher without risk of damage. Different types of dishwashers necessitate different installation techniques, as discussed below.
Types of Dishwashers
Dishwasher manufacturing companies have devised different dishwashers to suit all homeowner's needs. Dishwashers come in two different types: they include
1. The Built-in Type
It is a type of dishwasher that is a permanent setup in your kitchen. The built-in dishwashers have large holding capacities ranging from 12 to 15 simultaneous place settings. They fit nicely under the countertops and do not need constant hookups to the water system. Example include
Single drawer dishwasher– this type of built-in dishwasher whereby the dishwasher drawers have the same size as a 24-inch cabinet. They are small in size and have their application in small kitchens.
Double drawer dishwasher – this type of built-in dishwasher has double drawers with the same capacity as a standard machine. Still, it allows much more flexibility in terms of space and energy. The double drawer dishwashers are more prevalent in large kitchens with varying sizes of dishes.
2. Portable Dishwasher
It is a type of dishwasher that can move around. When in need of its service, you roll it over to the sink and plug it in. it is majorly used by people living in rental houses. Portable dishwashers are in two major types they include:
Countertop dishwashers – as the name suggests, it is a dishwasher model that sits on kitchen counters and is hooked up to the sink when needed. It has a small design but engages multiple cleaning cycles maximizing efficiency. It has a pull-out rack drawer design.
Freestanding dishwasher – this dishwasher has all dead ends and can be placed anywhere in your kitchen. It has wheels and standing supports that allow movement when needed. It is large and closely resembles an inbuilt dishwasher. Hooking it up to the water system can be challenging, but bear no worries.
How to Install a Freestanding Dishwasher
Installing a freestanding dishwasher is a simple task, but if you encounter difficulty, then it is wise to call for a professional. Installing a freestanding dishwasher involves the following steps:
 Turn off the main water supply.
Connect the integrated cold-water pipe and check the manual for the correct pipe information. The cold-water hose is usually colored blue and connects to the supply pipe. The cold-water pipe sometimes needs to go through your cabinets, so drill the appropriate hole size and pass the cold pipe to the supply. This connection needs to be tight but use your fingers only to prevent damage; the rubber washer is responsible for preventing leaks after connection.
Connect the waste hose. The connection of the waste hose depends majorly on the type of plumbing of your house. When connecting to a standpipe, connect the provided waste hose 0.3 meters higher to prevent the backflow of wastewater into the dishwasher during cleaning. Alternatively, you could connect to the traps. If so, it will necessitate you to remove the blanking cap, the stopper. Check whether the pipe has kinks and proceed to connect it to the trap. Use provided clips to tighten the connection.
Plug your dishwasher into a power socket and turn on the power.
Use your spirit level to check whether the dishwasher is in a level position. If not, use levelers or adjustable wheels to clamp it to an upright level position.
Switch on the power socket and run a rinse cycle to check whether there are leaks.
Commission your dishwasher by following the manual's directives. First, fill the salt dispenser with water and add salt till full. Determine the hardness level of your water; you can use the hardness strips or ask the water supplier.
Add and fill with rinse aid; run a loaded cycle to check whether its operation is optimal and to your expectations. If not, use the manual troubleshooting procedure to rectify or call a professional.
Push the dishwasher into the desired position, ready for future use.
Tips for Installation of a Freestanding Dishwasher
Freestanding dishwashers are big in kitchens where there is a need for more freedom. So, if you have been considering getting one for your kitchen, you can go ahead. If you have the right tools, you don't need a plumber for installation.
If you are here to find guidance on how to install a freestanding dishwasher, here are tips you may need to check.
Positioning the dishwasher – it is advisable to place the dishwasher near the sink for easy access to supply and drain pipes.
The size of a freestanding dishwasher is 24 by 24 by 35 inches; thus, if a cut-out is necessary, know the dimensions.
Check the hardness of your water to know whether there is a need to install a softener or not.
Ensure the power supply is a 15- 20 ampere current supply to avoid damaging the dishwasher.
Final Thoughts
A dishwasher reduces the time and water used to clean dishes. The dishwasher's performance depends on various things, one of them being the installation procedure; thus, a perfect installation guarantees future good performance. Freestanding dishwashers are simple to install, as seen above. Follow the steps to avoid future mishaps and poor performance.