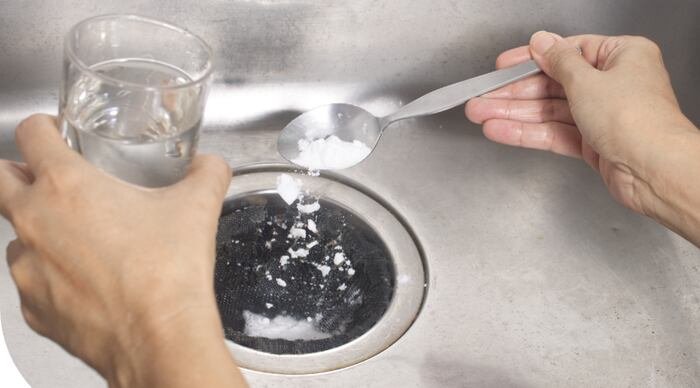 The kitchen is one of the rooms we strive to keep clean always. Being the area where we prepare food and keep utensils, it's imperative that it remains clean and fresh. No matter how clean you are, it's normal for the kitchen sink to produce foul odors. These are often caused by the accumulation of grease, food particles, and other things along the drain. If you have recently experienced this problem, here is a quick guide on how to get rid of smell in kitchen sink.
We are going to divide our guide into two. The first part will touch on kitchen sinks with a garbage disposal. And the other includes tips for getting rid of nasty smells in ordinary kitchen sinks.
Tips on How to Get Rid of Smell in Kitchen Sinks with Garbage Disposal
Kitchen design has come a long way. We live in an era where modern kitchen faucets and garbage disposals have been integrated with the sink to maximize effectiveness. If you have noticed a foul smell from a kitchen sink with a garbage disposal, here are some tips on how to get rid of this smell.
1. Run Hot Water and Dish Soap through the Disposal
Place a stopper on the sink and fill it with hot water until it's almost three-quarters full. Pour some dish soap and slightly stir it before removing the stopper and turning on the disposal. This will clean the disposal system and remove any food particles that may have been stuck. Hot water is very effective at breaking down stubborn particles.
2. Ice Cube, Salt and Lemon Peels Combo
If hot water and dish soap doesn't get the job done, it's time to bring in the big guns. Combining ice cubes, salt, and lemon peels should thoroughly clean the disposal blades and eliminate any rotten food particles.
Each of these ingredients has a job to play. The lemon peels will introduce a refreshing aromatic scent. The ice cubes will knock off food particles from the disposal blade. Finally, the salt acts as a scrubbing agent.
3. Freeze Lemons in White Vinegar and Flush Them Down the Disposal
This isn't only a method of eliminating foul order in a kitchen sink. It also prevents odors from developing. It's something worth adding to your kitchen cleaning routine. Freeze chopped lemons in white vinegar. Then pour them into the sink, turn on the disposal and let a low stream of water flow. The ice cubes with lemon will cleanse the disposal system and leave it with a better-smelling scent.
How to Deal with Foul Smell in Ordinary Kitchen Sinks?
Try these effective methods if you have a kitchen sink without garbage disposal.
1. Pour Boiling Water
This trick has been used for decades and is still very effective. When flushed down a kitchen sink, boiling water breaks down food particles and grease that may be stuck along the drain. Unlike chemicals, boiling water is safe for use on all materials, including steel and stone kitchen sinks.
2. Baking Soda, Vinegar, and Boiling Water
Boiling water works on mild odors. However, if you are dealing with a stubborn kitchen sink odor, a mixture of baking soda, vinegar, and boiling water should eradicate this problem for good. Start by pouring a cup of baking soda and two cups of white vinegar. The mixture will start to bubble up. Let it run down the sink. Finish it up with a kettle of boiling water. Doing this after every two months ensures you never have to deal with the kitchen sink smell.
3. Baking Soda, Salt, Vinegar, and Boiling Water
As you may have guessed it. The more stubborn the kitchen sink smell is, the more ingredients are required. When you add salt to a mixture of baking soda, vinegar, and boiling water, it acts as a scrubber that leaves the drain 100% clean.
This combination is highly recommended for kitchen sinks that produce nasty fouls spreading to other rooms in your house. You will need the following ingredients; half a cup of coarse salt, half a cup of baking soda, and one cup of vinegar. Pour them in this order with the drain blocked. Finish up by flushing it with boiling water. The latter will dissolve any remaining food particles that were not scrubbed by the salt.
A pro tip: Always use coarse salt because it is more abrasive.
Before we wrap up our guide on getting rid of foul smell in the kitchen sink, there are three ingredients that will ensure your sink is always smelling fresh. They include;
Lemon Juice – Lemon has a sour yet therapeutic scent. No wonder it's used in many household cleaners. If you want your sink always to smell good, pour some lemon juice occasionally.
Essential Oils – Many homeowners assume that essential oils are only used for aromatherapy. However, you can also use them as a 'denastifier' for your kitchen sink. Using your favorite scent of essential oils, pour a few drops on the baking soda and let it sit on the kitchen sink overnight. In the morning, you can flush it with boiling water.
Vinegar – Unlike the above two, vinegar is a cleaning agent and has a strong acidic flavor. It may not smell as good as lemon juice or lavender essential oils, but it will prevent foul kitchen sink smells.
The Bottom Line
From these tips on how to get rid of smell in kitchen sink, you should eradicate any foul odors that are making your kitchen inhabitable. Should the problem persist, check if your sewer drains are clogged. Nasty smells from the kitchen can also be a sign of clogged sewer lines.