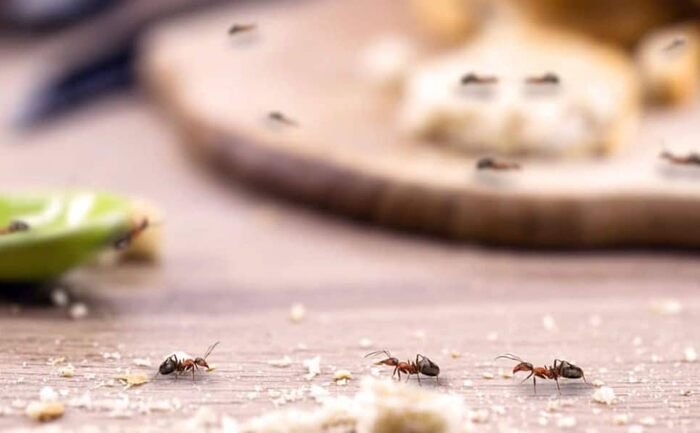 Ants may be a nuisance in the kitchen at any time of year. These small pests have a history of invading houses and are especially drawn to food and water supplies. Although ants are usually harmless, their emergence is an annoyance that must be eradicated as quickly as possible from your house. Ants contribute to the organic process of decomposition, making them one of nature's toughest laborers. However, if these small animals afflict you, you must act immediately!
Continue reading to learn how to get rid of ants on kitchen counters if you want to avoid ants. We will go through everything from preventative strategies to cures to help you get rid of ants permanently so you can cook in a clean and safe environment again.
1. Way to Remove Ants from the Kitchen Counter
Applying a variety of natural treatments on the kitchen counter may remove these pesky pests without the use of chemicals or pesticides.
Don't keep food outside because this can attract ants. Whether or not you work, ants will locate these goods and swiftly reproduce if you leave them out in the open.
Keep in mind that ants may survive on minute crumbs and water puddles. With only a little cleaning, you can't trust that you've eliminated all potential food sources. Clean the tables and the floor, sweep the counters, and so on. Pay special attention to tight spaces or dark kitchen cabinets where ants can hide.
2. Never Leave Food Outside
After you've thoroughly cleaned your kitchen, consider your food storage options. Do not leave your food outside. The temptation to leave some goodies out on your countertops could be strong. For instance, many individuals slowly leave out fruits, cookies, and other things that spoil.
Although it could free up some space elsewhere and make munchies more accessible, this practice will not help you out in the battle against pests. Ants are drawn to food by nature. When they do, those scouts will create smell trails that will lead others directly to your kitchen. The same applies to water also. Clean up cups and stop soaking dishes in water overnight.
3. Remove Ants from the Kitchen Counter Naturally
Applying a variety of natural Ant treatments on the kitchen counter may remove these pesky pests without the use of chemicals or pesticides. One such treatment is the use of cayenne pepper powder. People have depended on this material for a long time since it is known to discourage ants from scaling walls and penetrating homes.
Another excellent natural method for getting rid of ants is to utilize essential oils. Lemon eucalyptus oil is an example of such an essential oil; it is a natural pesticide that is comparable to ant spray in effectiveness. It works as intended, eliminating any pests that come into touch with it and naturally driving away not only ants but also many other insects, including spiders.
The places surrounding your kitchen where you have seen the most ants should be observed. Apply dry diatomaceous earth to any locations where you have noticed ants most frequently, such as the margins of the kitchen, tiny crevices in the walls, the borders of the floor and baseboards, or around windows.
4. Ant Baits
Ant bait is a blend of substances that draws and kills ants. You may prepare your own ant bait using components that are often present in your house or buy it from a variety of merchants. When used properly, ant bait, whether it is made by you or purchased, will have the same effect of getting rid of ants.
Sticky paper traps with cork backing and spraying insecticidal soap straight into walls and floors where the attack is severe are two more effective methods for eliminating ants on kitchen worktops. The most effective way is to use insecticidal soap, which kills them at the source without putting people at risk. To employ this technique, spray the insecticidal solution on the ant trails that have been seen, allow them to completely dry, and then vacuum the area.
5. Traps
Traps are an excellent alternative to eliminate ants from the kitchen counter if you don't want to use risky pesticides. Setting up a trap is as simple as placing little morsels of food near the areas where you've spotted ants and waiting to see if the ants consume them.
You may remove and dispose of the food once the ants have consumed it, making a path for the ant's offspring to follow. Similar to bait traps, borax poisons ants gradually, allowing the colony to transmit the disease. The powder disrupts the digestion process. Place your DIY traps close to known ant-traveling locations. You should plan on waiting a few weeks before you notice the full effects of this strategy if you apply it to get control of ants
6. Use Water & Vinegar Solution
A fairly common thing to have in the kitchen is vinegar. In addition to being useful for cooking, many people also use it for cleaning and sanitizing purposes. Additionally, it effectively eliminates little ants in your kitchen! Mix vinegar and water exactly one to once in a clean spray container. You can choose between using white vinegar and apple cider vinegar. Both are efficient, but because white vinegar is colorless, most people choose to use it.
Your vinegar solution may be used in a few different ways. Spray them down if you notice ants there! The ants will effectively drown and die due to the acidic liquid dissolving their protective cuticle.
Summing Up!
Ants in the kitchen are an annoyance that must be eliminated as soon as feasible. Use silicone-based caulk for all purposes to fill up any gaps you notice. You can select caulking that complements your current decor because it comes in various colors. Use these strategies to eliminate ants in your kitchen if you have a lot of them. We hope that this post has improved your understanding of how to get rid of ants on kitchen surfaces.