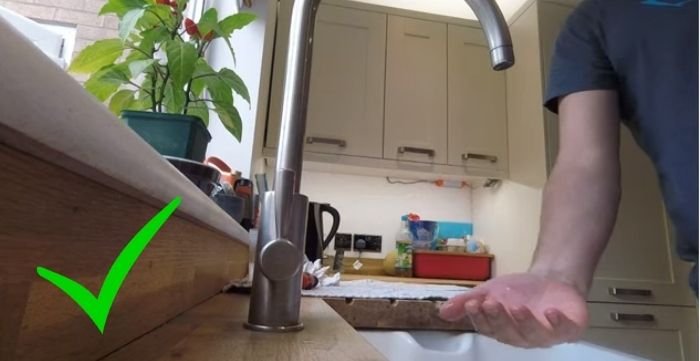 It is not difficult to repair a leaky kitchen faucet. However, because of the various designs available, many people find this task challenging. Note that each type requires a different repair method. Today, we will look at how to fix a leaky kitchen faucet single handle and other things you need to know about this kitchen faucet. Let's get started.
What Is a Single Handle Kitchen Faucet?
Kitchen faucets come in different styles from the touch kitchen faucet to the touchless kitchen faucet. To fix yours correctly, you should first understand whether it is a single or double handle faucet. Single handle faucets, also called single lever faucets, use one handle to regulate the water temperature and pressure. It is the most widely used faucet in many kitchens today.
When installing a single handle faucet, you only need to have one or two holes. Therefore, you only need one hole in your countertop for this. These modern kitchen faucets are loved because they're easy to install and use, as well as clean.
What Causes Faucet Leaking?
If you notice water dripping from your sprout's end after you have turned off the handle, you have a faucet leaking issue. It can be a temporary leak caused by dirt and debris accumulating in the aerator. This dripping usually lasts a minute or two. You can also face a continuous leak that's caused when the valve or cartridge under the handle controlling the water flow wears out. In such a case, you will have a continuous leak until the problem is fixed.
How to Fix a Leaky Kitchen Faucet Single Handle?
If you are experiencing a temporary leak, you just have to remove and clean the aerator with warm water and white vinegar. This will break down hard water buildup in the aerator that's blocking the water flow. Then, rinse the aerator with water and reinstall it.
However, if water is continuously leaking, the valve or the cartridge has to be replaced. Make sure that you look at the faucet model number to determine the number of the replacement valve.
Step by Step Instructions on Fixing a Single Handle Cartridge Faucet
Before you start, here are the materials and tools you will need for this project;
Allen wrench
Pipe wrench or channel-type pliers
Screwdriver
New O-ring for faucet body
Utility knife
An old toothbrush or nylon brush
Replacement cartridge if need be
Heatproof silicone plumber's grease
With these tools at hand, you can start the repair process. However, since you will deconstruct the faucet, make sure you choose a spot to lay out parts. We recommend arranging them in the removal order to make things easier when putting them back later. Some experts also advise you to take a photo before each step to help put things back together when finished. That said, here are the steps to follow.
Step 1: Turn the Water Off
You can't handle any leak job when the water is still running. So the first thing you should do is find out where the hot and cold fixture shutoff valves are and close them. Mostly, you'll find the valves under your sink, where your water supply pipes connect to the water supply tubes that lead up to the faucet tailpieces.
For faucets that don't have these valves, your only option will be to close the water supply of the whole house at the main shutoff valve.
With the water turned off, open up your kitchen faucet and let it drain water out while releasing pressure.
Step 2: Remove the Handle
Examine the faucet and try to understand how it was laid out. The cartridge for a single-handle faucet is often located under the handle. It has holes that mix cold and hot water such that it delivers different temperatures when the handle is turned in a particular way. If the cartridge cracks or wears out, it will drip water through the sprout.
You can find the mounting screw under a metal or plastic cap covering the faucet's top body. However, for faucets that don't have this cap, the handle is usually attached using a hex screw on the front, side, or rear. Remove the mounting screw using a screwdriver or Allen wrench and pull off the handle gently.
Step 3: Remove the Cartridge
Removing the handle leaves the disc cartridge exposed and can now be removed as well. If yours has a mounting ring or screw that holds the cartridge in place, just remove that and lift the cartridge. You can use pliers if it is too sticky but remember to be gentle.
Once you remove the cartridge, inspect if it is cracked or damaged. If so, you will have to replace it with the same model.
Step 4: Remove Rubber Seals
Leaking is mostly caused by damaged rubber seals or the presence of grit or mineral deposit in the seals. So carefully remove these seals using a screwdriver. Then clean them gently with a soft nylon brush. Also, clean the ports as well.
Step 5: Replace the O-ring
If your O-ring is cracked, use a utility knife to cut it off after removing the sprout. Then coat your new O-rings with a plumber's grease and install them back on the groove.
Step 6: Reinstall the Faucet Back
Now, you can put the rubber seals back as they were. And place the new or the old disk cartridge back if it was undamaged. Make sure to align the tabs on your cartridge with the faucet body notches or holes. Screw back the mounting screw or cap if present and attach the handle back.
Now you can turn on the water supply.
Final Thoughts
So that is how to fix a leaky kitchen faucet single handle. Remember to follow the steps correctly and be careful not to lose parts when disassembling.