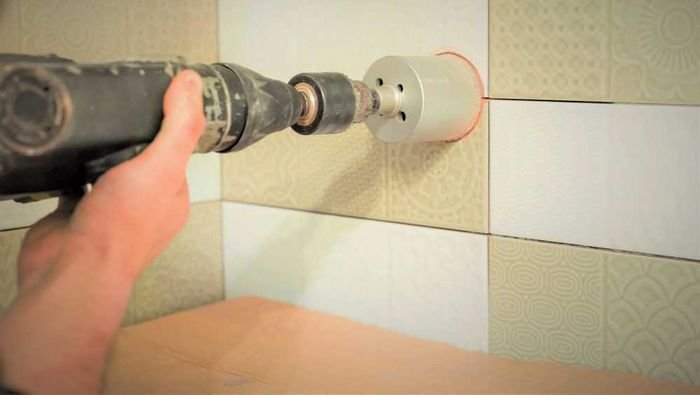 There are many reasons you may want to drill a hole through a piece of tile. It is important to proceed with caution, whether you're looking to install a towel rack on a tiled bathroom wall or shelving on a kitchen tile backsplash. While many types of tile (including ceramic and porcelain) are durable enough to withstand quite a bit of force without cracking, some types of tile (including glass) can be prone to breakage if you're not careful.
Likewise, tile often has a slippery and smooth finish that can make drilling precise holes very challenging. One slip and you could end up with a hole drilled in the wrong place!
Yes, many challenges can come along with trying to drill a hole through a piece of tile. The good news? We've got a step-by-step guide you can follow to get it right every time.
How to Drill Through Tile
So, your beautiful tiling job is completed — and all that's left to do is drill a few holes here and there so you can attach some shelving, hardware, or other accents. What steps can you take to ensure that you don't end up with a botched job? Don't worry, we've got you covered with steps to take to ensure you drill correctly on your first try.
1. Know What You're Working With
Start by knowing what type of tile you're working with and the potential challenges and limitations of that tile. Natural stone, for example, is a lot more forgiving and less prone to cracking under the pressure of a drill bit than a more delicate glass or ceramic tile. Porcelain is also surprisingly resilient, but it can be difficult to drill through due to its glazed finish.
2. Gather the Right Tools
Next, make sure you have all the tools you'll need to pull off this project. While exact tools may vary based on the type of tile you're working with and the size of the hole you need to drill, some common tools needed to drill through tile include:
A handheld drill

A diamond-tipped or carbide-tipped drill bit

A pencil or tile marker

A tape measure

Masking tape

Safety gear (goggles, dust mask, and gloves)
3. Measure, Then Measure Again
Once you have everything you need to get the job done and have donned all your protective gear, it's time to get started. Take the time to carefully make your measurements and use a pencil or tile marker to indicate precisely where you need to drill. Remember that it's always best to measure at least twice for accuracy. The last thing you want is to redo part of your tiling job due to one bad measurement.
4. Create Tension
One of the biggest challenges when drilling through tile is keeping the drill bit steady enough to drill through the surface properly. One "trick" to make your job easier here is to apply a piece of masking tape over the tile where you'll be drilling. Even a thin layer of masking tape will provide some much-needed grip between your drill bit and the wall as you begin drilling the hole. This will make you less prone to slipping or missing the mark.
5. Go Slow and Steady
Likewise, it's important to work slowly when drilling through tile with a drill bit. Even though it may be tempting to run your drill at full speed and use lots of force to push the bit through the tile, this can make even the most durable of tile more prone to cracking or other damage. Instead, it's best to take things slow until you've drilled completely through the tile. At that point, if you need to continue drilling (such as through the wall behind the tile), it may be best to switch to a more suitable drill bit (such as a standard or masonry bit) for the remainder of the job.
6. Keep Things Cool
Drill bits can be prone to heating when drilling through materials like tile. To ensure clean and precise drill holes, then, it's a good idea to keep your drill bit as cool as possible throughout the process. You can do this by pouring cool water onto the bit between drilling individual holes. This is also a great way to clean debris off your drill bit, which will keep your job site looking cleaner as well.
The Bottom Line on Drilling Through Tile
While drilling through tile can be more challenging than drilling through other types of material, all it takes is patience and the right tools to get the job done correctly. By following the steps outlined here, you'll be well on your way to drilling holes through any type of tile with greater confidence and precision.