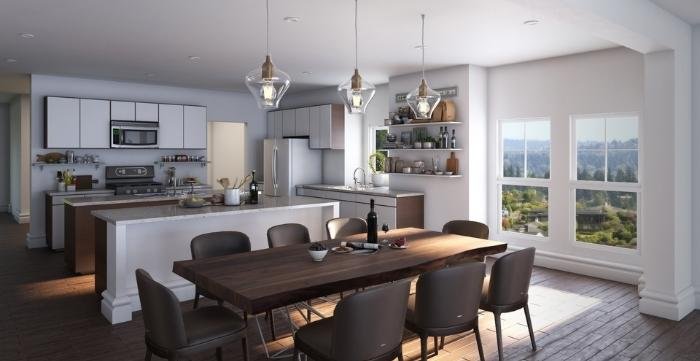 If you are an interior designer, you're always looking for an edge over the competition. A 3D interior rendering company may just give you that edge you are looking for! Think about it this way. Have you ever tried to put your concept into words but couldn't? Or created a beautiful design, with the clients' approval, and then saw their faces drop when they saw the end result, saying, "It's just not how I pictured it"? 3D interior rendering services can help bridge those gaps before committing to the final project.
What Can a 3D Interior Rendering Company Do for You?
A 3D interior visualization studio can make a world of difference for you and your clients. Let's look at just a few of the benefits you can expect when you use high quality 3D interior visualization in your organization.
Present Room Layouts That are Photorealistic
Let's face it. Your clients may appreciate swatches and samples or even architectural drawings. But that doesn't mean that their untrained eyes can form an accurate picture of what your concept will look like in practice. You end up purchasing furniture and paint colors that simply don't work for the client when they see it in real life. 3D interior design rendering services change all that. You can create images of your designs that look just as real as they would if you took a photo of the finished product. You can make changes so that when you unveil the space, it looks exactly the way they've imagined it. Happier customers mean more referrals and greater success for your business.
Interior 3D Rendering Sets the Tone
3D rendering is useful when it comes to practical and not-so-practical elements of your design. You can showcase furniture layouts and fixtures, but the design is about so much more than just spacing. 3D rendering can communicate the mood and the atmosphere of space by showing off the harmony of the materials, the lighting, the weather, and even props that add to the realism of the setting. You can communicate the ambiance to your clients and show them what it would be like to live in the space. Create warm and cozy romantic restaurants or powerful corporate offices with minimalistic designs. Candles, lights, and chandeliers can be effectively rendered to convey what the space would feel like in the evenings, while sunlight streaming through an open window creates a happy and well-lit ambiance.
Work With Client Feedback
Client management can be extremely difficult, and it goes both ways. Clients might find it hard to express what they want you to do if they don't speak the same technical language as you do. Misunderstandings can easily crop up, especially if you have to rely on schematic drawings and verbal communication. 3D rendering is the most straightforward way of communicating your concepts because you are dealing with photorealistic visuals. Customers can understand your vision, add their edits, and then work with your revert. You'll both have the ability to spot design and concept flaws early on, fixing them before the client ever has to lay eyes on them. If a client is happier, they're more likely to refer you to others. So in a way, 3D rendering not only improves your relationship but speeds up the approval process and helps the entire workflow progress more smoothly.
Outsource Your Presentations
You can outsource your presentations to 3D architectural interior rendering services. They will create beautiful images of your concepts and present them to investors and clients without investing your own money or time into visualization equipment and software. You don't have to spend your time and effort honing your CG visualization skills or hire full-time 3D artists for your business. You can access all the CG visuals you need, on-demand, whenever you need it, with minimal investment of your time or money.
Promote and Grow Your Properties
You don't have to wait until you land and complete a job to showcase your skills. You can create a portfolio of beautiful imagery and designs before you start any work. You can access a global database with attractive designs and create a strong social media presence without completing a single job. This increases your odds of getting started in the industry, and if you are already established, it will only boost your image.
Save Time, Save Money
You don't need to actually purchase furniture or finishes to create a beautiful space. You can create 3D renders and images for spaces that only exist in your head. This prevents you from making costly design mistakes that you'll need to fix after you've already started purchasing goods.
Conclusion
If you work in interior design or architecture, a 3D interior rendering company may be your secret weapon. You can create beautiful images of your concepts long before work starts, used for promotion or to test concepts, and you don't have to invest your time or money in visualization equipment or training. Your 3D interior rendering company will do the heavy lifting for you – all you need to do is reap the rewards.