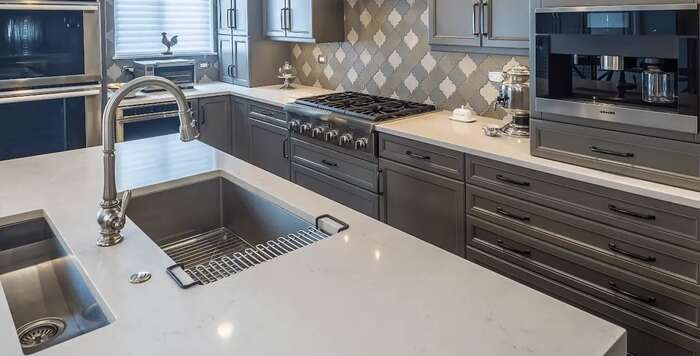 The Role of Your Kitchen Sink
One might underestimate the significance of a kitchen sink, but the impact it has on your kitchen's overall functionality and aesthetic is paramount. This key feature plays host to a multitude of essential tasks, from food preparation to dishwashing, and beyond. With a wide range of options available, selecting the perfect sink requires careful thought about your kitchen's needs, your personal style, and the value of professional kitchen sink installation service.
Exploring the Landscape: Diverse Types of Kitchen Sinks
The world of kitchen sinks is surprisingly diverse, offering a variety of types to suit different kitchen layouts, styles, and practical needs. Let's delve into some of the most common types.
Single-bowl Sinks
These sinks feature just one large bowl, offering ample space for washing large pots and pans, soaking baking sheets, or even bathing a small pet. This design can be particularly beneficial if you have limited countertop space, as it tends to require less room than its multi-bowl counterparts.
Double-bowl Sinks
Double-bowl sinks, as the name suggests, feature two bowls. These bowls can be the same size, allowing for a symmetrical look, or they can be different sizes tailored to varied tasks. For instance, one bowl can be used for washing dishes while the other is free for food preparation. This design enhances the sink's versatility and can make kitchen tasks more efficient.
Top-mount Sinks
Also known as drop-in sinks, top-mount sinks are designed to be dropped into a hole in your countertop, with the sink's rim resting on top of the counter. This type is relatively easy to install and works with virtually any countertop material, including laminate and wood. However, the lip of the sink can collect debris and make cleaning a bit more challenging.
Undermount Sinks
Undermount sinks are mounted under the countertop, creating a seamless look and making it easy to sweep crumbs and debris from the countertop directly into the sink. They provide a sleek, modern aesthetic, but installation is more complex and they're typically compatible only with weight-bearing and water-resistant countertop materials like stone and solid surface.
Farmhouse or Apron Sinks
Farmhouse sinks, also known as apron sinks, are characterized by their exposed front-facing side. This design gives the sink a large, deep basin and contributes a classic, rustic charm to the kitchen. While farmhouse sinks can be beautiful focal points, they require more substantial renovation to install, as they typically need a custom base cabinet.
Corner Sinks
Corner sinks are a smart choice for small or awkwardly-shaped kitchens, where space is at a premium. They make use of often-underutilized corner space and can be a stylish and unique feature. However, corner sinks can be tricky to install and may limit your options in terms of size and style.
Island Sinks
Island sinks are installed in a kitchen island, providing a secondary area for washing hands, rinsing produce, or filling pots. They can be a practical addition to a large kitchen with a well-utilized island. However, plumbing an island sink can be more complex, requiring water and waste lines to run under the kitchen floor.
Each type of sink offers its unique advantages, so consider your kitchen's layout, your usual kitchen tasks, and your personal style preferences when exploring these options.
Material Matters: Making the Right Choice
The sink's material significantly affects its durability, maintenance, and overall look. The ubiquitous stainless steel offers an optimal blend of longevity and modern aesthetics. However, it might show scratches and water spots over time. 
Cast iron sinks, bathed in a thick layer of enamel, are incredibly durable and available in a rainbow of colors. They might chip if subjected to a hard impact, though. 

Fireclay sinks emulate cast iron's aesthetic but outshine them when it comes to resistance to chipping. 

Copper sinks deliver a unique aesthetic but require regular upkeep to prevent tarnish. 

Granite or quartz composite sinks strike a balance between durability and style but lean towards the higher end of the price spectrum.
Size and Shape: The Perfect Fit
The size and shape of your sink should be influenced by your kitchen size, countertop space, and usage patterns. For instance, a large or deep sink is more suited to a bustling kitchen where large pots and pans are a regular feature. On the other hand, a compact kitchen might call for a smaller or round sink. Balance is critical here. An oversized sink can be visually overpowering, while an undersized one might fall short on functionality.
Faucet Compatibility: Getting in Sync
Faucet selection is closely tied to sink choice. Ensure your preferred sink design has the appropriate number and configuration of holes to accommodate your kitchen faucet, as well as extras such as a soap dispenser or side sprayer. The positioning of these features can dramatically affect their usability.
Installation: Professional vs DIY
The installation of a kitchen sink is a critical step. While some homeowners might opt for a DIY installation to save costs, it's essential to remember that professional kitchen sink installation services offer invaluable expertise. They can guarantee a precise, secure fit, mitigating potential issues like water damage or an unstable sink. This factor is especially crucial for undermount and farmhouse sinks, which require more complex installation processes.
Budget Considerations: A Balancing Act
When setting a budget for your kitchen sink, don't forget to factor in not just the sink's upfront cost, but also installation and potential maintenance costs. More expensive materials might offer better longevity, effectively reducing long-term replacement or repair costs. However, professional kitchen sink installation services, while perhaps more costly upfront, can save you from expensive mishaps in the long run.
Remember, the value of using a professional kitchen sink installation service cannot be underestimated. It ensures your chosen sink not only looks the part but plays the part, serving your kitchen's needs for many years to come.