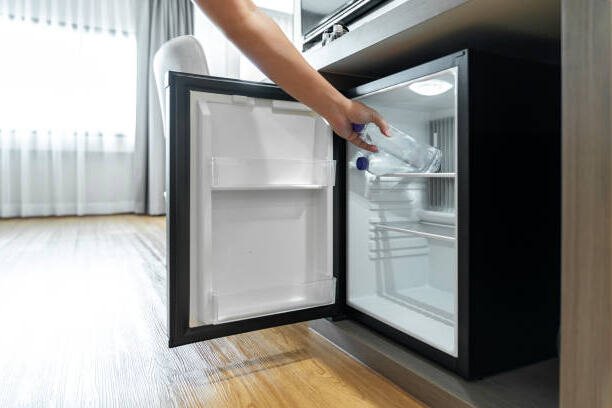 With rising energy costs, power management is crucial, and learning the amperage of various devices should be the starting point. Mini fridges are one way of conserving energy, especially if they're energy star rated.
But how many amps is a mini fridge? Most mini fridges draw between two and five amps but average at two amps when the motor is active. However, various factors determine the average amps, including the mini-fridge size and voltage. Also, the amps drawn will vary during startup and when idling.
Read on to learn more about the amperage drawn by a mini-fridge and how to calculate it. You will also learn tips to help you save energy and the factors affecting the current in your refrigerator.
How many Amps are Different Sizes and Brands of Mini-Fridge?
The following list has some of the brands with their respective current draw state.
| | | |
| --- | --- | --- |
| Brand | Volume | Current (Amperes) |
| Freezerless | 1.7 cu ft | 1.5 |
| Frigidaire | 2.5 cu ft | 0.5 |
| Hisense | 3.3 cu ft | 0.8 |
| Galanz | 4.6 cu ft | 0.96 |
| Everchill | 5.0 cu ft | 0.8 |
How Many Amps is a Mini Fridge?- Explained in Detail
Like other fridges, the mini fridge only draws power when the compressor is active. Averagely, this current is 2 amperes, with a maximum of 5 amperes. However, these figures are for a refrigerator using 120 volts. However, most appliances have the Amps or watts indicated on their tags or stickers
Mini-fridges, popularly used in dorm rooms, have most of the qualities of a full-sized unit. They're popular because most learning institutions permit small-sized refrigerators that draw less than five amps. They're best known for saving energy and the ability to occupy as little space as possible.
When the fridge is idling, it doesn't draw current as the motor is off. These are among the qualities that make them among the best garage refrigerators. However, various factors discussed below affect the amount of current a mini fridge draws.
Factors That Affect Amps in a Mini–Fridge
The amount of current drawn by a mini-fridge varies between different units. One of the factors to consider when aiming to save power is the fridge to be energy star rated. The following are other factors that affect the amperes in a mini-fridge.
1.     Mini-fridge Voltage
Voltage is considered the force that moves electrons through a circuit. The voltage used in refrigerators in Europe is 220 volts, while it's 120 volts in the United States. With the difference in voltage and watts, the current is also different.
2.     Current at Startup
The fridge uses more current to attain optimal temperature during the startup phase. In this phase, the current can range between 15 and 20 Amp, which is why a dedicated circuit is required. Afterward, the mini-fridge then reduces to its average current to maintain temperature.
3.     Mini-fridge size.
There is always a slight variation in amps between two different-size mini-fridges. The bigger it is, the more current it uses to attain and maintain the required temperature.
4.     Fridge Model
Different fridge models can differ in current despite having the same size. A Magic Chef 3.3 cu ft Mini-fridge draws 1.5 amps, while the same size Hisense mini-fridge draws 0.8 amps.
At the end of the day, what's important is understanding your mini fridge and the key factors that affect the strength of its electric current. As seen, some aspects, like the fridge model, make it hard to determine the actual amperage.
How Do You Measure Your Mini-fridge Amp?
Some mini-refrigerators don't have the amps description on their tags or stickers. To know the amount of the current, you must calculate using known facts, like the voltage or Watts.
The formula to calculate the Amps is (Watts / Volts = Amps (per hour.)) For example, to get the amps of a Hisense mini-fridge that requires 100 Watts on 120 volts.
Take the number of watts and divide it by the amount of voltage the mini-fridge uses.
(100 Watts / 120 Volts = 0.833A)
If you don't have the information on the wattage, you can utilize a wattmeter device. Install the device to your power source, just like a fridge guard, so it can monitor power consumption.
How Can You Save Energy Using a mini-fridge?
While the Mini-fridge is power efficient, there are other ways to save energy. They include;
1.     Avoid Hot Spots
Position your mini-fridge far away from any heat source, like an oven. Also, avoid positioning it on a window under exposure to direct sunlight. The air conditioning source should also be a distance away.
2.     Don't Open the Door for Long
Avoid opening the fridge door for too long since the cold air will escape forcing the mini-fridge to run more. If the fridge can maintain its temperature, the compressor will run a few times. Without the motors running, it saves energy significantly.
3.     Turn off the Ice Maker
For a small refrigerator with an ice maker, turning it off when not using it can save energy. Research shows that an icemaker increases energy consumption by up to 20%. Luckily, most modern mini-fridges deactivate the ice maker when the ice tray is full.
4.     Avoid Storing Hot Items
Hot things use more energy to cool down to the refrigerator's temperature. Allow hot foodstuffs to cool externally and store them after they cool to room temperature.
FAQs:
The following section covers some frequently asked questions about mini-fridge amps.
Q1. Does Mini-Refrigerator Use More Amps at Startup?
Yes, during the startup, a mini-fridge that uses an average of two amperes can use up to 15 amps. During the phase, the compressor runs for some time, drawing current until it reaches optimal temperature.
Q2. Is it Safe to Run a Mini-Fridge on a 15 Amp Circuit?
Since most mini-fridges run at an average of 2 Amps, you can safely run them on a 15 Amp circuit. Use a circuit capable of carrying more current because of the starting phase.
Q3. Can I Plug a Mini-fridge Into a Regular Outlet?
You can plug your mini-fridge into an outlet if it has at least more than the 15A current. Also, the outlet should not have other devices with higher amperage.
Conclusion
A mini-fridge is usually the first option people think of when seeking to save energy. However, with a variety of brands and sizes, it can sometimes be challenging to choose one. One question most people ask is how many Amps is a mini fridge?
Mini-fridges can draw an average of 2 amps and go as high as 5 when the motor is running. However, the current is more in demand during startup and varies with different models. To monitor the current more accurately, use an energy meter or the formula in the article to calculate.