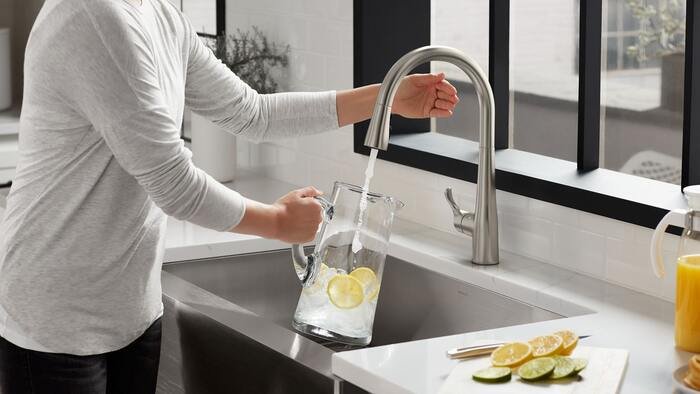 Want to modernize your kitchen? Touchless faucets may be the best solution. They're innovative, high-tech, and come in stylish models. Kitchen faucets become the grimiest parts of a kitchen as we touch them with germy hands. Imagine water at the wave of your hand with no contact required. You may wonder, how does a touchless faucet work? You need a complete guide that explains the technology, the best models, and the benefits of ownership.
How Does a Touchless Faucet Work?
Touchless faucets work via a design that involves a sensor, a solenoid valve, a power source, and a spout. It's technical yet simple. An electrical or battery power source supplies the energy to the motion-detecting sensor. The sensor signals the solenoid valve. It activates the faucet with information about when to begin and stop the water flow. The amount of movement is what keeps the flow going. The solenoid receives the message from the sensor and engages the valve. When movement near the sensor stops, the signal dies, and water stops running [1]. A simple flow chart can explain the entire process in a simple flow chart:
Hand motion →Sensor →Electrical signal sent to solenoid →Solenoid activates water valve → Water valve opens to allow water flow until hand motion stops, sensor's signal ceases, solenoid deactivates valve engagement, water flow stops.
Spout Differences
There are thousands of spout types on the market today. They're called hands-free faucets with various sizes, materials, and designs. Some of the fancy and elaborate designs are the most expensive. Faucets and spouts come in kitchen and bathroom fixtures. Some pull down via a connected hose, allowing you to use a spray feature from the spout. When budgeting for a hands-free faucet, the most affordable is zinc with brass, more expensive. Nickel and chrome finish faucets are somewhere in-between in the pricing spectrum. They're also among the most durable and attractive. You can choose the height of the spout for kitchen faucets to suit the decor of your kitchen.
How to Find the Best Touchless Faucet
With thousands to choose from, the best way to make your choice is to make a list of questions and answer them. When you've finished, you'll know which features to look for and how to narrow your search.
What is my budget
Is it for the kitchen, bathroom, or both?
What size works best?
What color or design fits with my kitchen/bathroom decor?
What style do I prefer (fancy, minimalist, old-fashioned, modern, etc.)?
Do I prefer electricity or a battery power source?
Do I want Smart features for my Smart home?
You can minimize the time spent in your search by narrowing the keywords to match the answers you provide. It's the quick and most convenient way to find the faucet that comes closest to your dream touchless faucet. It's wise to consult with consumer reviews to learn about the experiences that other people report. Consider price, quality, and consumer satisfaction ratings.
The Best Touch Kitchen Faucet
Touch kitchen faucets are technologically advanced, similar to touchless ones. They follow the same system of sensors, solenoids, valve activation, and deactivation. The difference is that you must touch a specified part of the faucet to activate the sensor vs. motion activation. The "best" choice is different for each individual. The questions to ask yourself are the same as specified for the touchless faucet.
Types of Touch Kitchen Faucets
The most popular brand and model is the Delta Faucet Leland Touch Kitchen Faucet.
Features:
Brushed nickel finish in Arctic Stainless
Pull-down sprayer
Delta Faucets touch 20 Technology
Touchless vs. Touch
Touchless faucets are convenient, high-tech, and stylish but also have drawbacks.
Touchless Kitchen Faucet
Pros:
Operates conveniently with the wave of a hand
Technologically advanced
More hygienic than touch faucets
Available in battery or electric power
Cons:
Expensive
Less user control
Activates accidentally
Touch Kitchen faucets
Pros:
More user control over water flow
Not as prone to accidental water flow engagement
Less expensive than touchless
Available in various styles and finishes
Cons:
Not as hygienic as touchless faucets
Not as convenient for users, but more convenient than pull-down or knob versions.
Final Thoughts
Touchless faucets offer many benefits for users. They're stylish, high-tech, and impressive for modern homes. They help to avoid cross-contamination from touching facet handles with dirty hands. With the wave of a hand, the water flows. It shuts off automatically when there is no movement in the sensor area. Understanding all the benefits makes you wonder how touchless faucets work. Although the technologies that contribute to its effectiveness are complex, it's fairly simple. A motion sensor activates a solenoid that opens and closes the water valves. Compared with high-tech touch faucets, the touchless offers a few more benefits. When deciding which is the best choice for your home, weigh the pros and cons of each. Consumers rank the Delta Faucet Leland Touch Faucet as the most popular. Some other brands and models may better suit your needs.