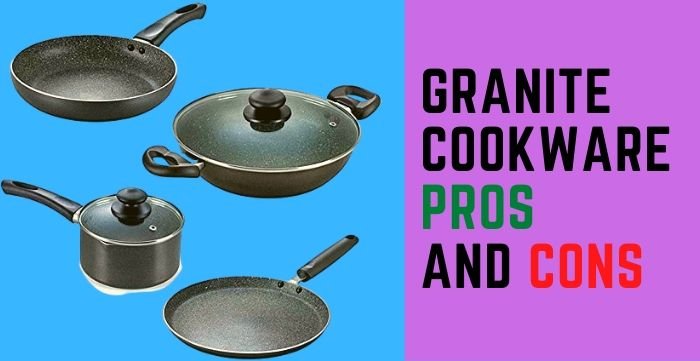 What is Granite Cookware?
Before getting into granite cookware pros and cons, let's first understand what Granite cookware. We have to look at what constitutes a granite cookware to understand whether or not it is wise to invest in one. Granite cookware is a type of cookware that typically consists of aluminum or carbon steel cores and it is coated with porcelain enamel. Regardless of its name, it does not have any granite and is only called that because of its similarity in appearance.
The Pros and Cons of Using Granite Cookware
What are the benefits and shortcomings of using granite cookware? Many people are looking for new nonstick cookware to replace their traditional steel ones. Granite cookware has recently emerged as the frontrunners to providing nonstick cookware. The following granite cookware pros and cons will help you to decide whether or not you will invest in one.
Pros:
It doesn't rust- you don't have to worry about wiping your granite pan fry after washing. The material doesn't rust and can, therefore, serve you for a considerable time.
It is inert. The porcelain coating is inert and will not react to acidic foods.
Smooth and glossy surface makes it easy to clean and to please to the eye,
the cookware doesn't need any seasoning to be nonstick. It comes naturally, and it doesn't contain harmful chemicals such as cadmium, lead, PFOA, and PTFE.
The carbon steel cores or aluminum are good conductors, therefore, allowing you to cook faster
Cons:
It limits you from using metal utensils in the kitchen. You will, therefore, be required to use wooden or plastic utensils.
Some manufacturers produce very cheap granite cookware. They are often thin and will not retain heat effectively like their expensive counterparts
The granite cookware can sometimes crack glass cooktops.
If you fail to follow the manufacturer's instructions you can find that food will still stick on the surface
Limited designs since most granite cookware in appearance.
The enamel coating can chip away after some time, and you run the risk of finding ceramic chips in your food. Once this happens, you are forced to dispose of the graniteware and acquire another one.
Is Granite Safe to Use?
Granite cookware is safe to use since it doesn't have harmful chemicals such as PFOA, Teflon, cadmium, or lead. Though some manufactures use PTFE on the coating, you can set your temperature below 350 degrees Celsius. This way, the PTFE will not be released into the air.
When looking to buy the best granite stone pan, you will have to be careful and ensure that you invest in a safe cookware. As long as you choose the one with no chemicals you will be good to go. You will only have to be vigilant and replace the cook pan one the enamel starts to chip away.
Factors to Consider When Purchasing Granite Cookware
Not all granite cookware on the market are equal. The quality differs and therefore requires you to considers certain features before buying granite cookware. Factors such as safety, oven friendly, cooktop compatibility, the handle, and the warranty.
You have to make sure that the granite cooking pan is PFOA and PTFE free and doesn't contain another harmful chemical. You want to invest in cookware that is safe to use and will not be toxic when cooking.
The Best granite stone cookware should be one that complements your kitchen and doesn't result in toxics. You have to go through the granite cookware pros and cons to ensure you get the one that fits your needs. With these factors your decision of selecting a quality granite cookware will be straightforward;
It should also be compatible with your cooktop, as granite cookware can crack a glass cooktop. The handle should also be insulated and have the ability to stay cool. You want cookware that will give you a chance of cooking whatever meal without necessarily overheating.
Conclusion
The above are the granite cookware pros and cons, and I hope they are helpful when looking for nonstick cookware. The granite cookware is safe to use as long as the coating doesn't chip away. It doesn't contain harmful chemicals and is safe for your family. That said, however, you will need to keep in mind the above factors to find the best granite cookware for your kitchen.
It's cheap- granite pans are among the most affordable in the market. You can, therefore, switch to granite cookware by spending less than $20. Light than cast iron- the granite cookware is not heavy. They can come handy if you love camping as you can easily fit in your luggage. Since they are not heavy, people with wrist problems such as the elderly, find it advantageous.
Non-Toxic, Healthy Ceramic Cookware| Caraway
Check the latest price
Caraway Tan France Cookware Set Blush
Check the latest price