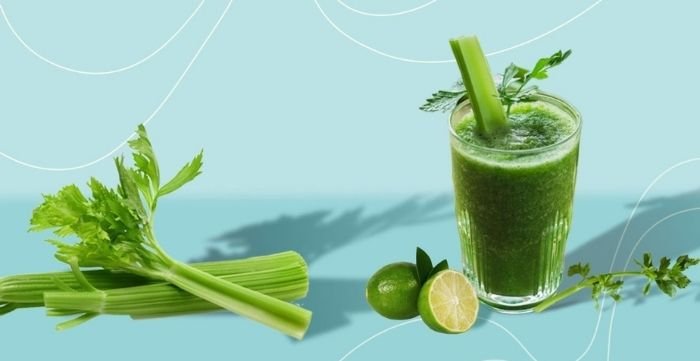 If you want to have a healthier diet and make sure you remain hydrated as well as fit for the upcoming summer, then you might want to include fresh celery juice in your diet.
Celery is an excellent vegetable that is chock full of Vitamins A, C, and K as well as calcium. With 95% water, it is extremely hydrating for the body and makes for an excellent alternative to processed beverages and drinks. The presence of phytonutrients and antioxidants like apigenin reduces inflammation in the gut and body and also helps keep your digestive system healthy. On top of that, the alkaline nature of celery promotes better bodily functioning and prevents diseases. It is rich in potassium and folate as well.
While you can always buy packaged celery juice in the grocery store, juicing stalks fresh every day is the best, since you can get the maximum amount of nutrients, with no additives.
If you want to make sure you get fresh celery juice every day, read our article below where you tell you what you will need for it and how you can best make it in a way that is both easy and efficient.
What You Need For Fresh Celery Juice Everyday
Crisp, Firm Celery – Here the first thing you need if you want celery juice every day is fresh celery which is firm and crisp. The stalks should be strong and should loudly snap when you bend them. On top of that, the leaves should also be crisp. Stay away from wilted or discolored celery as not only do they not have enough nutrients, they can even ruin the taste of your entire drink and lead to stomach problems.
A Powerful Juicer/ Blender – Of course, another important thing that you obviously need, in order to make celery juice, is a powerful juicer or blender. For the best consistency, opt for masticating juicers which slowly cold-press the celery, juicing it while maintaining its nutrient value. While centrifugal juicers are faster, they do not ensure the presence of that much nutritional content as a masticating juicer does. But either way, celery juice is celery juice, and you can be assured that you'll get pretty good nutrition regardless of how you juice it.
If you don't have a juicer, you can also use a blender to create a thick, smoothie-like consistency and then squeeze the liquid out with the help of a muslin cloth. However, it is a longer and more drawn out process.
Seasonings – While it's optional, many people love adding seasonings to their celery, as it can boost the delicate taste of the drink. People tend to go the more "savory" direction and add just salt to their celery juice for a little kick. But you can also add a spritz of lime.
How To Make Celery Juice
Like we mentioned above, you can make celery juice either using a blender or a juicer.
If You're Using A Juicer: First, remove the celery stalks from the bottom and chop them into large quarters. Carefully rinse it under clean water to remove dirt and debris. Then, carefully insert them into your juicer one by one, so as to not crowd the machine and ensure the best extraction. The time taken will depend on the kind of juicer you are using, as masticating juicers are slower but do the job really efficiently and extract every bit of nutrient, whereas centrifugal juicers are faster but lower the nutritional content. Once your celery has been juiced, you can drink it immediately or keep it refrigerated for a maximum of 2 – 3 days.
If You're Using A Blender: Remove the celery stalks from the bottom and chop them into one-inch pieces. Carefully wash them under running water, and clean any dirt or debris off. Put the chunks into the blender with about 1/4th cup of water, and blend at high speed till you get a smoothie-like mixture and the celery stalks are blended well. Then, using a muslin bag, place the mixture into the bag and squeeze the liquid out, with your hands, into a jug or vessel. Make sure to carefully wash your hands before doing this. Once you're done, pour and drink, or place inside the refrigerator and consume within 2 days.