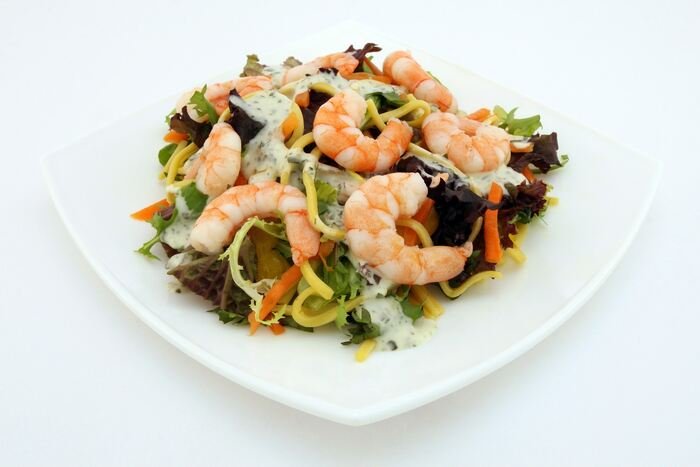 Seafood is a beloved staple in cuisines worldwide, and shrimp is one of the most popular and versatile options. These tender, sweet crustaceans are packed with nutrients like protein, vitamins, and minerals. Shrimp are low in calories and fat yet high in nutrients, making them a healthy choice. They provide selenium, astaxanthin, vitamin B12, niacin, and omega-3 fatty acids. The many health benefits of shrimp include supporting heart health, bone strength, and immune function.
The popularity of shrimp can be attributed to their mild, sweet flavor that adapts well to a variety of seasonings and cooking methods. Their convenience as a pre-cooked frozen food has also added to their popularity. While wild-caught shrimp from oceans and rivers have been enjoyed for centuries, the growth of shrimp farming starting in the 1970s enabled mass production, making shrimp affordable and accessible. Today, shrimp are a kitchen staple and a favorite ingredient at restaurants across cuisines like seafood, Asian, Cajun, and more.
When it comes to easy, delicious ways to enjoy shrimp at home, these 16 delicious recipes show off their versatility. From classic shrimp scampi to shrimp tacos and shrimp fried rice, keep reading for mouthwatering recipe ideas.
1. Baked Lemon Pepper Shrimp
The combination of lemon, garlic, and spices gives these baked shrimp a bright, zesty flavor. Lemon pepper seasoning provides citrus and spice, while parsley and Parmesan add freshness and richness. Bake or broil for 10 minutes until the shrimp are opaque. Serve over pasta or rice.
2. Shrimp Kabobs
Grilled shrimp kabobs are perfect for summer barbecues. Skewer peeled deveined shrimp alternately with cherry tomatoes, bell pepper, and onion. Grill over medium heat, basting with a marinade like garlic-herb butter or teriyaki. Shrimp cooks fast, so watch carefully. Serve kabobs on their own or over rice.
3. Shrimp Scampi
Buttery, garlicky shrimp scampi is a restaurant favorite you can easily make at home. Saute shrimp with garlic, butter, white wine, and parsley for a fast weeknight dinner. Scampi is traditionally served over linguine or angel hair pasta, soaking up the delicious garlic-wine sauce.
4. Coconut Shrimp
For a tropical twist, coconut shrimp are crunchy and sweet. Dredge peeled shrimp in a coconut milk batter with spices, then roll in shredded coconut and fry until golden brown. Coconut shrimp pair especially well with a spicy dipping sauce, like Thai chili sauce or pineapple salsa.
5. Shrimp Tacos
Loaded with fresh veggies and Cajun seasoning, these easy shrimp tacos are full of flavor. Saute shrimp with the Cajun spice blend, bell pepper, and onion, then assemble on warm corn tortillas. Top with your favorite taco garnishes like avocado, cilantro, lime, and hot sauce for a quick weeknight dinner.
6. Shrimp Fried Rice
Takeout-style shrimp fried rice is surprisingly easy to make at home. Simply stir-fry pre-cooked shrimp with rice, peas, carrots, eggs, and soy sauce. The key is cooking the rice ahead of time and using day-old rice that won't get mushy. Add any extra veggies you like for a healthy one-pan meal.
7. Shrimp Ceviche
For a light appetizer, shrimp ceviche marinates raw shrimp in citrus juice, which "cooks" it in the acidity. Toss shrimp with fresh lime and/or lemon juice, chili pepper, cilantro, onion, tomato, and avocado. The citrus-marinated seafood takes on a tender texture with a bright, refreshing flavor.
8. Shrimp Fettuccine Alfredo
Shrimp Alfredo coats fettuccine in an easy, creamy cheese sauce for a classic Italian favorite. Saute shrimp in garlic butter, then toss with fettuccine, Parmesan, heavy cream or half-and-half, parsley, lemon juice, and nutmeg. The light seafood and rich Alfredo sauce pair perfectly.
9. Shrimp Salad Wraps
Cool shrimp salad makes for a tasty, portable lunch. Mix cooked shrimp with mayonnaise, lemon juice, celery, onion, parsley, and seasonings. Spoon the salad into lettuce leaves or tortillas, adding avocado, tomato, sprouts, or bacon. The possibilities for tasty additions are endless.
10. Shrimp Quesadillas
Cheesy shrimp quesadillas are great for a quick lunch or light dinner. Saute shrimp with taco seasoning and fill tortillas with shrimp, cheese, and other taco fillings like beans, salsa, peppers, or avocado. Grill the quesadillas until the cheese is melted and the tortillas are crispy.
11. Bang Bang Shrimp
Crispy bang bang shrimp is a popular appetizer to share. Coat shrimp in a spicy mayo-based sauce, then bread and fry them. The creamy, spicy coating pairs perfectly with the crunchy fried shrimp. Garnish with green onions and serve with dipping sauces.
12. Shrimp Pizza
For a fun pizza night, load up a pre-made crust with shrimp as the star topping. Spread on an Alfredo or pesto base, then add sauteed shrimp, cheese, tomatoes, spinach, and onion. Sprinkle with Italian seasoning or red pepper flakes. Bake until the shrimp are cooked through, and the cheese is bubbly.
13. Shrimp Boil
For special occasions, a shrimp boil is a delicious, fun meal. Boil shrimp with sausage, corn, and potatoes in a broth that's spiced with Old Bay or Cajun seasoning. Dump everything on a table covered in paper and dig in! The seasoned broth soaks into all the food, infusing it with flavor.
14. Shrimp Stir Fry
A quick shrimp stir fry makes a healthy, easy dinner any night of the week. Stir-fry shrimp with sliced veggies like bell peppers, broccoli, snap peas, and onions. Toss everything in a sauce like teriyaki, oyster sauce, or Pad Thai sauce. Serve over rice for a complete meal.
15. Shrimp Fajitas
Make taco night more interesting with shrimp fajitas. Saute shrimp and sliced bell peppers, and onions with Mexican seasonings. Warm tortillas and let everyone assemble their own fajita with toppings like guacamole, pico de gallo, cheese, and sour cream.
16. Shrimp Étouffée
Shrimp étouffée is a classic Cajun dish of shrimp in a thick, spicy tomato and roux-based sauce. Sauté shrimp, onions, bell peppers, and celery in butter. Make a roux with flour and butter, then whisk in broth, tomato sauce, Cajun seasoning, and cayenne pepper. Simmer the sauce to thicken, then stir in the shrimp and cook briefly until heated through. Serve over white rice.
Conclusion
Shrimp are a versatile ingredient that can be used in everything from weeknight dinners to special occasion meals. Their mild, sweet taste takes well to a variety of seasonings and cooking methods. Whether baked, sauteed, or grilled, shrimp cook up quickly for easy meals. Any of these delicious shrimp recipes are sure to satisfy your craving for seafood. From shrimp scampi pasta to coconut shrimp or shrimp tacos, there are so many tasty ways to enjoy these nutritious, convenient shellfish at home.