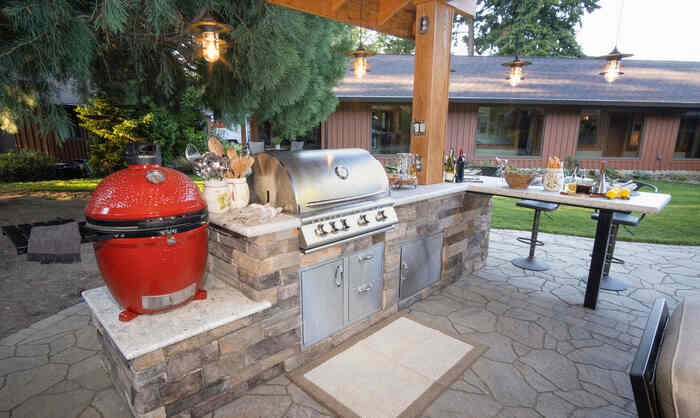 Outdoor kitchens have become increasingly popular as homeowners seek to extend their living spaces and create functional, inviting areas for entertaining and dining al fresco. One of the key components of a successful outdoor kitchen design is lighting, which not only enhances the aesthetic appeal of the space but also ensures safety and functionality after dark. 
In this article, we will explore seven types of outdoor lighting that can help you brighten up your outdoor kitchen design, along with tips for proper maintenance to keep your lights shining brightly for years to come.
1. Task Lighting: Function Meets Style
Task lighting is essential in any kitchen, ensuring that you have adequate illumination for cooking, food preparation, and other activities. In an outdoor kitchen, task lighting should be strategically placed to provide focused light in specific areas, such as countertops, grills, and sinks. Some options for outdoor task lighting include:
Under-cabinet lights: These low-profile fixtures can be mounted beneath upper cabinets or shelves, casting direct light onto countertops and work surfaces.
Grill lights: Specially designed for use near grills and smokers, these lights provide targeted illumination to help you cook with precision and ease.
Pendant lights: Suspended from above, pendant lights can be hung over an outdoor bar or countertop to provide ample light for food preparation and serving.
2. Ambient Lighting: Setting the Mood
Ambient lighting creates a warm and inviting atmosphere in your outdoor kitchen, making it an ideal space for relaxation and entertainment. There are numerous options for ambient lighting in outdoor kitchens, including:
String lights: Draping string lights around your outdoor kitchen area can create a magical and cozy ambiance, perfect for evening gatherings and parties.
Wall sconces: Mounted on exterior walls or fences, wall sconces can provide soft, diffused light that enhances the overall atmosphere of your outdoor kitchen.
Landscape lighting: Incorporating landscape lights into your outdoor kitchen design can create a seamless connection between your cooking area and the surrounding garden, contributing to a cohesive and inviting ambiance.
3. Accent Lighting: Highlighting Features
Accent lighting is used to draw attention to specific features or areas within your outdoor kitchen, such as architectural elements, artwork, or landscaping. Some options for outdoor accent lighting include:
Spotlights: These focused light fixtures can be used to highlight unique design elements or focal points within your outdoor kitchen, such as a pizza oven or water feature.
Uplighting: Placed at ground level and angled upward, uplighting can create dramatic shadows and emphasize the textures of walls, trees, or other vertical surfaces.
Step lights: Integrated into stair risers or along the edges of steps, step lights can add visual interest while ensuring safety and visibility after dark.
Find the best accent lighting that your outdoor kitchen needs with Blingle. The addition of these lights will surely brighten up your outdoor kitchen design. Not only will it lighten it up but it will also surely boost your outdoor kitchen's overall ambiance and appeal.
4. Pathway Lighting: Guiding the Way
Pathway lighting is essential for guiding guests to and from your outdoor kitchen while ensuring safety and visibility. There are various types of pathway lighting to choose from, including:
Solar-powered stake lights: Easily installed along walkways or garden paths, solar stake lights provide a low-maintenance and eco-friendly option for illuminating pathways.
Bollard lights: These sturdy, vertical fixtures cast light downward and can be spaced along paths or walkways to create a well-lit and visually appealing route to your outdoor kitchen.
Recessed ground lights: Flush with the ground surface; recessed ground lights can be installed along pathways or embedded in decking to provide subtle yet effective illumination.
5. Overhead Lighting: Illuminating from Above
Overhead lighting is crucial for providing general illumination in your outdoor kitchen, particularly if the space is covered by a pergola, gazebo, or roof structure. Some options for outdoor overhead lighting include:
Flush-mounted ceiling lights: These low-profile fixtures can be installed directly onto a covered ceiling or overhead structure, providing ample light without taking up valuable headroom.
Outdoor chandeliers: For a touch of elegance and sophistication, consider installing an outdoor chandelier to serve as a stunning focal point and provide ample illumination.
Outdoor ceiling fans with lights: Combining form and function, these fixtures not only provide light but also help to circulate air and keep your outdoor kitchen cool and comfortable.
6. Rope and Strip Lights: Versatile and Customizable
Rope and strip lights are flexible, versatile lighting options that can be easily customized to suit your outdoor kitchen design. They can be used for both ambient and accent lighting, depending on their placement and intensity. Some ideas for using rope and strip lights in your outdoor kitchen include:
Outlining the perimeter of your outdoor kitchen area or countertops to create a soft, glowing border

Installing them beneath benches, seating, or railings for a subtle, ambient effect

Wrapping them around trees or posts for a festive and eye-catching display
7. Proper Maintenance: Ensuring Longevity and Performance
To keep your outdoor kitchen lighting looking its best and functioning optimally, it's essential to perform regular maintenance. Here are some tips to help you maintain your outdoor lights:
Clean fixtures and lenses regularly to remove dirt, debris, and insect nests that can obstruct light output.

Inspect wiring and connections for signs of wear or damage, and repair or replace as needed.

Replace burnt-out bulbs promptly with the appropriate type and wattage for your fixtures.

For solar-powered lights, ensure that the solar panels are clean and receive adequate sunlight to maintain optimal performance.
Conclusion
A well-lit outdoor kitchen is not only functional and safe but also creates a warm and inviting atmosphere for entertaining and enjoying time spent outdoors. By incorporating a mix of task, ambient, accent, and pathway lighting, you can create a cohesive and visually appealing outdoor kitchen design that meets all your needs. Don't forget to perform regular maintenance to ensure the longevity and performance of your outdoor lights, so you can continue to enjoy your beautifully illuminated outdoor kitchen for years to come.