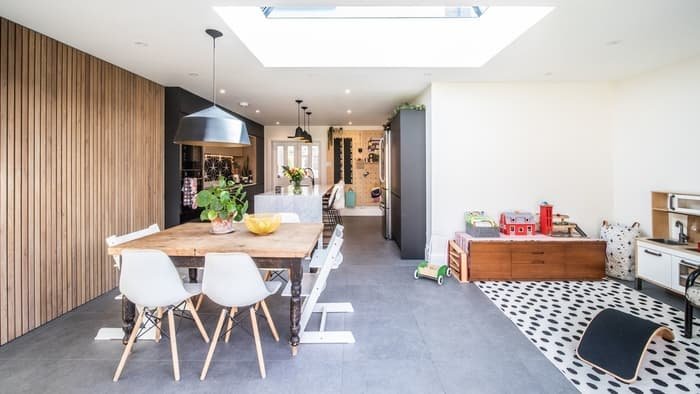 Kitchens are a very important unit in any house. Revamping your kitchen can boost the resale value of your property. However, managing kitchen extension projects can be quite challenging. The challenge may vary depending on the magnitude of changes or updates you're doing in your kitchen.
If you're planning to revamp your kitchen, then this guide is what you need. Here, we include tips on why you need to hire an architect, budgeting, and planning. 
Hire an Architect
Before you do anything else, make sure you consult an architect. You need to have plans or the design drawn before making your budget or buying any materials. The idea here is to work out a design that will fit your needs. Kitchens are quite sensitive as they include different systems like drainage and power.
Architects are quite expensive (that's not a lie), though the rates may vary depending on their years of experience. However, hiring an architect is well worth every penny. An architect will help you come up with the right design that will match the ideas you're envisioning. Most architects are also experienced in project management.
Building Regulations
This may vary depending on your location. In some cities or regions, you may need to get building permits or approvals for almost all construction projects. However, to be on the safe side, make sure you consult construction authorities in your region.
Not having building permits or approvals can have a negative effect on your project. You may be charged in court and be fined heavily. The other thing that may happen is that you may be forced to pull the project down and wait until you get the permits or approvals.
Have a Budget
Having a budget is everything and will play a significant part in the success of your kitchen extension project. We recommend getting the help of a construction expert or architect when coming up with the project's budget. Experienced heads will help you come up with an almost accurate budget for your project.
You need to set aside extra cash in case of miscellaneous things that may occur during the project. Also, factor in architect fees when creating the budget. Things such as the cost of materials may vary depending on the market rates.
Managing Your Kitchen Extension Project
Choosing a project manager for your project will depend on your budget and the type of extension you want to create. As mentioned, make sure you hire an architect to help you with the design and plans. The best option is to let the architect manage the project from start to finish. Good architects will ensure the project comes to life as it is on the paper design.
The other option you can choose is to hire a construction company such as Humphreysandsons to do everything for you. These companies do have in-house architects who will work on the design. After that, the company works on the project until completion.
Will You Need to Move Out?
Well, this will depend on the size of the project. If the kitchen extension project is massive, you may need to move out for the time being. In certain cases, kitchen projects may involve redesigning the plumbing and electrical systems in the house.
You can rent or move into a hotel for the time being. This will also be for the safety of your family if you have kids since they will be affected by the dust and noise from the ongoing construction.
Benefits of Kitchen Extensions
There are plenty of benefits that come with redesigning your kitchen or any other part of your house. For most people, it is always to boost the value of their property. Most homeowners embark on home improvement projects when they are planning to sell their homes.
Building a kitchen extension is also cheaper compared to moving houses. There is plenty of work that goes into completing an extension project. However, if you have an able team around you, there are high chances your project will be a success. Moving houses can be expensive, especially if you have to sell your current home to finance the next. It is also stressful and time-consuming.
A bigger kitchen space means you have a chance to try out the modern kitchen designs. You can add more storage cabinets or go for the kitchen island design area complete with a dining area. Overall, you will have a space to try out any crazy design ideas you might have.
Wrapping Up
If you're planning to renovate your kitchen, the above-mentioned tips will come in handy. Make sure you do your research. Better yet, why not hire an expert to guide you through the project. Also, do not undermine the role of an architect in your project. They will help you draw the design and even oversee the project to completion.