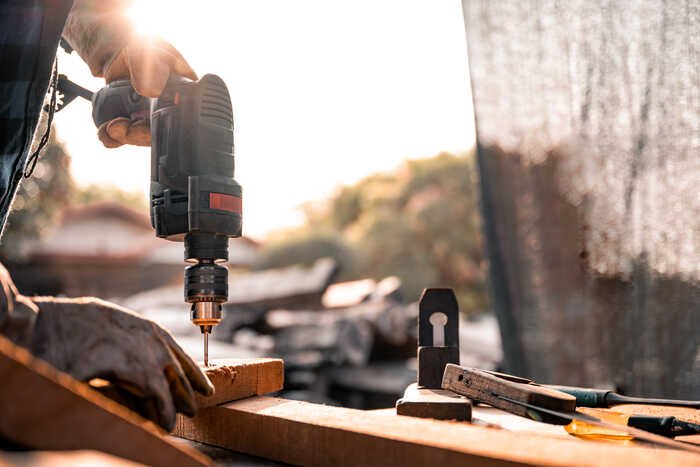 Kitchen renovations are some of the most commonly done by homeowners. The kitchen is the heart of the home. With all the kitchen cooking, washing, and cleaning, it'll succumb to wear and tear over time. Every homeowner naturally desires a clean, well-organized, and efficient kitchen, so perhaps some changes can be made here and there.
Whether you call in the experts or give it sweat and go the do-it-yourself (DIY) route, every homeowner should have power tools in their shed. As a homeowner, you're sure to face the situation of needing a home renovation or re-work once every so often, encompassing small and big projects.
If you're planning for a kitchen renovation soon, check out this list of nine essential power tools for kitchen fitters to help you get the job done right, safer, and quicker:
1. Impact Driver
While it can be tempting to use only a standard drill, once you start using an impact driver, you'll better understand how it can help make your kitchen renovation easier and smoother, as planned. Thus, an impact driver comes in handy for tasks like:
Installing drywall;
Destroying or taking out old cabinets;
Repairing subfloors; and
Reassembling new cabinets.
Get the whole set, so you have various bits to attach to the impact driver, each with its respective functions.
2. Cordless Drill
If your kitchen has a concrete wall, a nail and hammer might not suffice if you're trying to stick or hang new solid furnishings. A more powerful tool, like the cordless drill, is helpful.
However, if you go DIY, the use of a cordless drill should be treated with extra care and safety. A good way to start is by familiarizing yourself with the different kinds of drill bits. That way, you'll learn what's most applicable to certain nails and screws, especially when inserting or hanging cabinets on walls.
3. Cordless Nail Gun
While not every DIY project will require a cordless nail gun, it still comes in handy when fixing materials to wood. One of the best examples is when you're restoring kitchen furniture, like a table or a bar stool, among others.
Like a cordless drill, the cordless version of an ordinary nail gun gives you more freedom to move around without worrying about wires. It helps make moving around your kitchen renovation site more efficient and safer.
4. Reciprocating Saw
A kitchen renovation almost always starts with demolition. There could be that area in your kitchen you want to destroy or demolish to replace it with an entirely new one. A reciprocating saw can cut through any material, making it a well-loved tool among electricians, plumbers, and even your kitchen's contractor, if you're hiring one.
5. Jigsaw
If your new kitchen design calls for a few curves here and there, you can bring them to life with a jigsaw. With its lightweight feel to the hand, it's also one of the easiest power tools to control. Using one makes it easier to make precise movements without difficulty at all.
To make the most out of your jigsaw, it's a good idea to pick one with various orbital settings. With the tools mentioned above, decide early on if you also want a battery-operated or a cordless one.
6. Chop Saw
A chop saw is mostly known as being used for cutting wood, such as your kitchen cabinets. You can also use it to cut PVC pipes around your kitchen's plumbing.
One of the best features of a chop saw is that it comes with extremely large blades. These can help you cut accurate dimensional size wood with precision and efficiency.
7. Table Saw
A table saw is used to cut large pieces of materials, such as plywood, panels, and medium-density fiberboard (MDF). This power tool is characterized by having a sliding table on the blade's left side, usually attached to a folding arm-mounted.
A table saw requires discipline when using it. It can be dangerous, especially when handled unsurely. If you need to use a table saw for your kitchen renovation, read the manual before you start. Or, leave those more complicated tasks requiring using a table saw with the experts you may have hired to help you.
8. Sanding Machine
A sanding machine comes in handy if there are areas in your kitchen renovation wherein removing a layer of paint or varnish is necessary. A common situation is when you want to keep the kitchen cabinets positioned as it is but only change their existing color to one that fits your new kitchen design. Painting directly over the existing cabinet isn't advisable, as it helps remove imperfections on ceilings, walls, floors, and among others.
An orbital grinder can be the best choice if the purpose is merely sanding. There's now a wide range of grinders of different shapes, power, and sizes, so you can select one that best fits your needs.
9. Vacuum
This cleaning tool is a powerful machine to have and use when renovating. It makes a big difference when your renovation site is clean. Make it a habit to vacuum at the end of each day, so you start the next in a clean state.
A clean worksite is always an efficient one. It looks organized and neat, so there isn't any wasting time being bothered about dirt, dust, or mess. Investing in an industrial vacuum during the kitchen renovation is a good choice, especially if you're staying home while the renovations are ongoing.
The Bottom Line
It doesn't matter if you frequently do kitchen renovations or not. If you enjoy engaging in a few DIYs often, it pays to have a few essential power tools on hand. You can start with the basics first. Then, once you get the hang of it, you could start adding to your workshop. Being one of the most important parts of the home, the kitchen also needs a lot of attention more than the others. You can finally make that kitchen of your dreams possible with the right tools to help you out.