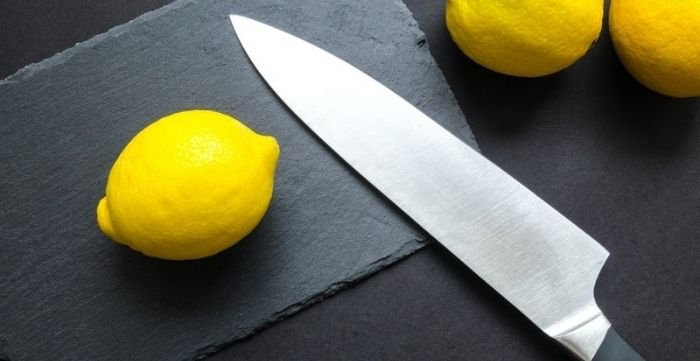 Getting a new kitchen knife can be exciting, especially if it's your first time getting your hands on a quality blade.
But when you get a premium product such as a good chef knife, it's important to keep it maintained and sharp, as this is how to ensure that it will last you a long while in the kitchen.
The being said, knife sharpening is a very complex world that can be intimidating for a lot of people since there's simply so much information to take in.
And to make things easier for you, I've listed down the top 7 tips to keep your knife razor-sharp.
Now, this is far from all you'll need to know about honing, sharpening, and caring for your blade, but it is a great place to start as it will give you a solid foundation moving forward.
So if you're trying to learn about knife care and how to keep your blade's edge razor-sharp, you've come to the right place.
Read on to learn more.
1. Use A Honing Rod
This is one of the most basic steps in maintaining a sharp edge.
Now, take note that this is different from a sharpening tool such as a whetstone, as this tool realigns your blade as opposed to sharpening it.
In fact, the only thing a honing rod does is straighten the metal on the edge without removing material, which has to be done regularly, especially if you use your knife daily.
To properly use a honing rod, you have to hold the knife in your dominant hand and the rod in your non-dominant hand.
From there, you have to hold the knife at a 20-degree angle and use your arm, hand, and wrist to move the blade on the top of the rod, sliding the knife from the heel to the tip.
After that, you have to do the reverse, which means starting at the bottom of the rod and doing the same, but on the other side of the knife blade.
Do this around six times before using your blade, and while it might feel awkward at first, you will eventually get used to it.
2. Learn How To Use A Whetstone
The next thing you have to learn how to do is use a whetstone to actually sharpen the edges of the blade.
Now, this will take a lot of time and practice, as sharpening with whetstones is a skill that takes people a lot of time to master, and if you do it wrong you might even risk dulling the blade.
"There are different types of whetstones out there, all with a different grit to them." – said Andy Wang, a professional chef and owner of Knives-Sensei.com website.
But to properly care for a blade, you're going to need both smoother and rougher stones to properly grind and polish the blade.
Using a whetstone is also different depending on the type of blade you have, as some will require you to grind both sides, while others require you to only grind one side.
Before using a whetstone to sharpen your knife, make sure to do the research and learn how to properly do it, else you risk damaging the blade permanently.
3. Using A Cup Or Mug
If for some reason you find yourself without either of the tools we mentioned earlier, you can also use the bottom of a ceramic plate, cup, or mug.
Now, this isn't the most ideal way to sharpen blades as it will take a lot more time and effort to do it properly, but it's better than nothing.
To use this method, simply flip the mug over so that the bottom is facing the ceiling, then carefully slide your blade over the grit of the mug at a 20-degree angle.
Remember to keep a consistent angle as that is the secret to getting an accurate tip.
And after doing this, it might be best to finish it off by sliding the blade on your honing rod to further realign the edge.
4. Hand-Wash Your Blades
This is one of the simplest things you can do to ensure that you maintain a sharp edge on your blades.
While dishwashers are convenient, they also can be very bad on your blades.
This is because the wash cycle can be rough and bang the blades around, which can cause dents and eventually cause the blades to dull and even chip, in some cases.
On top of that, keeping them in the dishwasher means they stay wet, which makes them more susceptible to corrosion, which is something you will never want to happen to your blades.
To avoid this, handwash your blades immediately after use using a non-abrasive sponge and soap, and make sure to dry the blades right after rinsing to avoid corrosion.
 5. Cut On The Right Surfaces
Another simple and convenient way to ensure that your blades stay razor-sharp is to make sure that you're cutting and slicing on the right surfaces.
Hard cutting boards such as granite ones and glass ones may have a beautiful aesthetic, but they can dull your knives because the surface is very hard.
In fact, in some cases, it may even cause irreparable damage to your blade.
To avoid this, make sure you only cut on proper materials such as wooden cutting boards (preferably bamboo), or cutting boards made out of BPA-Free plastic.
6. Learn The Techniques
As mentioned earlier, even if you have all the right tools, if you don't have the right technique, you might end up damaging your knife.
If you have a friend or colleague who is familiar with the right techniques, it will not hurt at all to ask them for help.
And if you don't, the internet is full of resources to help you learn how to sharpen your blades properly without damaging the edges.
7. Proper Storage
Lastly, make sure to keep your blades properly after washing and drying them.
Knife blocks may work well, but they tend to dull the edges if used too much.
The best way to store your knives is either on magnetic strips or in a proper knife roll as these will not do anything to dull the blades and are safe and simple ways you can keep your blades safe when not in use.
Conclusion
And that's about it for our list.
Just remember, this is not a fully comprehensive guide to knife care, instead, think of it as foundational concepts and quick tips that you can use in the kitchen.
If you really want to take professional care of your blades, you're going to have to put in the time and effort to learn all the techniques properly.
But if you do, it will be very much worth it because all your blades will be razor-sharp and ready to serve you in the kitchen for years to come!