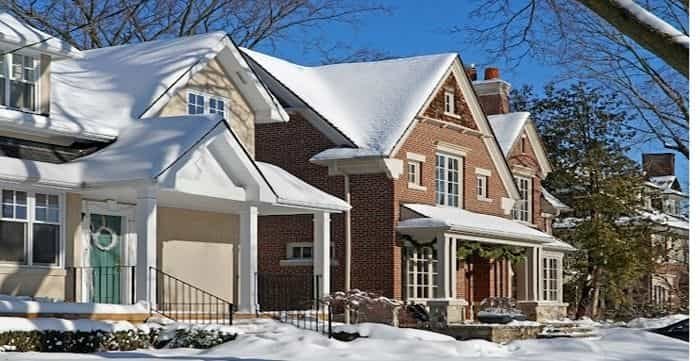 Even though it's been hard to keep track of time in this current pandemic situation, WINTER IS COMING. Bringing with it leaks in your roof, slippery roads, snow-covered cars, and frozen pipes! It is time for some winterizing!
Are you worried about preparing your property to be rental-ready for winter? Well, you've come to the right place! No one wants a frantic call from a tenant on a chilly night when you're all cozy and wrapped up in bed. Hence, let us look at 6 easy and affordable ways in which you can winter-proof your rental properties to protect them from the harsh weather.
1. Start preparing well before time
We all have heard the story of the grasshopper and the ant, right? The ant toils hard and prepares adequately for the staunch winter to come while the grasshopper spends it's time merrily and wastefully. DON'T BE A GRASSHOPPER. 
Anticipate all possible points of damage because the more the damage, the more dollars spent. If your property has to be prepared as a long-term rental, then you should make any repairs and renovations before renting out a room. 
The roof and gutters need to be thoroughly cleaned before the first wave of snowfall to prevent flooding. Frozen water in the gutters make them heavy and can also lead to separations in them. You can either DIY it or, if you're not too handy with tools, take the help of a PMC at an affordable rate. 
2. Stock up on some deliciousness
The easiest way to keep your tenants returning for more vacations every year is by being a compassionate and thoughtful host. Stock your vacation rental's cabinets with easy and lip-smacking food and beverages. We're talking freshly ground aromatic coffee, tomato soup, juicy peaches, spicy ramen, and of course, some brandy to warm up some cold bodies! Food is the way to the tenant's heart, and they will always remember your rental property for the courteous service they received! 
You can also ask a nearby bakery to deliver some complimentary apple-pie straight from their oven when your guests arrive to fill your rental with a homely aroma. Nothing better than some warm pie on a frosty evening, isn't it?
3. Get some backup heaters in
Too much preparation never goes to waste. Put in some additional battery-operated heating devices for emergencies in case of a power shut down during storms. Check the existing HVAC system, heated blankets, and portable heaters before you hand it over to a tenant. You can increase rental rates by providing more amenities for their convenience. In case the price feels too high for a single occupant, you can find multiple tenants using a trustworthy roommate finder! 
4. Winter-ready wardrobe
For your tenants' convenience, you can keep some free-size snow boots and warm furry coats in your short-term rentals if they don't prepare enough for freezing temperatures. Not only will these be re-usable every year as winter approaches, but you are also sure to get a better review for thinking about every need your tenant might have. 
5. Winterize your backyard to prevent damage
If your room for rent has any big trees that could catch the snow as it falls, make sure to trim them or add a sloping cover to them. Snowfall makes the trees heavier, and sometimes if their foundation is not strong enough, they might fall on your roof and cause significant destruction during intense windy storms. Make provisions for your backyard grass too. Having more nutrient-rich fertilizer helps the plants to sustain in harsh weather.
Let your tenant know precisely how they can take care of your backyard if you have any gardening or landscaping plans in hand. 
6. Snow removal kit
If you are renting a room in New York City or Washington DC, winters can get very grueling. Have a handy snow removal kit that contains shovels to remove snow from your driveway, sandbags to improve foothold, and rock salt to melt the ice. You could also tie-up with a snow removal company for your tenant's ease and comfort. Putting a snow kit in all your rental properties is inexpensive and leaves a good impression on your tenant since you're taking care of their well being! 
Now that you are aware of how you can winterize your home, start executing your plan! Look for great deals online for your rental home to sit back and relax this winter season. After all, WINTER IS COMING!