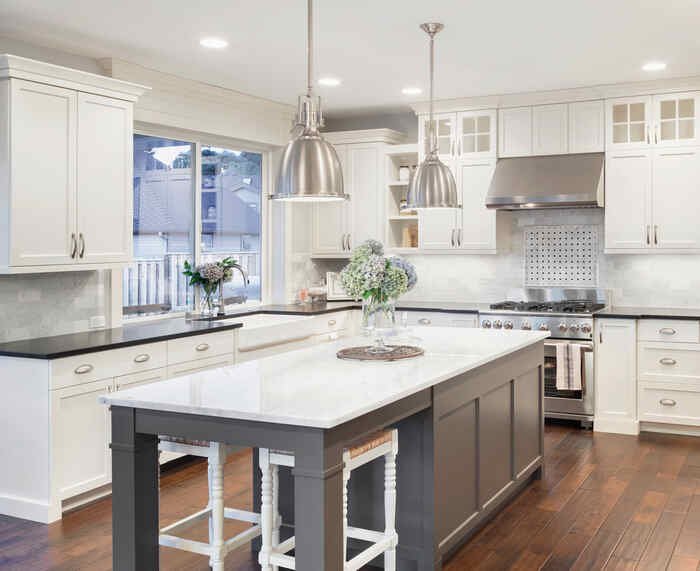 Since it took off in 1944, the kitchen island has represented innovation. As an extra surface for food prep and dining, kitchen islands are also invaluable for maximizing storage. A few ideas for maximizing space are the clever use of drawers and cabinets, the innovative placement of large appliances and the creative orientation of shelves. Depending on the size of your kitchen island, you may be able to incorporate several features at once.
1. Maximize Cabinets and Drawers
Cabinets and drawers are commonly used with kitchen islands because they are versatile, concealing and decorative. You can even use different contemporary selections to further maximize your storage. For example, European style cabinets retain the beauty of your kitchen while expanding its useability with their frameless designs. You can further your island's uncluttered, minimalistic look with seamless cabinets or drawers with no handles. Flat-panel and Shaker style cabinets also provide simple structures to utilize space efficiently and can contribute a rustic look to your kitchen.
Skinny cupboards at either one or both ends of your kitchen island provide additional storage as well as the option to leave an open area underneath for stools or chairs. Drawers of varying depths can corral loose items like silverware, spice racks and canisters. You can combine the effect of shelving and cabinets by utilizing cupboards with glass or otherwise see-through doors. Drawers can have glass fronts, ensuring you can see everything easily, giving your kitchen an organized appearance.
2. Organize With Built-In Shelves
Building shelves underneath your kitchen Island is one of the simplest and most economical ways to add storage space. You can incorporate shelves in a few ways. Some homeowners make do with a single shelf that sits low under the island. Such a feature allows you to store larger items such as pots, pans and bowls.
Another style is to install a bookshelf either as a stand-alone design or in addition to cupboards or cabinets. Bookshelves can store cooking books, dishcloths or small kitchen accessories. Finally, you can have multiple sets of shelves with varying levels. The advantage of shelves is they allow you to see where everything is. They effectively keep you organized but can look cluttered if you don't pay attention to detail. You can easily maintain a clean and orderly appearance with baskets and trays.
3. Utilize the Counter Space on Top
The kitchen island provides a much-needed surface area on top. You can use this extra counter to prepare food and casually dine. It also provides additional storage. The key is to organize the space carefully, so it appears uncluttered and appealing.
For example, a good eye recognizes symmetry and harmony in a fruit bowl balanced nicely next to a cheese board or a knife holder. You can store small appliances, such as a coffee maker or blender atop an island. Alternatively, you might want to follow the lead of professional interior designers and use the top of your island to set off decorative pieces, such as vases or pottery collectibles.
4. Create a Home for Large Appliances
There is a long list of major appliances that you can incorporate within your kitchen island. This potentially frees up a lot of space in your kitchen and makes your appliances less obtrusive. Here are some items that work as part of a kitchen island:
Wine cooler or fridge
Traditional or mini refrigerator
Drawer cooler
Microwave
Stove and oven
Indoor grill or smoker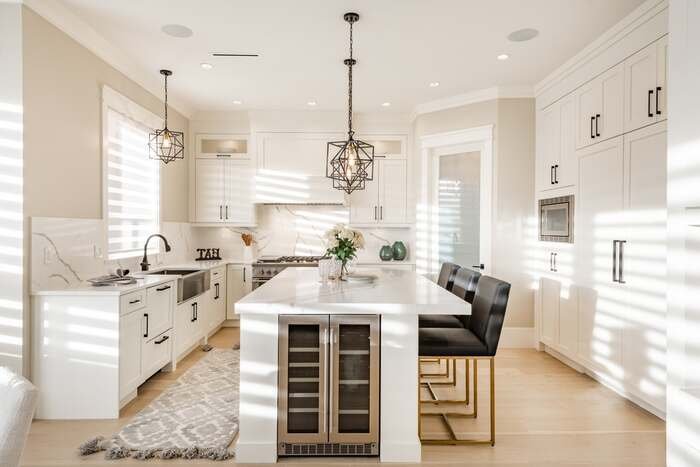 5. Utilize Empty Space by Dedicating Your Kitchen Island to a Specific Purpose
You do not have to fill the space under your island with cabinets, drawers or shelves. As previously mentioned, it can help form a table for dining. But it even provides room to store multiple kinds of items, such as:
Trolley or food prep cart
Pots and pans on hooks
Towels and linens
Food bins
Trash and recycle receptacles
One of the golden rules of being a successful organizer is to ensure that everything has a place. You can apply that philosophy to your kitchen island. If your island has only one dedicated purpose, it automatically organizes your kitchen through a focal point and frees up other storage sites. If you love to prepare hors d'oeuvres or elaborate marinated meats, a free kitchen design can guide you on how to arrange the prep area on your island. Some possible uses of the kitchen island include:
Cocktail bar: wine fridge and cocktail cooler along with shelves for glasses
Coffee barista: coffee or expresso machine, mugs and coffee grounds
Bakery: oven and stove, base ingredients like flour and sugar, bowls, pots, pans, casserole dishes and cupcake pans
Food prep: cutting and paring knives, potato peelers, juice squeezers, rice cooker and crock pot
Central storage: aluminum foil, pots, pans, cleaning supplies
Dining: placemats, plates, bowls, flatware, china, napkins and condiments
Maximizing Efficiency in Your Kitchen
The kitchen island has become a literal and figurative central point for many kitchen spaces. You can take several measures to maximize storage with your kitchen island, such as integrated shelves or cabinets. You can use the surface as more than a counter. Whether you use your island to accommodate the activities you love to do or as a base for entertaining, the result should be increased efficiency of your space.