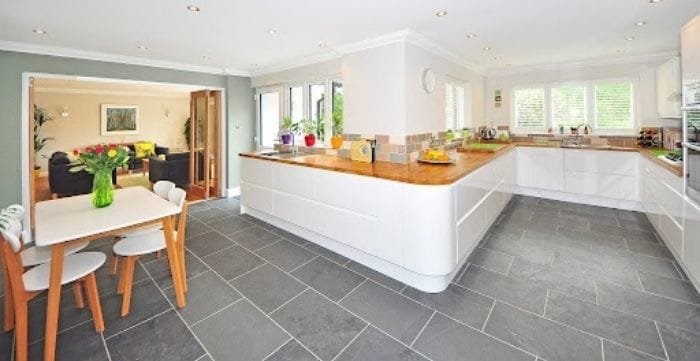 Renovating your kitchen? It's an exciting time! Transforming the heart of the home is huge, and can dramatically improve the way you use your cooking space. 
One of the best ways to get a kitchen that truly works for you is to hire a designer who can create a functional, beautiful area that stands the test of time. 
However, the only way they can give you what you truly want and need is for you to communicate well with them. To help you, here are 5 considerations you need to make, and discuss with your kitchen expert during the design process: 
1. Sustainability
Although the affordability of the home is the top priority of most potential homebuyers, sustainability, ethical design and eco-awareness are also incredibly important. 
Around 75% of people in the UK care about the environment, so if you do intend to sell your home within the next few years, make sure your designer uses the most sustainable materials and fitting methods available within your budget. 
Even if you don't intend to sell, sustainable choices with any home remodelling are a great idea. Minimal toxicity (most of the time), beautiful materials, a lighter conscience – what's not to love? 
2. Budget
The cost of a new kitchen can start at a few thousand pounds and climb upwards (the sky really is the limit). However, most people have a budget they would rather stick to, which is why it is so important for you to discuss that amount with your specialist kitchen designer. 
They should have experience working with all different budgets. The only time this could be an issue is if your designer is with a specific kitchen manufacturer, in which case they may only use the products within that brand. If the brand is of a high-grade or luxury style, that could mean your budget is simply too low to work with this particular designer. 
Ideally, you will be able to choose a designer either within a kitchen brand that works with your budget, or who doesn't work with a specific brand, so that you can have an affordable (to you) kitchen created. Just be sure to have them give you all of your options when it comes to making choices about things like worktop and fixture materials, gadgets and structural features. That way, you don't automatically have the most expensive options tied into your budget. 
3. Useage
How do you use the kitchen? Are you one of the UK adults who only spends about an hour in the kitchen in total, creating three meals a day plus snacks? Are you a keen wannabe chef who loves to spend the evening and weekends cooking up a storm? Are you a young family who does a lot of art on the kitchen table? Are you somebody who eats out most evenings and the oven looks brand new because it basically hasn't been used? 
These are all important factors when it comes to your kitchen design and your designer should be more than aware of them. The layout, the lighting, the furniture, the inbuilt gadgets and white goods – they all need to work with the way you intend to use the kitchen. 
Got a big milestone coming up like a new baby? Starting a business at home? These should also be mentioned because your kitchen has to be adaptable to new ways you will use it in the near future too. 
4. Timelessness
It is far too easy to get stuck into the latest kitchen decor trends, wanting your favourites included in your kitchen design. The problem is, that if you choose to do this with expensive parts of the design like the worktops, flooring and impactful white goods (the fridge etc), then you run the risk of dating your kitchen really quickly, once the trends change. 
Instead, consider opting for timeless designs that are classy, beautiful and most importantly – easy to adapt. For example; a simple light wood design with neutral tiling gives you the chance to play with all kinds of different colour schemes and patterns when you buy kitchen accessories, tea towels, blinds, curtains and furniture. All of those non-permanent items are a lot cheaper to replace annually or even seasonally, than your big ticket kitchen features. 
5. Zoning
These days the kitchen space demands a lot of different uses, and when the average value of a square foot of a house can run over £500 pounds, you really do want to squeeze the most functionality possible out of every inch. 
One way to do this is by speaking to your designer about zoning. Zoning is a way to design a kitchen that has different uses for different areas. It may also involve using lighting, accessories, or other clever design ideas to make one space multifunctional. It's really helpful to have this kind of fluidity in the design so that you gain a lot of different functional use out of the heart of the home. 
"Good food and a warm kitchen are what makes a house a home." – Rachael Ray
Getting a kitchen designed is a great idea, as long as you know what's important to you and how to communicate that with your designer. Hopefully, with an awareness of the factors above, and a great relationship with your chosen professional, you'll get a dream kitchen that is functional, beautiful and designed to last.