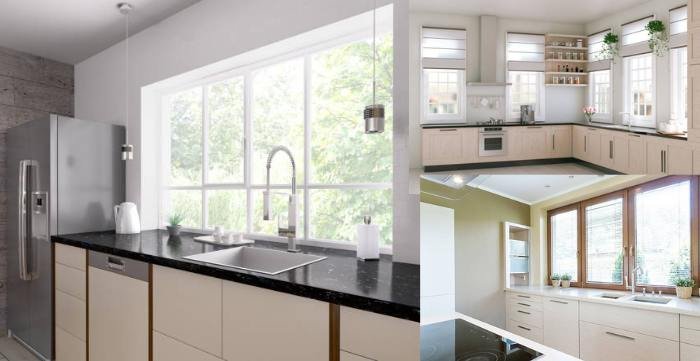 The right window treatments can transform the look and feel of your kitchen while providing essential functions such as privacy, light control, and energy efficiency. From enhancing natural light to adding a touch of elegance, choosing the appropriate window treatments for your kitchen requires careful consideration. In this article, we present a range of window treatment ideas tailored explicitly to kitchens.
#1. Classic Curtains and Drapes
They are timeless window treatment options that bring warmth and style to any kitchen. Curtains and drapes come in various materials, colors, patterns, and textures to match any décor. Opt for lightweight fabrics such as cotton or linen that allow natural light to filter through while providing a degree of privacy. Consider patterns and colors that complement your kitchen's decor, and choose practical curtain lengths for the space, such as café curtains for a charming touch or floor-length drapes for a more formal look.
#2. Roman Shades
This window treatment offers a sleek and sophisticated appearance, making them an excellent choice for modern or minimalist kitchen designs. They are available in various fabrics, colors, and patterns, allowing you to add texture and visual interest to your kitchen windows. Roman shades can be easily adjusted to control light levels, and they stack neatly when fully raised, offering an unobstructed view. You can also choose blackout fabrics for enhanced privacy or light-filtering materials that allow a hint of natural light into the room.
#3. Sheer Panels
If you want to maintain a bright and airy atmosphere in your kitchen while preserving privacy, sheer panels are a fantastic option. These lightweight curtains diffuse sunlight, creating a soft and gentle glow in the room. Sheer panels are versatile and work well with different decor styles, from contemporary to cottage-inspired kitchens. Consider layering them with blinds or shades for added versatility in light control. Or you can opt for a single layer of sheer fabric to add a touch of subtle elegance.
#4. Blinds
They are a practical and popular choice for kitchen window treatments! Blinds offer excellent light control and privacy options, allowing you to adjust the slats to your desired level. Choose from various materials such as wood, faux wood, aluminum, or vinyl, depending on your kitchen's aesthetic and moisture levels. According to experts at Bumble Bee Blinds in Little Elm, "Window blinds  are a great way to revitalize and personalize your interior design." If you're unsure of which is best for you, a professional window treatment installer can help you. 
#5. Café Shutters
This window treatment is a charming and functional choice for kitchen windows. These half-height shutters cover the lower portion of the window, providing privacy while allowing ample natural light to enter. Café shutters are often made of wood or vinyl and can be painted or stained to match your kitchen's color scheme. They offer a timeless look and are well-suited for kitchens with a cozy and traditional ambiance.
#6. Window Film
For a contemporary and budget-friendly option, window film is worth considering. You can cover the glass surface of your kitchen windows with window film, which is a thin, adhesive material. By blocking the outside view while still allowing light to enter, it provides privacy. Window films are available in various patterns, designs, and opacity levels, allowing you to add a decorative element to your kitchen windows.
Choosing the right window treatments for your kitchen is essential for both style and functionality. Whether you prefer classic curtains, modern Roman shades, or practical blinds, numerous options are available to enhance your kitchen's aesthetic appeal while providing light control and privacy. By incorporating these window treatment ideas, you can create a beautiful and functional kitchen space that reflects your style and enhances your culinary experience.