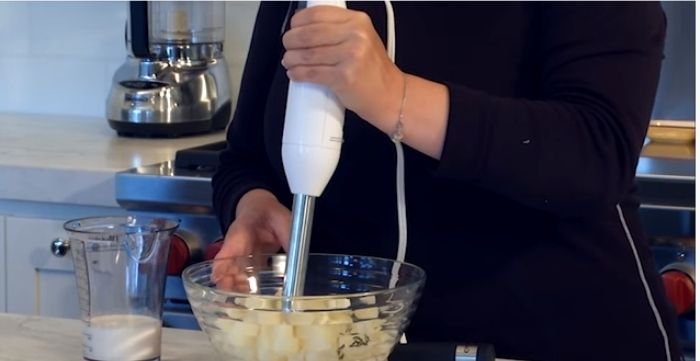 Are you one of them who keeps distance from cooking as much as possible? Because you don't want to face the hassle of using different pots and plates, mixing ingredients separately, and especially for the pain of cleaning the pile of dishes!
However, thanks to some wonderful kitchen accessories, nowadays cooking isn't as difficult as you think. Instead, they'll push you in doing these things more!
It'll result in an endless discussion if we start talking about each and every cooking tool that has made our lives more comfortable. So, for now, let's talk about one of those magical tools called Immersion Blender, which is a multipurpose smart tool for turning complicated recipes simpler than ever!
What are Immersion Blenders Good for?
If an immersion blender is a new term for you then you may think that what makes it better? The first possible answer will be that "because it is useful in every possible way"! It works like the typical blenders/mixers, yet it's more convenient than those.
With an immersion blender, you won't have to go through the trouble of putting ingredients into a blending bowl/jar, then pouring them into another pot and repeating the process until you're all done!
However, with an immersion blender, you can start blending in the container full of ingredients. As a result, there is no need to go through the hassle of pouring the mixture repeatedly and getting worried about the unequal blending of different batches.
Also, immersion blenders can give you immense flexibility of doing everything in one place, which ultimately results in a uniform blending. But, wait! It's not the end. There's more to justify your query of what immersion blenders are good for!
Immersion blenders are faster than other types of blenders. A large batch of ingredients, which would take at least 20-30 minutes to be completed with a typical mixer. But an immersion blender can do the work within 30-50 seconds, all at once.
Don't think that this tool is only for preparing a specific category of food. It'll assist you in every kind of mixing you're going to do. Actually, you won't ever realize how easy it is to make whipped cream, mayo, pancake batter, smoothies, sauce, etc., until you try this equipment!
You can even have pancakes as a quick morning breakfast because preparing the batter won't feel like trouble anymore!
Immersion blenders provide you the maximum portability than any other blender/mixer you'll find. Even though it needs to be attached with an electric socket, this tool is very handy, lightweight, and can be used at any angle you want. It's a perfect accessory if you have a small kitchen because it won't occupy a large area.
It's needless to describe the nerve-wracking process of cleaning-up a mixer and its container after the work is done. But that won't ever be the case with an immersion blender. With this tool, now cleaning after the cooking will be like a breeze.
Best Brand for Immersion Blenders
After knowing all these fantastic things about immersion blenders, you may now feel intrigued to buy one for your next cooking session. However, you may struggle to decide on what is the best brand of an immersion blender, as there are hundreds of brands available in the market.
Well, if you insist on suggesting one specific brand, then we would say Chefman Immersion Blenders will be the right choice for you. This brand has a wide variety of immersion blenders with different specifications. As a result, you can easily choose the one that perfectly suits your requirements.
Along with the variety, Chefman ensures a premium quality as well within a reasonable price range. However, you may find some other brands more attractive, which is quite normal. But if you compare brands based on quality and uniqueness, Chefman will surely be on the top.
You can check out this Chefman Immersion Blender Reviews to know more about this brand and its blenders. Here you'll not only get a detailed idea of them, but also the understanding of what makes this brand best for this product!
Do Immersion Blenders work for Smoothies?
Who doesn't like to have a fresh and delicious glass of smoothie? Many of us can't even think of spending a single summer day without drinking our favorite flavored smoothie. However, only the perfect blending can bring-out the taste you desire,
Using typical blenders takes a lot of time and hot summer days demand to meet sudden smoothie cravings. In that case, an immersion blender could be your savior.
However, our familiarity with preparing smoothies with a blender raises a common doubt in our mind, which is, "are immersion blenders good for smoothies"? Well, the answer is why not!
It's a very handy and quick tool to evenly smash your favorite fruits with a few scoops of ice-cream or syrup. This kitchen tool is so user-friendly that you won't even have to seek or wait for someone's help.
Just take a container, put the ingredients, and wait until the mixture reaches the perfect thickness. When it does, you're all set to try your self-made, refreshing glass of smoothie, all within just a few minutes!
Conclusion
Immersion blender is your modern-day smart tool to make cooking more fun and enjoyable. It lets you focus on being more creative to unleash your inner chef, than fearing over the cooking mess.
So, why wait anymore? Bring this personal kitchen assistant today and treat yourself with some mouth-watering dishes!