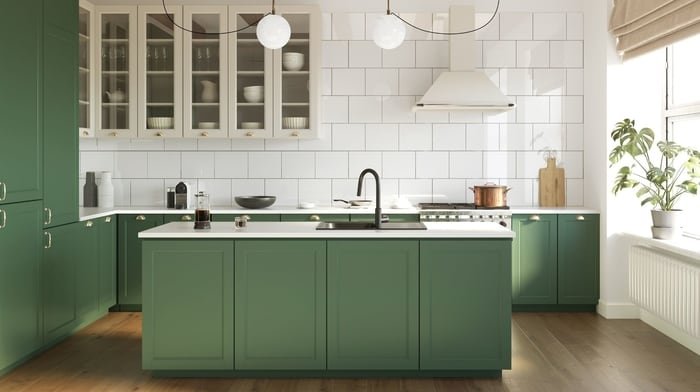 The kitchen is one of the most important areas of the house. It's where you get inspired to cook your favorite healthy dishes and spend time together with your loved ones. After all, it wouldn't be called the 'heart of your home' for nothing.
Now, you might want to take a quick look at your kitchen, and you'll notice how tired your so-called 'hub of the home' is. This might be the right time to give your favorite place an 'upgrade' it badly needs. 
But it doesn't mean using up all your years of savings to do so and the following kitchen ideas below prove it. All you need is to let your imagination flow and browse through a range of clever ideas and stylish hacks.
Whether you want a quick kitchen upgrade or an inspiration for what you can do to your space, it's all included in this foolproof guide. All it needs is a splash of creativity, time, and effort to spice up the heart of your home.
However, upgrading your kitchen may not be that easy. It'd be best to consider hiring a professional builder to help you achieve the kitchen you dreamed of.
Customize Your Cabinets
If you're spending a lot of time cooking, there's nothing more satisfying than a well-organized kitchen. So, instead of putting up with your home's default cabinets, why not try to customize them based on your preferences?
Here are some brilliant and clever ways to customize your cabinets and make your kitchen more appealing and functional:
Customize Your Drawers:

Drawers are usually the messiest part of the kitchen. Instead of buying organizers and baskets, make your own dividers to separate each item based on their kind and how you like them.

Apply Hidden Cabinets:

This is one of the cleverest ways you can do when designing your kitchen. Transform a simple-looking cabinet door into something that would surprise and bring a smile to your guests.

Make Them Movable:

Make your kitchen more versatile with a cabinet that can be moved from one place to another, helping you reach everything you need when cooking.
However, customizing kitchen cabinets can be challenging, especially for people who have no experience in do-it-yourself (DIY) jobs. For this reason, you might want to consider working with a professional designer or carpenter to help you build cabinets that suit your style.
Whether working with professionals or DIY, always keep in mind to customize your cabinets based on your needs to make your kitchen adventures easy.
Update Your Lighting
Are you still using those horror-looking fluorescent light bulbs? If so, then it's time to replace them all with new lighting fixtures that can elevate your kitchen experience. 
Here are some lighting ideas you might want to consider for better and brighter beginnings:
Use hanging lighting that often comes in different styles, shapes, and sizes. This will add more personality to your kitchen. You may add them to your island to evoke beauty and character.

Add floodlights and low-hanging lights to brighten up the dark areas of your kitchen.

Consider adding a gooseneck sconce over your sink for an additional touch of character.

Consider adding a string of natural lights under your cabinets to brighten up your counters and add an ambiance.
Furthermore, always go for LED (light-emitting diode) lights. These lights may be expensive at first, but they'll help you save more on energy expenses and maintenance fees in the long run. 
Replace Your Flooring With Luxury Vinyl Tile
Luxury vinyl tile is a great way to spruce up your kitchen flooring and make cooking even more comfortable. Its texture and beauty are similar to stone and ceramic tiles, but it's way cheaper, contrary to its name. 
Also, it's easy to cut and install. In fact, you can do this in just a couple of hours, assuming you know how to do it properly.
In addition, luxury vinyl tiles are usually marketed as peel-and-stick. However, they still need to be grouted to look more expensive and gorgeous than traditional vinyl tile.
Furthermore, look for luxury vinyl tiles that complement and boost your cabinets and appliances. Consider the color, texture, and shape of the tiles when choosing the right one for your kitchen. Also, don't forget to test multiple tile selections under different lighting conditions to determine which perfectly suits the style of your kitchen.
Use The Higher Ceiling Illusion
If you can't push your ceilings upward to make your kitchen look bigger, you might want to consider upgrading your window treatments instead. 
You may start by raising your window panels and using floor-to-ceiling window treatments. These will make your kitchen produce a height illusion and create a grander look.
Also, window treatments are an inexpensive way to level up the ambiance of your kitchen. All you need to do is simply change the fabric to your panels and see what's best suited for the heart of your home.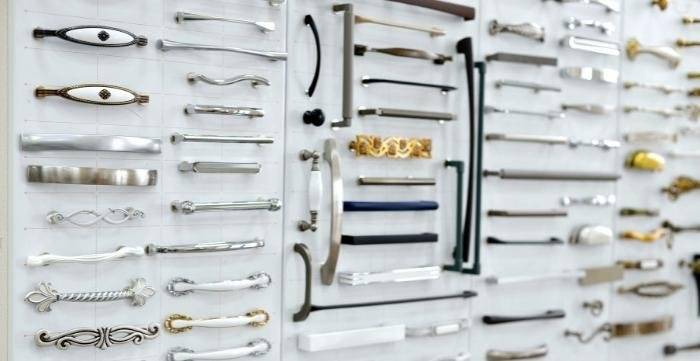 Replace Your Hardware
Replacing default cabinet knobs and handles with vintage or modern hardware is one way to add more personality to your kitchen spaces. Also, you'll be able to transform your outdated cabinets and drawers into seemingly modern and new ones in just minutes.
In addition, kitchen hardware doesn't need to match the style of your appliances and sinks. Adding and mixing new colors and textures will generate more interest in your visual layouts and designs. For example, brass metal hardware may complement dark-colored appliances.
On a side note, people use handles and knobs every single day. So, it's important to choose hardware that's easy to clean and install. 
Furthermore, look for kitchen hardware that's beautiful yet functional. You might want to avoid ornate styles if you don't want your clothes to get caught while cooking. Also, consider which designs are suitable for your family, especially for people with a limited range of motion.
Final Words
As one of the most used areas of your home, your kitchen deserves to be pampered with upgrades that'll make everyday cooking more fun and exciting. When upgrading your kitchen, focus not only on beautiful elements but also on things that are best suited for your needs as a home cook. Make sure that every design will make your cooking experience more delightful and a lot easier.