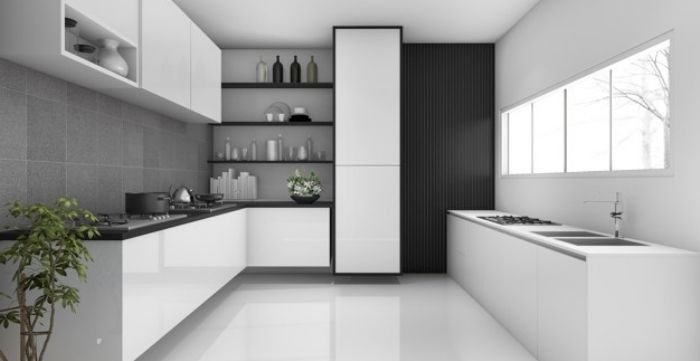 Remodeling a kitchen may cost you a ton of money, but it doesn't have to! If you plan your renovation and execute the same without crossing your budget, you will be surprised to find out how well the whole process comes to fruition. All you need is a little guidance and push in the right direction. So, read this article to find tips and tricks about remodeling the kitchen space on a budget.
1. Old is Gold
When it comes to renovation work, people tend to get rid of the whole set-up completely, only to replace it with something similar. Don't make such a silly move as you are on a budget. You can't afford to waste perfectly good kitchen appliances just because you want a new look; it's not smart to throw away the staff that is in working condition.
Before the whole process begins, you need to wrap up the appliances in plastic wrappers and move them completely out of the kitchen space. If you are planning to do construction work, make sure to cover up everything that will still be in use once the work is done.
There might be some items with a resale value that you don't really want in your new kitchen. Instead of throwing it away, you can sell the same online. You might be fairly surprised seeing how much people are willing to pay for used materials.
2. Refurbished Cabinets
You are tired of looking at the same old cabinets and want something new. Fair enough! But why throw away perfectly good cabinets just because they look worn out? Instead, you can just paint the cabinets in muted light colours to give them a modern look. You have seen beautiful kitchen cabinets on Instagram and Pinterest, well, guess what? You can recreate the same look with just a bit of paint. If you think you don't have the chops to colour the cabinets that good, you can always hire someone to do the job for you. It will take less than a full day, and viola! You have yourself a refurbished kitchen cabinet that looks as good as new.
3. The Sink and The Faucet
There is no end to the designer sink these days. Every home décor magazine will show you hundreds of different design for a kitchen sink and beautiful state-of-the-art faucets. Anytime Plumbing Inc is definitely a sector to splurge a bit. But then again, if you are happy with the old sink, you may give it a good scrub, and it will be as good as new.
Redo your complete plumbing system to experience the joy of cooking. You may redesign the whole set up and place the sink differently this time for optimal use. The set-up should be cohesive and easy to access.
While choosing your plumbers and the constructors, it is wise to hire local businesses that can provide you with the best possible outcome. For instance, if you are from the city of Seattle, you should look for experienced plumber services in Seattle WA, to fix all your plumbing problems in the house.
Painting the walls is a great way to get a new look without spending much on the renovation. There are different types of paints available in the market that you can mix and match to create the perfect shade for your kitchen. Place houseplants over the counter in small pots to make the set up look more open and airy.