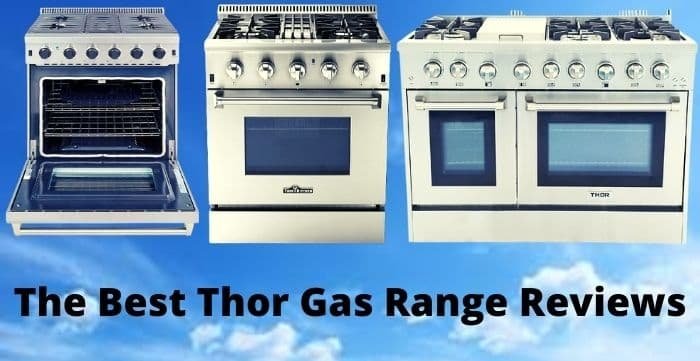 A great gas range is heaven-sent. Cooking is a lot safer and easier with it. But how do you know if a gas range is excellent? There's a lot of factors to look for. You can inspect the number of burners, the build, the dimension, and the additional features.
The thor gas range excels in terms of the abovementioned factors. It fits in the category of cheap yet surprisingly great kitchen equipment. Of course, we don't mean to say that this is the product that you're looking for. All that we're saying that you might want to check it out before other more expensive options. Here are the 1o gas ranges from Thor best for 2021.
10 Best Thor Gas Range Reviews and Features
1. Thor Kitchen Pro-Style
Thor Pro Style is a gas range that's fitting for those who love to cook and bake. It's equipped with 6 burners and an oven that seasoned cooks need.
Comprising the 6 burners are 3 triple medium heat burners, dual high heat burners, and a single heat burner. Their respective thermal capacity is 12,000, 15,000, and 18,000. Having said that, the 6 burners permits the thorough cooking of stir-fried dishes, stews, hotpots, etc.
On the other hand, the thermal capacity of the oven is an astounding 22,000. Preheating doesn't take long. Furthermore, it's interior is spacious. Measuring at 5.2 cubic feet, you can put 2-3 pieces of poultry, meats, dough, and other goods for baking or roasting.
This Thor gas range doesn't disappoint when it comes to looks. The stainless steel finish provides a very posh appearance. At a length of 27.5 inches and a height of 39.8 inches, Thor Pro-Style fits the space of a medium-sized kitchen.
Pros:
Oven quickly heats up
The medium heat burners provide a wonderful simmer
Uses a stainless steel finish for a classy look
Cons:
he temperature control knobs conduct heat
2. Thor Kitchen Professional 36"
Thor kitchen professional is for those who are looking for attractive cooking equipment for their kitchens. Aside from the 6 burners that come with a cast iron grate, the manufacturer installed this product with LED lights for a very luxurious look. Because of the LEDs, Thor Kitchen Professional 36" goes well with retro-themed or modern-themed kitchens.
All 6 burners can have a thermal capacity of 18,000. Out of these, the two dual burners provide a true simmer function. You can reduce their thermal levels to 650 with the ergonomic temperature control knobs.
The cast iron grate is useful if you fond of using griddles, pans, woks, and other kitchenware. You can easily slide kitchenwares on it while cooking. With that being said, you won't have to worry about wobbling or spills. So stir with all your heart's content.
Just like the previous thor gas range, this product has a built-in oven that's useful for baking or roasting. The interior has a bluish hue and measures 5.2 cubic feet. There's a convection fan for optimum heat distribution and for preventing temperature flareups.
Moreover, the oven comes with two oven racks. You can place anything inside in 5 different positions. This allows you to utilize space efficiently. There's also a hardy broiler that you can use for making roasted chicken or turkey
Pros:
Uses a blush exterior and interior coating for a luxurious retro look
Comes with LED lights for safety
Drip pan for easy cleaning
Well insulated and heat efficient oven
Cons:
The oven never exceeds 400 degrees
The gas line is very sensitive to pressing
3. Thor Gas Range Kitchen 30"
Thor Kitchen Professional 36" is big. With that being said, you might not want it for small kitchens, or if you and your partner are the only people currently living inside the house, Thor Gas Range 30" is a viable choice as a more space-friendly alternative previous product.
In terms of size and weight, this product is more portable. Therefore, you might want this if you want to do the installation by yourself. Its build is also narrower and is more ideal for utilizing the space of tight kitchens.
Only 5 burners are on this product compared to the previous ones. Three single burners have a thermal capacity of 6,000, 4,000, and 8,000. The thermal capacity of the double ring burner, on the other hand, is a whopping 18,000. But it's the oval burner that does the magic. It has a 9,000 thermal capacity and works well for cooking something with a broiler pan. and other similar kitchenware.
The built-in oven is less spacious than the previous product and is at 4.5 cubic feet. Nevertheless, you'll still love it since it comes with two porcelain racks and one porcelain broiler pan. Being porcelain, these improve the heating and cooking performance of the oven. A convection fan is also inside to distribute heat equally.
Pros:
Flat cast iron grate for cooking using large kitchenware
Oval burner for grilling, roasting or cooking with flat and rectangular-shaped kitchenware
Porcelain storage drawer
A three-layer oven glass panel
Cons:
Plastic control knobs that can be slippery with grime
4. Thor Kitchen Double Oven
No matter how we look at it. We couldn't help but decide that Thor Kitchen Double Oven is an upgraded more heavy-duty design of the Thor Kitchen 36". Just like it, Thor Kitchen Double Oven uses a cerulean hue for its exterior and interior finish. Numerous LED lights are even on the knobs to indicate safety.
But what sets it apart is the placement of the burners and the installation of the double ovens. On the right portion is a group of 4 single burners. Meanwhile, on the left, is a group of two single burners. Each of these has a maximum thermal capacity of 18,000 and 15,000. The minimum, on the other hand, is 650.
Bakers will love this thor gas range due to the dual oven design. The first oven directly underneath the right burners measures 4.2 cubic feet. It's ideal for cooking numerous batches of roasted meats, bread, cookies, pizzas, etc in high temps. On the other hand, the second oven on the left is better suited for baking or roasting under medium heat.
Accompanying the burners and the ovens are infrared accessories. For the burners, there's an infrared flat iron grate that's useful for equally distributing heat to pans, woks, kettles, and other kitchenware. On the other hand, there's a free infrared broiler pan that you can use on either of the two ovens.
Pros:
Electronic ignition and re-ignition function
Dual oven function with infrared broiler
6 accurate burners with infrared grate
Cons:
Electronic ignition function breaks quickly
5. Thor Kitchen Dual Fuel
Gas for gas ranges gradually gets more expensive as the years go by. This is why you should only use single fuel gas ranges with ovens if you can cope with their hefty gas consumption. But if you can't, consider using those with a burner and buy a separate electric oven instead.
But doing so would mean that you'll have to crowd the kitchen with a stove over here and an oven over there. Thor recognizes this problem. That's why it made an affordable and cost-effective gas range for you – the Thor Kitchen Dual Fuel.
This product's oven runs on electricity so all of the gas consumption goes to the burners instead. Dividing the 4 single burners into two groups is an electric broiler. Underneath is an electric oven It's the electric oven and the electric broiler that makes this gas range unique from other Thor gas range on this list. They help you save gas and avoid heat fluctuations.
Pros:
Uses electricity and LPG/natural gas
High heat electric broiler and electric oven
Cons:
Can't cook dishes on the electric broiler and single burners at the same time
The electric oven isn't as heat efficient as the previous products
6. Thor Kitchel Dual Oven With Griddle
This thor gas range is an improved version of the previous Thor Double Oven on this list. It still has the same basic and special features. But what it has which its predecessor doesn't is the griddle that's between the 2 groups of single burners.
With a thermal capacity of 15,000, this product's built-in griddle is more than enough for cooking patties, bacon, thin slices of meat, hotdog, sausages, chorizo, and other similar foods. The griddle excellently provides a golden brown appearance and a crisp texture to food cooked over it.
We also appreciate that the manufacturer solved the igniter issue. Unlike the previous Thor Double oven, the igniter of this gas range is more trusty. You'll be using it for years without hearing constant clicks or availing of any replacement parts.
Pros:
Hardy electric ignition system
Quick heating and easy to clean griddle
LED enabled oven and knobs with two switches
Cons:
Requires a lot of cleaning due to the wide range of use
7. Thor Kitchen 30" Pro-Style With Reversible Griddle and Dual Heating Element Oven
You might want to have this product if you're fussy about your gas range's griddle. The reversible griddle of this gas range allows you to cook various food. The top portion is ridged, and this is what you want to use for grilling meats and patties with the single burners. On the other hand, the underside is smooth and ideal for cooking bacon, eggs, sausages, and other foods for a nice sizzle.
On top of this product are 5 single burners each having a respective heat capacity of 18,000, 6,000, and 4,000. Between these is an oval burner where it's best to place the removable griddle. The oval burner's heat capacity is 9,000. Aside from a griddle, the oval burner also works well for cooking with large woks, large kettles, and large cast-iron pans.
The oven in this thor gas range uses a broiler burner and a u-shaped burner as heating elements. These allow the interior of the oven to reach optimal baking or roasting temperatures within a short amount of time. With two heating elements, cooking large quantities of bread or thick meats won't result in undercooking. You don't even have to worry about space because the oven's interior measures 4,55 cubic feet.
Pros and Cons of Thor Kitchen Pro Style With Reversible Griddle and Dual Heating Element Oven
Pros:
Smooth and ridged surfaced griddle for grilling and frying
Dual heat element oven for a more reliable cooking performance
Oval burner for large works and kettles
4 single burners with consistent flame output
Cons:
The removable griddle is heavy
8. Thor Kitchen 48" With Extra-Large Oven
Thor Kitchen 48" with Extra Large oven is exemplary cooking equipment if you're running a small foodie business. It fits perfectly in the category of mid-grade cooking equipment that anyone can always afford. Each of the 6 single burners has a heating capacity that doesn't fall below 15,000. Furthermore, the 15,000 heating capacity of the built-in griddle is more than enough for making sumptuous burgers, sandwiches, and other delicious treats.
The 6.7 cubic feet right oven is ideal if you're running a baking business for the first time. Think about it, you can fit at least 3-6pieces of circular chiffon inside it. For rectangular ones, you can place 2 -4 pieces inside. All in all, this product has the largest oven of all products in this review.
On the other hand, this thor gas range's second oven has a more rigid interior. Nevertheless, it works well for roasts. You can even opt to bake cookies inside if the first oven is already full.
Pros:
Built-in extra large right oven
High heat single sealed burners
LED enabled
Cerulean coating for the oven interior
Cons:
Doesn't work well for simmers
9. Thor Kitchen Pro Style 48"
This thor gas range fuses the special features of the two products preceding it and improves them. Thor Kitchen Pro Style 48 has two reversible cast iron griddles with smooth and ridge surfaces, 6 sealed single burners wherein each pair have a thermal capacity of 18,000, 12,000, and 9,000
Making the burners very special is the heavy-duty cast-iron grates so you can glide the kitchenware from one burner to the next. The grate has a very solid build, and you don't need to worry about marring or scratching it when shaking or stirring at woks, pans, and kettles fast.
The oven of this gas range uses a broiler heating element and a u-shaped heating element. However, you'll like this one better than Thor Kitchen Pro Style with a Reversible Griddle and Dual Heating Element Oven, because its built-in oven measures 6 cubic feet. Meaning that there's more room for baking or roasting several treats at once.
Pros:
Heavy-duty cast iron grate for cooking fast
Reversible cast iron griddle
Expansive dual heating element oven
Cons:
The oven loses heat quickly when left open for long
10. Thor Dual Fuel Double and Oven Gas Range
You might find this gas range handy if you think that the previous Thor Dual Fuel won't do when cooking for a large family. Being an improved version, this product comes with a double electric oven, built-in griddle, 6 sealed burners, and an electric re-igniter for the ovens.
Despite being electric, the double ovens don't take long to preheat. Furthermore, they quickly reach searing temperatures for roasting meats or baking pastries. In connection, the burners distribute heat well. And since they're the only ones using gas, their heat output is more than enough for cooking large quantities of stews.
Pros:
A double electric oven that doesn't take long to preheat
Natural Gas/ Liquide Propane Gas single burners and griddle
Easy to clean design
Cons:
Automatic re-ignition fails to work instantly sometimes
Quick Buyer's Guide For Choosing The Best Gas Range
Now you might be asking, how did we choose the products in this review? Did we consult consumers? Look at other websites? Or review the items at random?
More Heating Elements The Better
What we did is take into account several buying factors then do a bit of research. The first consideration that we thought about – which you should also think of – is the number of heating elements and whether they're independent or not. Basically, the heating element is the direct source of heat; burners for gas-fueled range and thermal coil for electric stoves.
A good gas range should at least have 4 or 6 burners. Furthermore, these should be sealed and independent so that the flame output is accurate and consistent. Why is it important for the numerous burners anyway? The answer is simple. It allows you to cook many things at once which saves time and effort.
Built-in Oven For Versatility
The second factor is the existence of a built-in oven. You can always opt to buy gas ranges without it. However, an oven is one of the most used cooking equipment in the U.S. And you'll eventually buy one for heating food, roasting, or baking. With that being said, a gas range with a built-in oven is ideal because it saves kitchen space; and most of all, your investment.
In addition, the built-in oven should utilize a three-layer glass panel for its doors. A three-layer glass panel doesn't crack. By the way, all thor gas range built-in ovens have this. Furthermore, it keeps all the heat of the oven inside. By industry standards, most built-in ovens use this. However, there are bad brands that only use a single thick layer of glass. This results in an oven that hardly reaches optimum roasting or baking temps.
The third factor is design. As you can see, all of the gas ranges above look attractive and fits well in minimalist, modern, country, industrial, and other kitchen types. Function and use are paramount but you shouldn't forget that a good looking gas range motivates you to cook and spend time in the kitchen.
Your gas range should complement the kitchen space. For small kitchens, a 30" gas range will do. On the other hand, medium-sized kitchens should have a 36" or 38" gas range. Finally, large or commercial kitchens should have a 40" gas range or something bigger.
Frequently Asked Questions FAQs:
Q: The Thor Gas Range That I Bought Runs On Natural Gas, How To Fix This?
Ans: You don't have to panic because that's still usable. All you have to do is to order a conversion kit from Thor. You can also get it from a hardware store. If you haven't converted a gas range before, the best option is to call a technician and let him do the work to avoid costly damage.
Q: My Thor Gas Range Broke After A Few Months of Using? Do I Pay To Get It Repaired?
Ans: Thor doesn't get busted easily. In fact, users who say that Thor quickly gets defective might have mishandled their gas range. Examples of mishandling are applying too much pressure on the gas line, using sharp objects to clean the burners, etc.
If your Thor gas range broke. call customer service first before calling any other technician. All Thor gas range comes with a 1 year or 2-year warranty with free repairs.
Q: What Does Heat or Thermal Capacity Mean?
Ans: Thermal capacity or heat capacity pertains to British Thermal Units or BTU. BTU is a universal measurement for gauging the amount of heat required to increase the temperature of water by 1 Fahrenheit. When it comes to gas ranges, a higher heat or thermal capacity means better cooking performance.
Q: Can I Put Cast Iron Pan and Pyrex Glass Dish in Thor Ovens?
Ans: Doing so is perfectly fine. Thor ovens get hot but not uncontrollably hot. This means that cast iron pans and pyrex glass dish won't crack or burst once inside. To tell the truth, using a cast iron pan and pyrex glass dish is a good practice for utilizing the heat inside the oven fully.
Finishing Takeaway
We hope that this review helped a lot. Thor is an affordable alternative to more expensive gas ranges that have the same features. All Thor gas range is convertible meaning that you can use them with liquid propane or natural gas. There are even dual fuel ones that utilize electricity for making the oven hot.
All the Thor gas range in this review are suitable for singles, couples, and large families. With that being said, if you fancy one, don't think twice about clicking the links and buy them online!
Related Review Articles: